Traditional hotel by the lake
The historic Hotel Beau Rivage is the only four-star hotel located directly on the shores of Lake Lucerne. Maximum comfort, unique ambience, attention to detail: the exclusive hotel promises unique stays and offers you the perfect setting for grandiose celebrations and successful conferences. The heated garden swimming pool and the wellness oasis with crystal salt whirlpool ensure your well-being. The restaurant with lakeside terrace offers the highest level of enjoyment.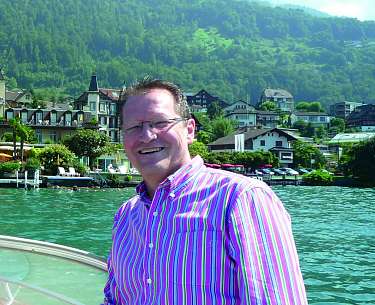 Your host
Immerse yourself in a small, hearty world of well-being. Host Oliver Müller and his team of dedicated employees welcome you to the Romantik Hotel Beau Rivage with lots of comfort, love and a warm ambience. And of course in the most beautiful location directly on Lake Lucerne! Oliver Müller is very concerned that you can relax in a family atmosphere. To this end, all rooms and bathrooms have been extensively renovated in recent years. Welcome to the "Riviera of Central Switzerland"!
Central Location
Child Friendly
Free Wifi
Lift
Meeting Facilities
Outdoor Pool
Parking Area
Parking Garage
Pets Friendly
Quiet Location
Terrace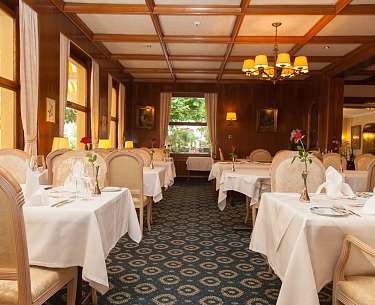 Restaurant at Romantik Hotel Beau Rivage
In the restaurant of the Romantik Hotel Beau Rivage, our chef Sebastiano Finoccairo and his kitchen team interpret classic French haute cuisine in a contemporary and creative way. Light Mediterranean cuisine is his trademark. He skilfully and respectfully uses the best ingredients and creates exclusive dishes. Whenever possible, local products from the region are considered. Enjoy light, seasonal cuisine and fine fish specialities in summer on our spacious terrace directly on the lake.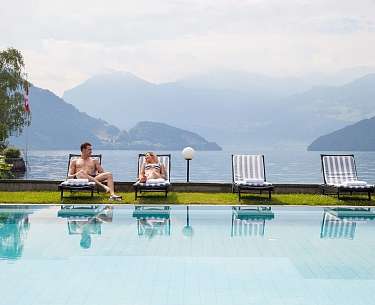 Wellness oasis
The enchanting surroundings directly on Lake Lucerne tempt you to sweet idleness. You will find relaxation and comfort not only in our heated garden swimming pool at 25°C and a spacious sunbathing lawn. In the cold season, our wellness oasis with crystal salt whirlpool and steam bath invites you to a well-deserved rest. After a relaxing afternoon, treat yourself to a glass of champagne on the terrace or a relaxing tea on our cosy loungers.
Massages
Take care of your body and mind and treat yourself to a massage with our certified health masseuse Evelin Erni. With gentle pressure, she releases tension and blockages during a classic massage so that energy and strength can flow freely again. Treat yourself to a time-out for all your senses and book your personal wellness time at our hotel reception.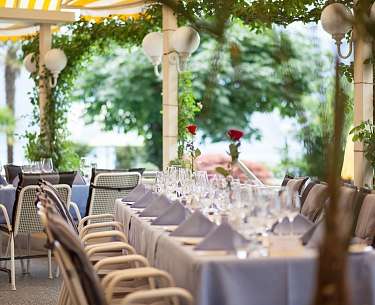 Private events
There are many moments in life that deserve a unique setting - at Romantik Hotel Beau Rivage in Weggis, right on the shores of Lake Lucerne, you will find the perfect location for your private event. Celebrate your birthday or romantic wedding on our beautiful terrace and let your gaze glide over the shimmering waters of the lake. We create incomparable moments that you will never forget.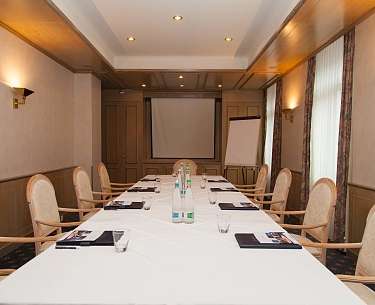 Conferences and seminars
A full stomach doesn't like to study - but a hungry stomach is not a good advisor either. That's why we offer you just the right setting for your company event - so you can concentrate fully on your job. Choose your business lunch and we will coordinate everything perfectly with your programme. Our seminar rooms are equipped with modern infrastructure and can be supplemented with any presentation technology you require. The boathouse also gives your next event that very special setting.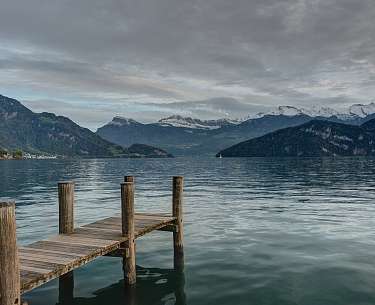 Day trips in the mountains
Treat yourself to impressive excursions to the Rigi and the "dragon mountain" Pilatus or take a Titlis glacier walk at an altitude of 3000 metres! The Romantik Hotel Beau Rivage in Weggis is the ideal starting point for numerous day trips into the Swiss mountains. Queen Victoria and Marc Twain already enjoyed the breathtaking view of Lake Lucerne here. The Stanserhorn also beckons for open-air fun with the world's first convertible gondola.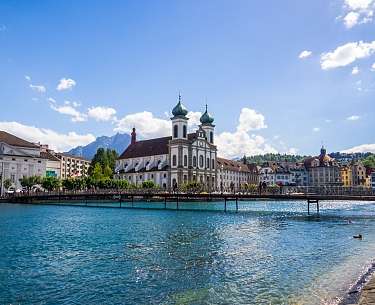 Discover Lucerne
The city of lights Lucerne is only a few minutes' drive from Weggis and attracts visitors with numerous museums, concerts and a wonderful old town. Stroll across the famous historic Chapel Bridge with its defiant water tower, visit the Museum of Transport or enjoy a boat trip on one of the historic steamers. No matter what you plan for your excursion, Lucerne will captivate you.
Romantik Hotel
Beau Rivage
Romantik Hotel Beau Rivage
Oliver Müller
Gotthardstraße 6
Switzerland-6353 Weggis
CH - Lucerne - Lake Lucerne -

From Zurich, follow the A3 and then A4 to Küssnacht and leave at exit 36-Küssnacht. Then follow route 2 and 2b through Greppen to Weggis. In Weggis take the Luzernerstraße and then the Gotthardstraße. The hotel awaits you directly on the lake.

The nearest airport, Zurich, is about an hour's drive from the hotel.