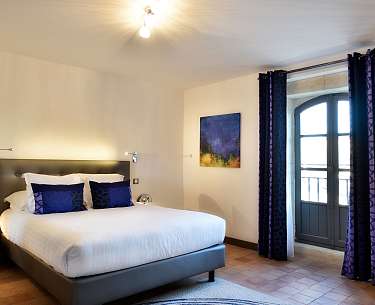 Located at the entrance of Grignan village, this old farm from 1760 was transformed into a boutique-hotel in 2015. The architecture of the building was preserved , the ground floor kept the spirit of the place old kitchen , arched lounge and breakfast room , large dining room with old floor the rooms were refurbished in a contemporary style and have a view on the Castle of Grignan or the Mount Ventoux. The Bistro is offering a quality local food, to taste in the corner of the fireplace in winter or on the terrasse on sunny days. The outdoor swimming pool invites you to relax. Meeting room up to 50 persons.
Traditional quality cookingkitchen, with fresh products. To taste near the fireplace in winter, or, in the beautiful days, outside with an exceptional view on the Castle of Grignan. Air-conditioned large dining room with fireplace and bar.
La Ferme Chapouton
Jean-Luc Valadeau
200 Route de Montélimar
France-26230 Grignan
FR - Auvergne-Rhône-Alpes -

From Lyon: A7 towards Montélimar and out 18 Montelimar South. From Marseille: A8 towards Lyon and out 19 Bollène.
Montélimar (25km)

Lyon-Saint-Exupéry (189km)