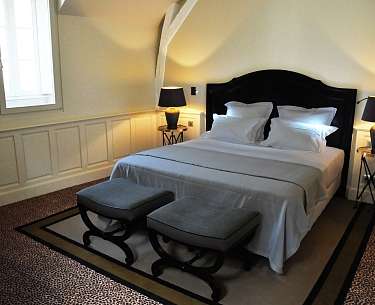 The capital of the Dukes of Burgundy and its architectural heritage spanning several centuries of history are enough in themselves to attract visitors. With churches in private houses and semi-timbered residences, the heart of old Dijon has several treasures in store. The latest addition bears the name of La Cour Berbisey. The contemporary classicism of design furniture blends in with the age-old walls of the freshly refurbished 17th century dwelling. A heated, indoor pool is the perfect retreat to take time out and unwind. The same high standards of comfort are obvious in the truly spacious suites that come with a lounge and a bathroom complete with shower and bath.
La Cour Berbisey
Marie-Hélène Loffroy
31 rue Berbisey
France-21000 Dijon
FR - Bourgogne-Franche-Comté -

A31 or A39 then take A311 towards Dijon Centre and follow the direction of the public car park sainte-Anne.
Dijon (0km)

Dijon-Bourgogne (5km)