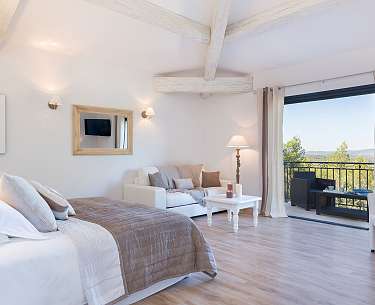 Chateau Rasque is situated in small lovely village of Taradeau near of Draguignan. This wine-makers' home perpetuates its taste for authentic wines and its passion for the region.
La Bastide du Chateau offers an escapade around of wine culture out of time. It has four elegant and luminous rooms with an high-end facilities
The four suites, purified and refined style, embrace the Provencal forest from the largest windows. The pleasure extends with the swimming pool and swimming pool against the current.
La Bastide du Château Rasque
La Bastide du Château Rasque
Sophie and Enzo Biancone
2897 Route de Flayosc
France-83460 Taradeau
FR - Provence-Alpes-Côte d'Azur -

Flughafen Nizza - Autobahn A8, Mautstelle Muy Saint Tropez Vidauban
TGV
Les Arcs-sur-Argens (10km)

Nizza-Côte d'Azur (90km)
Toulon-Hyères (75km)