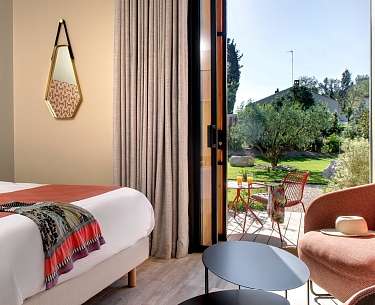 This former sheepfold field has become a charming guest house and is located in the meadow of a small village in Provence.
The Pré Gourmand offer four rooms with contemporary decor. It is in this rustic chic atmosphere that you can enjoy the swimming pool, prelude to a quiet day.
Let yourself be seduced by this place and discover the cook of Patrick Léonce, always looking for the best products. The chef does not stop inventing and renewing himself through the seasons.
Le Pré Gourmand
Christine Fare and Patrick Léonce
175 Avenue Marx Dormoy
France-13630 Eyragues
FR - Provence-Alpes-Côte d'Azur -

Abfahrt Avignon Süd und A7. Richtung Noves, Eyragues fahren
TGV
Avignon TGV (20km)

Marseille - Provence (70km)
Nîmes-Garons (45km)