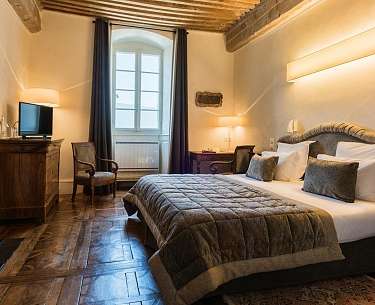 Terraces in the shade of hundred-year-old plane trees, French-style gardens, a private jetty near Talloires Abbey - there are always opportunities to enjoy the magnificent view on the sunny shores of Lake Annecy. At the turn of the last century, the destiny of the 17th century abbey took a new direction - here you can now experience all aspects of true art of living. Within the historic walls, one finds oneself and enjoys experiences for all the senses. Concerts for artistic souls, modern cuisine highly popular with gourmets, total relaxation in the spa and timelessly beautiful rooms. You also have free access to many activities: Boat hire, tennis, golf, castle visits, cruises on the lake...
Abbaye de Talloires
Isabelle Chauvris
Le Port - Chemin des Moines
France-74290 74290 Talloires
FR - Auvergne-Rhône-Alpes -

From the south: follow Grenoble-Albertville-Annecy-Talloires. From the east, south-east and north: Follow Lyon-Geneva and then Annecy via the A41, leaving Annecy north or south, towards Annecy centre and Le Lac. Annecy centre and Le Lac, then D909A, direction Veyrier-du-Lac. Veyrier-du-Lac, Menthon-Saint-Bernard, Talloires.
Annecy (12 km)

Geneva (50 km)
Lyon-Saint-Exupéry (135 km)