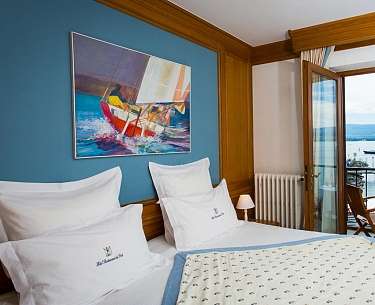 Here, the Kung family has welcomed you to idyllic surroundings for 190 years. It is a privilege to wake up in this hotel of unusual charm, which offers you 7 comfortable rooms, some of which overlook the lake. As the name implies, the board of this house emphasises the wonders from Lake Geneva. In the port of Yvoire, among flowers and ancient stones, holidaymakers seeking tranquillity will quickly come to love this waterfront hotel. In this lakeside ambience marked by wood, char, whitefish and perch will delight gourmets looking for authentic flavours.
Hôtel-Restaurant du Port
Stéphanie Kung
Rue du Port
France-74140 74140 Yvoire
FR - Auvergne-Rhône-Alpes -

A41 outing, Thonon-Évian, A40 out of Annemasse, and then on to dir. Thonon-Évian all the way to Douvaine and then Yvoire by the lake.


Thonon-les-Bains (17 km)

Geneva (25 km)