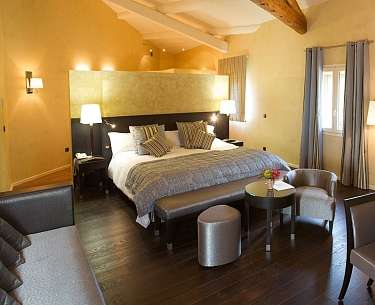 In 1935, Maison Chabran's grandparents bought a small café on the side of National Road 7. More than 70 years have passed since then, and the bistro on the edge of Provence below the Hermitage vineyards has grown into a prestigious institution renowned for the quality of its cuisine. The chef, a true artist, uses regional products to develop a festive cuisine whose flavours change with the seasons. Dishes to be enjoyed by the fireplace or in the fresh air in the garden and on the terraces. This house, which is over a hundred years old, also has beautiful, peaceful and colourful rooms.
Maison Chabran
Michel & Louis Chabran
29, avenue du 45ème parallèle N7
France-26600 Pont-de-l'Isère
FR - Auvergne-Rhône-Alpes -

A7 out of Valence Nord 14, or A48 Valence - Lyon, out 35 on the rocade dir. Lyon /St-Etienne, and join the N7 Pont de l'Isère 6km.


Valence (12 km)

Lyon-Saint-Exupéry (120 km)
Valence-Chabeuil (15 km)