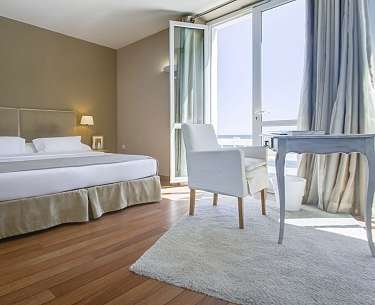 It is hard to dream of a better location than this on the water with no horizon other than the tides of the Mediterranean. On the rock, the silhouette of the hotel stands out against the azure blue background. The modern Provençal-style rooms are bright, here you breathe fresh sea air. All have a balcony or terrace. The dining room, in the shape of a roundel, gives you the illusion of sitting in front of a bridge over the sea overlooking the Gulf of Saint-Tropez. The kitchen smells of the south and the sea. Nec plus ultra an outdoor pool and a private beach! Feet in the water, the sun on your forehead....
La Belle Aurore
Nadine & Charles Pitollet
5, boulevard Jean-Moulin
France-83120 Sainte-Maxime
FR - Provence-Alpes-Côte d'Azur -

A8 outing Le Muy, D25 dir. Sainte-Maxime/Saint-Tropez.
Saint-Raphaël-Valescure (25 km)

Nizza-Côte d'Azur (80 km)