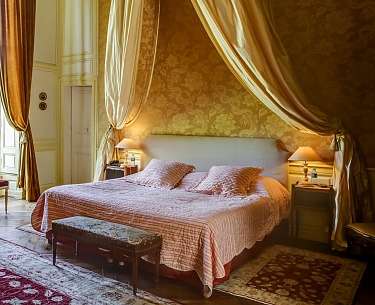 This listed château, built at the beginning of the 17th century in the heart of Champagne, stands in the middle of a 20-hectare park. It has a large terrace, a vegetable garden and beautiful gardens with fountains Its spacious reception rooms with painted panelling and 17th and 18th century furniture give this beautiful address a character rarely found elsewhere. Some rooms offer a romantic view of the moats that run around the building. Discover the spa, which offers treatments with organic brook flowers; you will find relaxation in these rooms full of charm and authenticity. The gourmet kitchen: a jewel.
Château d'Étoges
Anne Filliette-Neuville
4, rue Richebourg
France- 51270 Étoges
FR - Grand Est -

from Paris: A4 outing no. 18 (Ferté-sous-Jouarre) then follow Châlons all the way to Étoges. From Reims: cross Épernay in dir. de Sézanne to Montmort, 1th left towards Etoges.


Epernay (25 km)

Paris – Charles De Gaulle (104 km)
Paris Vatry (32 km)