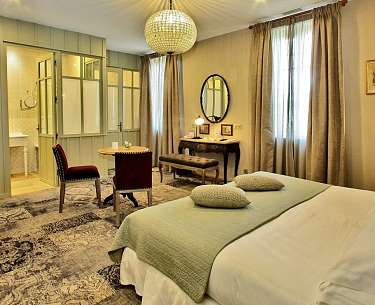 The landscapes of the Black Périgord surround the old stagecoach station Les Glycines like a jewellery box. A lush park, where weeping willows, roses, poplars and, by the pool, a few palm trees thrive, continues the surrounding nature on the estate. A splendid terrace, in the shade of which cuisine of great refinement is served, gives you a view of this beautiful ensemble. In the 19th-century property, with its simple and elegant façade, there are spacious rooms full of peace and tranquillity. Pure white dominates these rooms with deliberately minimalist décor, accentuated here and there by garnet tones.
Hôtel Les Glycines & SPA
Laurence & Pascal Lombard
4 avenue de Laugerie
France-24620 24620 Les Eyzies-de-Tayac
FR - Nouvelle-Aquitaine -

bordeaux, A89, out 16 dir. Les Eyzies, 1th hotel on the left after the bridge at the entrance to the village.


Eyzies-de-Tayac (0 km)

Bergerac-Dordogne-Périgord (55 km)
Brive-Souillac (62 km)