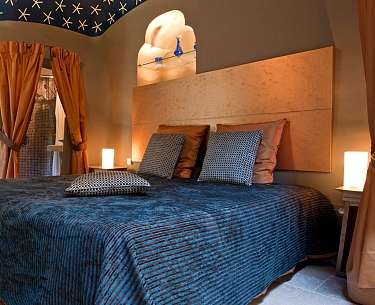 Between Pont du Gard and Uzès, this is an address of unusual charm where you can let your mind wander. In the heart of the village of Collias, a few 17th-century houses arranged around an inner courtyard house poetic worlds. Ochre and sepia tones, wrought-iron beds, old-fashioned style bathtubs.... Under beams and sloping ceilings, each room displays the soul of an artist: Art Deco, Art Nouveau or the eccentric style of the seventies. A Zen garden, a small pool with counter-current, contemplative and relaxing atmosphere, swan neck and Jacuzzi, a terrace under wisteria... The outdoor spaces already awaken the senses, as does the aromatic cuisine by chef Stéphane Mazières.
Hostellerie le Castellas
Aurélie Aparis Perrier
30, Grand-Rue
France-30210 30210 Collias
FR - Occitanie -

A9 remoulins outing, dir. Uzès D981.


Avignon (25 km)

Nîmes-Garons (25 km)
Montpellier-Méditerranée (60 km)