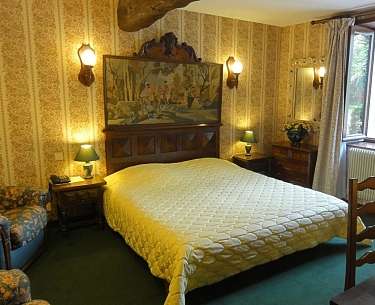 La Sarrasine, a former farmhouse in typical Bresse style, has undergone a successful transformation into a hotel with character. Just 3 km from the centre of Mâcon on the border between Burgundy and Bresse, this house unfolds its charm throughout the seasons: with an explosion of colour in summer, when the garden, terrace and pool edges are lit up at night and full of flowers. The Bresse architecture with its half-timbering houses spacious and comfortable rooms, while the heated pool invites the body to relax and unwind.
Hostellerie Sarrasine
Famille Bévy
D 1079 (ex N 79) - 533, route de la Madeleine
France-1750 Replonges
FR - Auvergne-Rhône-Alpes -

From the north, A6, then A40 and output 2 Replonges. From the south, towards Geneva, A6 sortie 29 Mâcon-centre dir. city centre, then take the Pont dir. Bourg-en-Bresse.
Mâcon-Loché (5 km)

Lyon-Saint-Exupéry (80 km)