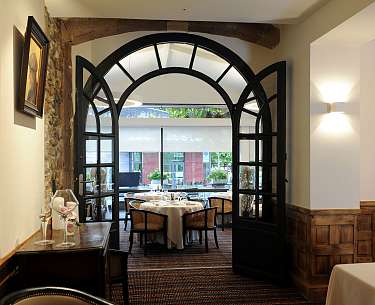 Arrambide: For all gourmets and lovers of the region, this name is a symbol of the Basque Country. The Hotel-Restaurant "Les Pyrénées" is located in the centre of Saint-Jean-Pied-De-Port. It is a former post station, which is now a hotel, and is located at the foot of the Col de Roncevaux on the way to Spain. Philippe Arrambide, a chef recognised among his peers, a faithful banner bearer of the local cuisine, exports his know-how beyond the borders and constantly experiments with new recipes. The rooms are modern and the covered terrace, where you can relax so well, will be particularly appreciated.
Hôtel des Pyrénées
Sandrine & Philippe Arrambide
19 Place du Général de Gaulle
France-64220 Saint-Jean-Pied-de-Port
FR - Nouvelle-Aquitaine -

A63, coming from Paris, Bordeaux or Toulouse > out 5 (Bayonne Sud). Head for Department 918 towards Cambo-Les-Bains > Saint-Jean-Pied-De-Port.
Saint-Jean-Pied-De-Port (0km)

Biarritz-Pays Basque (50km)
Bordeaux - Mérignac (120km)