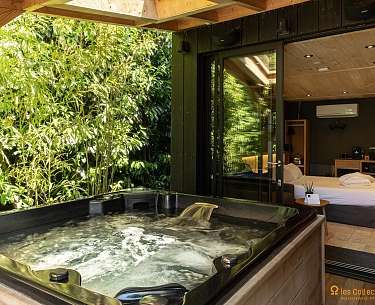 In the hamlet of Pochey, in the Bourgogne-Franche-Comté region, the Domaine des Prés Verts & Spa Vinésime is a hotel set high in the great outdoors where authenticity, peace and relaxation are the watchwords.
On site, in a chic and cosy atmosphere, founder Jérémy Leleu invites you to discover eco-friendly rooms and suites full of style and character; perched huts and even a premium caravan!
From the Domaine des Prés Verts & Spa Vinésime, you'll enjoy a panoramic view overlooking the landscapes of the region from your vegetarian private terrace... and even from a private jacuzzi in most of the accommodations on offer. An ideal setting for a romantic break!
To continue your relaxation, you'll also love the Massages & Spa Cube. Steam room and sauna, sensory shower with essential oils, herbal teas and a private terrace with steam rooms... You'll be spoilt.
Not far from here, in Chateauneuf, a "organic and local delicatessen" shop is also available, as is a gourmet bistro.
Le Domaine des Prés Verts & Spa Vinésime
Le Domaine des Prés Verts & Spa Vinésime
Jérémy Leleu
10 impasse des Prés Verts -
France-21230 Jouey
FR - Bourgogne-Franche-Comté -

A31

Dijon-Bourgogne