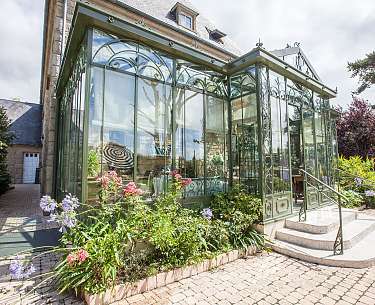 A romantic location, enhanced by views of the bay of Mont-Saint-Michel. This mansion standing between the sea and the countryside hides a delicate décor behind its solid granite façade. Very comfortable, spacious rooms with a view of the Avranches hills. The pastoral charm that characterises them perfectly matches the names of the flowers used for each room. Delightful tea room sitting under a fine glass roof enabling guests to enjoy the garden throughout the year. An ideal place to recharge your batteries on the border between Normandy and Brittany.
La Ramade
Véronique & Dominique Gilbert
2, rue de la Côte Marcey-les-Greves
France-50300 Avranches
FR - Normandie -

Paris: A13 then A84 dir. Rennes. Out of Avranches-Gare and then on to Granville (D973). After the bridge, take the D911 towards Jullouville.


Avranches (0km)

Saint-Malo-Dinard-Pleurtuit (100km)
Rennes Saint-Jacques (80km)