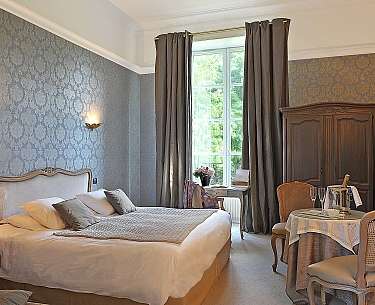 An 18th century chateau, a moat, a water feature visited by swans and ducks with reflections of the bicentennial trees on its banks – these are just some of the charming features that are the mainstay of a romantic or cultural stay. All the rooms boast uninterrupted views of the Normandy countryside just a stone's throw from the medieval town of Bayeux and its cathedral. In the chateau, the rooms and suites are in keeping with the decor reminiscent of bygone times. Guests enjoy the spacious volumes and the old mouldings and panelling. An exceedingly fine arched cellar serves as the billiard room. The duplexes in the annexes have a different, resolutely contemporary style. You're sure to fall for the charm of this beautiful building.
Château de Bellefontaine
Marie-Claude Verdier
49 rue de Bellefontaine
France-14400 Bayeux
FR - Normandie -

Nehmen Sie die RN 13 in Richtung Cherbourg und dann die 26 in Richtung Bayeux.
Bayeux (0km)

Caen - Carpathian (24km)