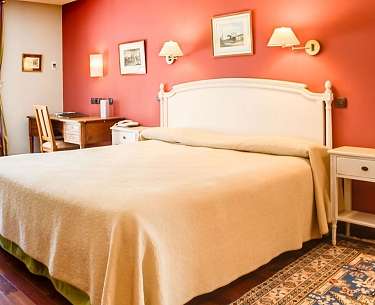 The elegance and refinement of a noble residence that once belonged to the Knights of the Order of Malta, and whose sense of hospitality has survived the centuries. The proof: these individually furnished rooms. The gourmet restaurant in the 18th-century salons is decorated with pictures of ancestors of the family. For a relaxing break with massages, we recommend the spa under the guiding principle of the five elements of Feng Shui (water, fire, wood, stone, metal). 10 minutes from Grenoble, this château with its park full of trees, its swimming pool and spa is a place to relax... Everything needed for relaxation is also available.
Château et Spa de la Commanderie
Château et Spa de la Commanderie
Marc de Beaumont
17, avenue d'Échirolles
France-38320 Eybens
FR - Auvergne-Rhône-Alpes -

from Grenoble, follow output N87 and then out 5 dir. Le Bourg, continue to the gas station, turn right, the entrance to the castle is 300 m on the left.
Grenoble (4 km)

Grenoble-Isère (46 km)
Geneva (146 km)