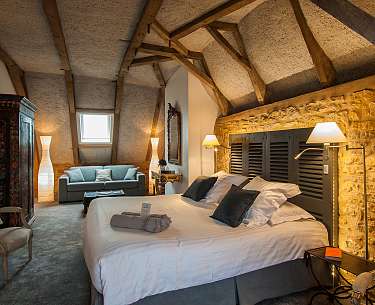 The château and its ancestors, illustrious personalities of the region's history, have a long past which peaked in the 16th Century. For over a decade, the owners indulged their passion for antiquity and orchestrated a new stage to showcase modernism but with a scent of times gone by. In the farmhouse, the creatively appointed rooms display a bouquet of atmospheres with names of flowers while the château rivals it with its romantic décor. Refinement appears in the most unexpected places such as the hut perched in a centuries-old tree, or the swimming pool and its green surrounded by vines. La table de Labro on reservation and only in the evening at 25€ per person (except drinks), fresh and quality produce, of our beautiful region.
Château de Labro
Jean-Michel Rouquet
Lieu-dit Labro
France-12850 Onet-le-Château Village
FR - Occitanie -

A20 ab 56 bis Figeac, dann N140 (Brive-Méditerranée) über Decazeville, Onet-le-Château (altes Dorf) ab Marcillac Conques oder A71 bis Clermont-Ferrand, dann A75 bis Séverac, Onet-le-Château (altes Dorf) bis Marcillac Conques.
Rodez (5km)

Rodez-Aveyron (6km)