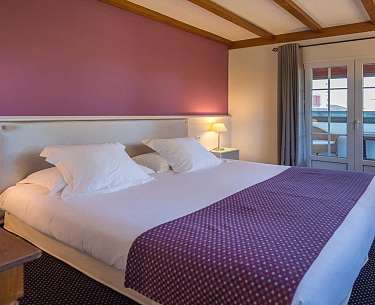 All the soul of the Basque Country lives in this beautiful 17th century house overlooking the Place d'Aïnhoa in one of the award-winning "Most Beautiful Villages in France": firstly, because the Basque pelota is played in this square; secondly, because the Isabal family - with father and son in the kitchen - continues the regional culinary tradition here. Delicious dishes in a typical tomette-tiled dining room with carved wooden doors. Other attractions of the property: a park with vegetable garden and a great pool, gym and sauna for relaxation, impeccably furnished rooms with period furniture overlooking the rooftops of the village.
Hôtel Ithurria
Stéphane & Xavier Isabal
Place du Fronton
France-64250 Ainhoa
FR - Nouvelle-Aquitaine -

A63 outing South Bayonne, dir. Ustaritz, Cambo-les-Bains, Espelette, Aïnhoa.
Biarritz (28 km)

Biarritz-Pays Basque (28 km)