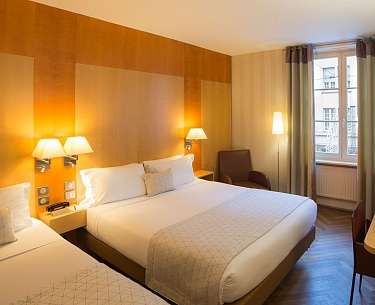 Ideally located in the heart of Strasbourg and just a 5-minute walk from the cathedral, the Hotel Hannong is passionate about its attachment to its city and its heritage. This is evidenced above all by the large fresco in the glassed-in salon depicting the story of the Horn brothers, the hotel's founders, and their connection with the artistic community of the 1930s. With its majestic wooden staircase and its wide steps, the 72 rooms with original parquet flooring redesigned in contemporary style, its "Annés 1930" salon and intimate modern terraces, the Hotel Hannong proves a happy hand in terms of design and mix of styles. A harmonious combination of tradition and modernity that makes for a house with charm and character!
Hannong Hôtel & Wine bar
Jérôme Anna
15 rue du 22 novembre
France-67000 67000 Straßbourg
FR - Grand Est -

"Place des Halles"
out, towards the city centre
Strasbourg (0 km)

Strasbourg-Entzheim (15 km)