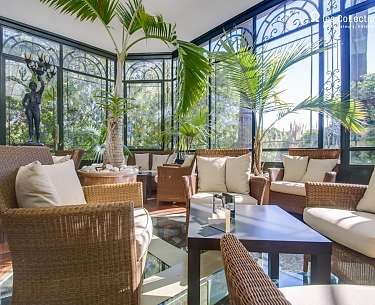 Les Pins Penchés in Toulon, Provence-Alpes-Côte d'Azur, is a gourmet restaurant set in a park with centuries-old trees. Chef Stéphane Lelievre offers his guests a magical break. The journey begins with a leisurely stroll in the shade of the 200 different species of palm trees that stand near the sea and can be seen from the terraces.
The tables outside or in the dining rooms of this restaurant, which looks like a "small Trianon", are set with refinement. They are prepared for the reception of dishes sitting side by side in the Mediterranean sun. The chef's recipes, different from those of a Michelin star, subtly highlight regional products, first of all, of course, seafood.
Les Pins Penchés
Stéphane Lelievre
3182 avenue de la Résistance
France-83000 Toulon
FR - Provence-Alpes-Côte d'Azur -

A6 and A8 then A52 dir. Toulon. In Toulon, dir. city centre, then the port, then the beaches, then head for Cap Brun and follow the corniche.
Toulon (5km)

Toulon-Hyères (14km)