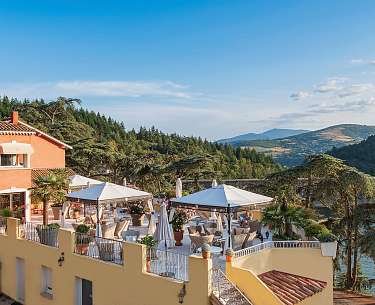 Less than an hour away from Lyon, with its charming ochre and yellow façade, its spectacular view over Lake Ternay and the Massif du Pilat, it is not clear whether the Auberge du Lac is the work of an inspired architect or a passionate florist. This residence is in fact an immense bouquet, where each bedroom is decorated with an exquisite floral theme. The interior is light and airy, and each wall, each set of curtains, is an explosion of new colours. As for the excellent cuisine, it is a careful blend of delicate and piquant all at the same time....
Auberge du Lac
Catherine Micallef
Le Ternay
France-7100 Saint-Marcel-lès-Annonay
FR - Auvergne-Rhône-Alpes -

A7 in Chanas take out 12 dir. Annonay, take N82 dir. St-Etienne/Paris, at the 1th fire take the right.
Die Mautstelle von Roussillon (20km)


Saint-Étienne-Loire (80 km)
Lyon-Saint-Exupéry (45 km)