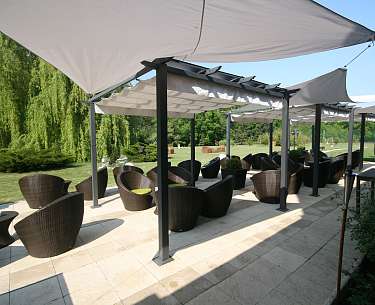 Before being turned into a hotel, this proud 18th century building with terrace was firstly a farmstead before becoming a hunting lodge. Built on a five hundred hectare estate, and situated 1h45 from Paris and 40 minutes from Reims, it attracts food lovers in vast numbers. High-quality cuisine is served enhanced by a selection of fine wines. It is also possible to take cooking lessons. In terms of relaxation there is a reading room, bar, massages, a fitness centre, sauna and a superb covered and heated overflowing swimming pool, tennis and hot-air ballooning. Spacious rooms and bathrooms, veranda in the garden for breakfast.
Domaine de Barive - Les Epicuriens
Domaine de Barive - Les Epicuriens
Nicolas Froment and Pascal Leromain
Domaine de Barive
France-02350 Sainte-Preuve
FR - Hauts-de-France -

From the North: A26 outing 13 dir. Laon and then dir. Athiès-sous-Laon, then dir. Charleville-Mézières. From the South to Paris: A4 then A26 out 14 and then dir. Laon/Corbeny. On the right is Sissonne/Sainte-Preuve.

Paris - Charles De Gaulle (150km)