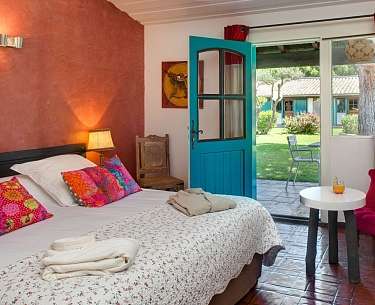 A house in unique, lavender-scented surroundings among pine trees, oleanders, olive trees... A stone's throw from the marina - everything is ready for a holiday under the southern sun. 39 spacious rooms with modern comforts await you in this house so typical of the region. Relax by the pool or in the hammam. In the evening in the restaurant, the chef offers regional cuisine with olive oil, thyme and basil with lamb, cod, monkfish and - the A.O.C bull of the Camargue.
L'Oustau Camarguen
Pascale & Marie Däweritz
3, route des Marines
France-30240 Le Grau-du-Roi
FR - Occitanie -

A9 outing 26 Gallargues, D979 dir. Aimargues, Aigues-Mortes, Le Grau-du-Roi, Port-Camargue, then Plage Sud.


Le Grau-du-Roi (4 km)

Montpellier-Méditerranée (25 km)
Marseille - Provence (150 km)