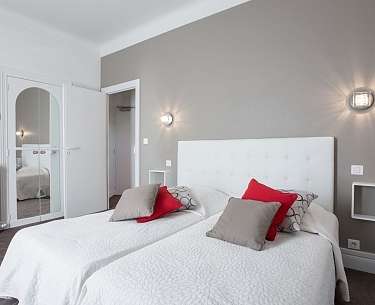 Overlooking Clermont-Ferrand and the surrounding hills, this is one of the last beautiful Art Deco hotels. Built in 1930, the interior of the house is dedicated to a theme that was the height of modernism at the time: radio. Radio stations, tiles, mirrors and wrought ironwork: every element of the decoration refers to radio. The bright and elegant rooms provide a stylish setting. This hotel on the quiet heights of Chamalières, with its very peculiar charm, is also considered one of the most famous gourmet addresses in Auvergne. Vegetable garden and excellent hospitality.
Le Radio
Caroline Mioche
43, avenue Pierre-et-Marie-Curie
France-63400 63400 Chamalières
FR - Auvergne-Rhône-Alpes -

A75 out of Clermont, then dir. Chamalières-Royat. A71 outing 15 Chamalières-Royat. A72 outing in Clermont Nord, Dir. Royat and A89 outing 26 Volcania-Pontgibaud.


Clermont-Ferrand (6 km)

Clermont-Ferrand Auvergne (10 km)