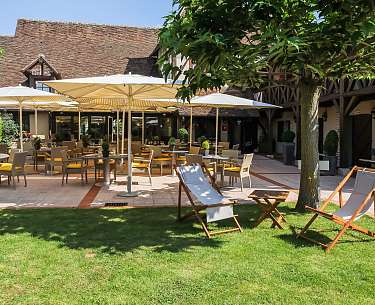 Thanks to its romantic name and the wood crackling in its traditional fireplace, looks like it comes straight out of an epic novel. Located just 90 minutes from Paris in the heart of the Sologne, "L'Auberge du Cheval Blanc" - the White Horse Inn is a former 17th century post house has been converted into a pleasant gourmet establishment by Ludovic Poyau, the chef, where flavours and spices take pride of place. Each room is a small discovery giving onto a terrace, courtyard or a blooming garden. Even if you don't have a horse to hand, a bike ride in the countryside is most enjoyable.
Auberge du Cheval Blanc
Ludovic Poyau
5, place du Mail
France-41300 Selles-Saint-Denis
FR - Centre-Val de Loire -

A71 out 4 Salbris, at 9km on the D724 dir. Romorantin.$ A85 out 14 Romorantin dir. Salbris.
Selles-Saint-Denis (1 km)


Paris - Orly (180km)