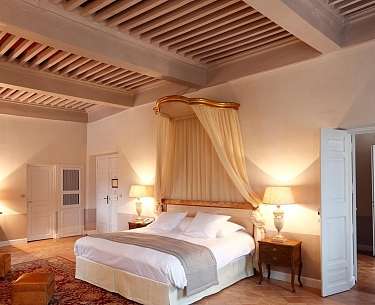 The hostellerie between Cannes and Aix-en-Provence is the former priory of a 12th century Benedictine monastery. The terrace in the shade of the chestnut trees, the park with its large cypresses and the garden watered by a stream from the mountains create a peaceful, relaxing atmosphere. 10 newly renovated rooms with refined comforts. The chef, a pupil of Alain Ducasse, lets us discover a sensitive cuisine in which the products of Provence are shown to their noblest advantage. Banquets and weddings can be organised.

Hostellerie de l'Abbaye de la Celle
Hostellerie de l'Abbaye de la Celle
Dominique Potier
10, place du Général de Gaulle
France-83170 La Celle-en-Provence
FR - Provence-Alpes-Côte d'Azur -

of Nice and Marseille, A8 out of 35 Brignoles, at the 1th round of the round on the right of dir. Toulon, at the 2th round, right back. La Celle.


Aix-en-Provence (61 km)

Marseille - Provence (84 km)
Nice-Côte d'Azur (119 km)