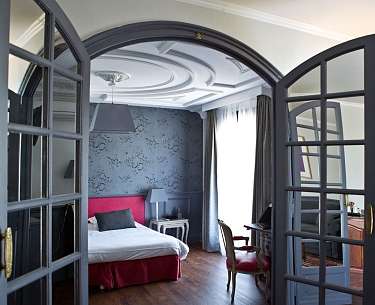 In the heart of the vineyards and close to Beaune, the Ermitage de Corton perfectly embodies the Burgundian way of life. A vast and charming manor house serves as the setting for this hotel, where you can relax to your heart's content in the park or by the pool and admire the landscapes of this beautiful region. With family or as a couple, enjoy our spacious rooms and their views of Burgundy's most renowned vineyards. Great wines and local products accompany a tasty cuisine between tradition and modernity.
Ermitage de Corton
Clémence & Nicolas Chambon
D974 Route de Dijon
France-21200 Chorey-lès-Beaune
FR - Bourgogne-Franche-Comté -

A6 outing 24 Beaune St-Nicolas then dir. Dijon on the D974. Do not go back to the village of Chorey, continue straight.


Beaune (3 km)

Dijon-Bourgogne (35 km)
Lyon-Saint-Exupéry (180 km)