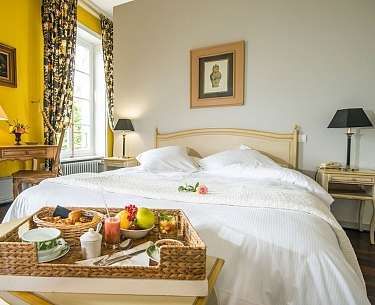 A few kilometres from Tronçais Forest, this is a first-class address that combines elegant interiors with antique furniture and silk wallpaper with the kindness that goes with the beautiful natural surroundings. Lovers of spacious rooms will feel at home in this 19th-century château, which offers a wonderful view of the Bocage Bourbonnais from its hill. 40 hectares of park, horses (the stud farm is magnificent) to gallop, a pool near the orchard, everything you need for fishing, a terrace to enjoy the view of woods and ponds, to the horizon. Popular cuisine and wine cellar, cooking classes and absolute tranquillity.
Château d'Ygrande
Pierre-Marie Tissier
Le Mont
France-3160 3160 Ygrande
FR - Auvergne-Rhône-Alpes -

North, A71 out of St-Amand - Montrond - N144, D978A and D953. From the South: A71 outing in Montmarault, N79, D945, D1 and D192.
Moulins-sur-Allier (29 km)

Clermont-Ferrand Auvergne (100 km)