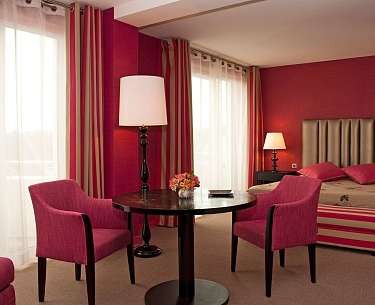 This former stagecoach station in a flowery setting now houses a hotel where everything revolves around relaxation and well-being. Opposite Saint-Pierre Abbey, this very well-equipped modern hotel offers cosy, spacious and comfortable rooms. You will be welcomed by a fitness centre with sauna and Jacuzzi and a beautiful private garden. Chef Didier Serre serves refined French cuisine rooted in tradition. The hotel is ideally located for a visit to Solesmes Abbey, famous for its Gregorian chants.
Grand Hôtel de Solesmes
Famille Jaquet
16, place Dom-Guéranger
France-72300 Solesmes

A11 sablé outing - La Flèche, N157-D4 dir. Solesmes.
Sablé-sur-Sarthe (3 km)

Nantes Atlantique (164 km)