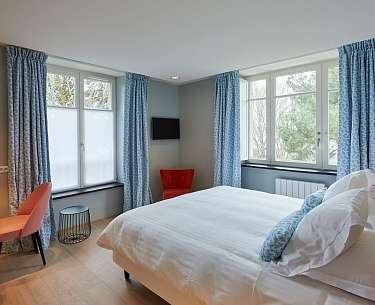 Chef Frédéric Claquin and his team offer authentic seafood cuisine. Le Bistrot du Bac, our second restaurant on the Sainte-Marine harbour, offers simple and hearty regional cuisine. Nearby, discover the Glénan archipelago or the headland of La Torche, a surfer's paradise! Not to mention Quimper, capital of the Cornouaille, a town of art and history around its magnificent cathedral, the Eckmühl lighthouse, the Pointe du Raz... Two or three days are not too much to get to know the charm of Brittany here.
Villa Tri Men
Anne LE MORVAN
16, rue du Phare
France-29120 29120 Sainte-Marine Combrit
FR - Bretagne -

A11 dir. Le Mans, then N12 dir. Rennes, then N165 dir. Quimper and follow the dir. Pont l'Abbot.


Quimper (18 km)

Quimper Cornouaille (12 km)