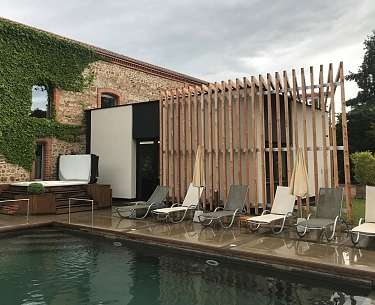 Domaine de Champlong
A stay at the sumptuous Château de Champlong is a delight for all the senses. In a sixteenth-century residence, the contemporary lines give a new feeling to the spacious rooms opening onto the grounds with their century-old trees. Their unique design will guarantee rest and relaxation. Each one is named after and decorated in the shades of a spice. In the restaurant, the eighteenth-century paintings provide a pleasant contrast in which to savour the innovative cuisine of Olivier Boizet. The changing seasons are an inspiration for the chef whose dishes feature regional produce. An outdoor whirlpool enhances the range of relaxation treatments offered by the qualified, renowned expert in the spa.
Domaine de Champlong
Véronique and Olivier Boizet
100, chemin de la Chapelle
France-42300 Villerest
FR - Auvergne-Rhône-Alpes -

A72 dann D8 Richtung. Roanne, D53 rechts abbiegen am sogenannten Cabaret de l'Âne.
Roanne (6km)

Lyon-Saint-Exupéry (100km)