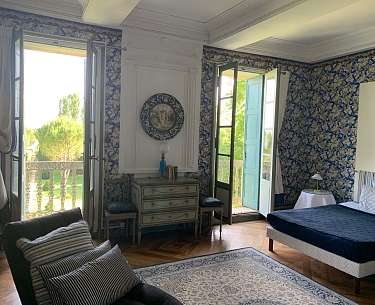 Savour dolce vita en route for the fortified Albigeois towns and a décor imbued with the perfumes of Tuscany. The charms of this magical place make our estate an ideal setting to recharge your batteries. Behind the imposing 19th century façade lies our elegant luxury suites and a splendid patio full of serenity. Sheltered by the dovecote, the pool surrounded by boxwoods is waiting for you. You will also enjoy the outdoor games, the different lounges, the snooker and the park. So many areas that invite you to relax.
La Monestarié is also a place of conviviality with lovely summer evenings that Rebecca and Didier, your hosts, are pleased to organize.
To enjoy a meal, La Monestarié offers a varied continental buffet breakfast, a mini market where you will find local products, as well as picnic baskets to taste during one of your walks.
Domaine de La Monestarié
Didier Mauro, Nathalie Mauro
Chemin des Moines, Bernac
France-81150 Occitanie
FR - Occitanie -
Marssac-sur-Tarn (6km)
Head for Albi and leave Marssac-sur-Tarn, cross the town and follow Bernac.

Toulouse-Blagnac (64km)
Albi – Le Sequestre (14km)