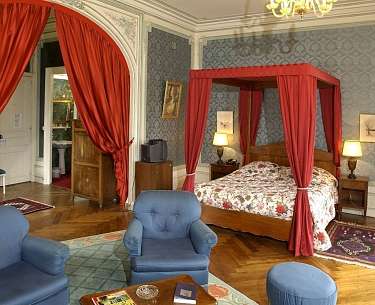 This château in Touraine, built in the elegant style of Napoleon III's time, looks out over the green valley of the Choisille. High ceilings, oak parquet flooring and carpeted walls characterise the rooms and tastefully decorated suites. Some have four-poster beds or a whirlpool. All offer a view of the extensive English park with rare species or of the Choisille valley. On sunny days, we enjoy the surroundings when we have breakfast on the terrace with its beautiful balustrade or relax by the lovely heated pool. Aristocratic lifestyle also characterises the evenings when we enjoy the chef's "surprise" menu by candlelight.
Château de l'Aubrière
Violaine de Lussac
11, route de Fondettes
France-37390 La Membrolle-sur-Choisille
FR - Centre-Val de Loire -

A10 outing no. 19 North Tours, D910 and then D801 dir. Le Mans-Laval. A28 outing no. 27 Neuillé-Pont-Pierre D938 dir. Tours. A85 sortie Chambray-lès-Tours, D751 D37 dir. La Membrolle sur Choisille.


Tours - Saint-Pierre-des-Corps (7 km)

Tours Val de Loire (7 km)