Germany is a varied holiday destination and offers fantastic regions just waiting to be discovered. Versatile low mountain ranges, charming towns, idyllic meadows and forests - here you will encounter cultural treasures and an incomparable scenic beauty and diversity.
What makes your vacation in Germany so special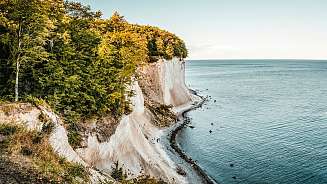 From the North Sea and Baltic Sea to the low mountain ranges and wine-growing regions down to Bavaria to the Bavarian Alps or Lake Constance – Germany's scenic diversity makes it a popular holiday destination that is sometimes underestimated, especially by the Germans themselves. While Schleswig Holstein, Mecklenburg Western Pomerania and Lower Saxony offer not only Nordic flair but also beautiful coasts, the federal states of Hesse, Rheinland-Palatinate and Baden Württemberg impress with numerous vineyards and cosiness. Charming old towns like Dresden with its Christmas Striezelmarkt can be found in Saxony. If you appreciate varied landscapes and extensive nature, Brandenburg, and Nordrhein-Westfalen are the places to be. The Sauerland egion with its mountains and ski lifts is a wonderful winter sports destination. Our Romantik Hotels pick up on this diversity and beauty of the German regions and await you with warm hospitality and the highest quality. How about a walk on the beach together in the far north, a hiking tour for two in the Harz Mountains or a romantic dinner in the gourmet region of the Black Forest? Get to know Germany from a completely different perspective and book one of the Romantik travel destinations in Germany now.
The holiday destination in numbers
1585 kilometres of coastline on the North Sea and Baltic Sea
over 6500 km of cycle paths
more than 12,000 lakes
over 30 low mountain ranges with an altitude of at least 300 metres
13 wine-growing regions with over 100,000 ha of vineyards
51 UNESCO World Heritage Sites
Around the Romantik Hotels in Germany
Sind Sie im Urlaub in einem der Romantik Hotels & Restaurants in Deutschland? Dann stimmen Sie sich mit der richtigen Musik ein, die in der Urlaubsregion Deutschland bekannt und beliebt ist. Wir wünschen Ihnen einen tollen Aufenthalt mit Romantik in Deutschland!