"Relax, Feel good, Enjoy"
Deep in the heart of the Schmallenberg Sauerland, in the historic old town of Schmallenberg, lies the Hotel Störmann, which has been family-run for centuries. The house offers you everything that makes a perfect vacation or a relaxing weekend - from relaxed to sporty. Every stay becomes an extraordinary and enjoyable experience in the wonderful nature!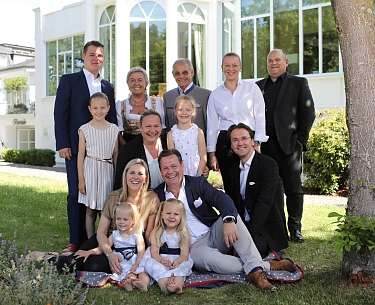 Your Hosts
The traditional Hotel Störmann is the "good saloon" of the town of Schmallenberg. For over 250 years, this house has stood for warm hospitality, excellent food and a relaxed atmosphere. Since 2016, the host family Deimann has been in charge of the Romantik Hotel, renovating and carefully modernizing the main building. For the family, one thing has always been clear: Romantik Hotel Störmann should continue to stand for warm hospitality, excellent food, relaxing time and, last but not least, tradition.
Indoor Pool
Lift
Meeting Facilities
Parking Area
Sauna
Terrace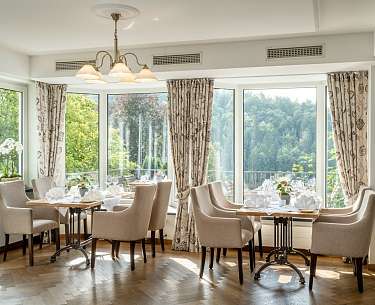 Restaurant Bauernstube
In our Bauernstube you will experience honesty and culinary art, tradition and modernity. Our restaurant and the Poststube are hospitable premises to the kitchen. The creative minds at the stove show there how they create refined, modern and traditional dishes from Sauerland products. All dishes are always freshly prepared. Our kitchen team takes special care to use as many products from local producers as possible. Only the highest quality ingredients are used in our kitchen.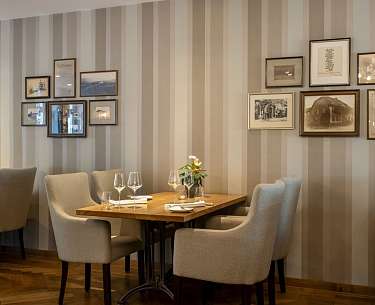 Valentine's Hall
Our Valentine's Hall invites you daily from 7:30 to 10:30 am to the rich breakfast buffet. In a bright and friendly atmosphere and at beautifully set tables, you will start an eventful day in the Sauerland in a good mood and strengthened. The Valentinsaal also invites you to cozy celebrations of any kind. With the addition of the adjacent room "Brunnenstube" it offers space for up to 100 guests.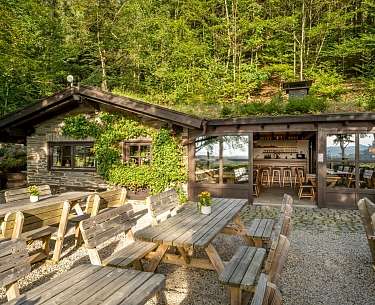 Tuber Cottage
Sauerland cottage atmosphere with a breathtaking view you can experience at the Knollen in our rustic forest hut. Here you can spend sociable hours with rustic food and a varied evening program with music. In good weather, we offer hearty barbecue evenings once a week and serve you hearty food from the charcoal grill, freshly tapped Säuerlander Pils and matching wines. When singing and swaying in the twilight, good mood and beaming faces are guaranteed.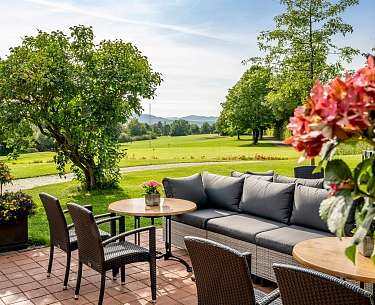 Golf Café Restaurant
The Golf Café Restaurant offers you a cozy ambience with a unique view of the surrounding mountains. Whether you want to take a short break during your round of golf/hiking or end your (golf) day with a fantastic view of the sunset, we are here for you. The Golf Café Restaurant has a spacious sun terrace. When the weather is nice, you can enjoy your meal there with a panoramic view.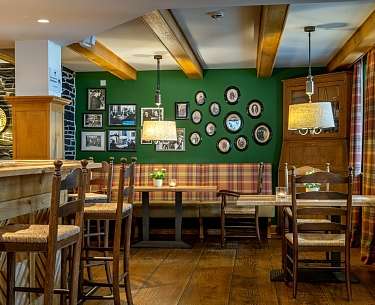 Park Restaurant
Welcome to our hotel bar, a place of relaxation and conviviality. Here you can end the evening with exquisite cocktails and fine wines. Our charming ambience and attentive staff will ensure an unforgettable experience. Cheers to unforgettable moments in our hotel bar!
Spa in the Gutshof
Feel good like at home, switch off, relax and slow down, get rid of the stress and hectic of everyday life, just let yourself go and be pampered in the most pleasant way - we cordially invite you to our "Spa im Gutshof". As a guest of our house you can enjoy this feel-good atmosphere for a whole day for only 39,50 €. The selected and with expertise designed wellness programs are based on a philosophy of life that considers body, mind and soul holistically.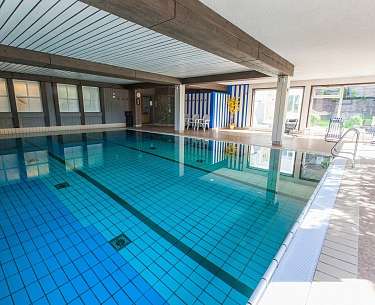 Pool
For your relaxation or sport in the morning, Romantik Hotel Störmann has a swimming pool (8x12 m, water temperature 28 C°) and a Finnish sauna at your disposal. Afterwards, snuggle up in your bathrobe and relax in the swimming pool with a view of the Härdler. A wellness bag with bathrobe and bathing utensils is waiting for you in your room.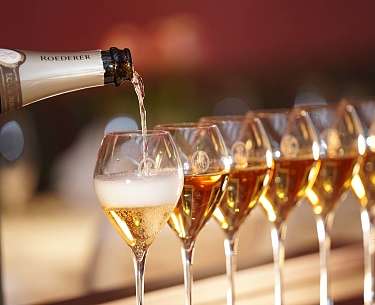 Private Event
Do you have a reason to celebrate in the near future? Be it lavish celebrations, elegant parties, casual parties - whether it's a wedding, birthday, communion or corporate event. Not only in the Hotel Störmann, but also in the Hotel Deimann, the Golf-Café-Restaurant or in the Waldhütte we organize your celebration. As a specialist for celebrations of any kind, we offer you years of experience, a variety of rooms from classic to extravagant in the Hotel Störmann and Hotel Deimann and a dreamlike location for undisturbed celebrations in the Golf Café Restaurant.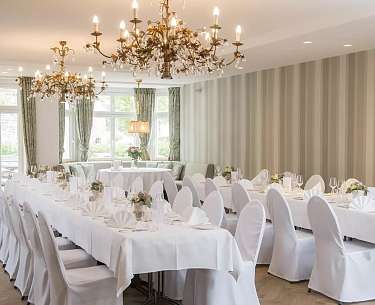 Weddings
No matter what you are looking for: whether an unusual wedding location in the Sauerland or a Romantik hotel in Schmallenberg - a wedding celebration at Hotel Störmann or Deimann means one thing above all: celebrating light-heartedly and enjoying every minute of it, sharing joy with people who are important to you. And with many years of experience, we can say from the bottom of our hearts: You are in good hands!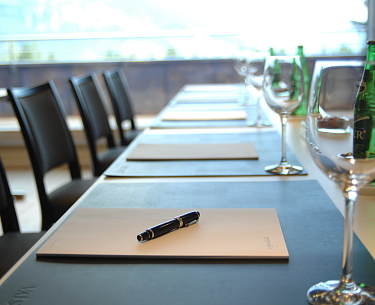 Conferences and Seminars
At Romantik Hotel Störmann you will find a particularly quiet and pleasant working atmosphere for important business meetings. Hold your meetings, conferences or seminars in our premises. During your meeting, we will provide you with culinary all-round catering. If you wish, we will also be happy to organize a suitable social program. How about, for example, a round of golf on the 27-hole championship golf course, wellness treatments at the Romantik- und Wellnesshotel Deimann or a tour of one of the Sauerland Breweries?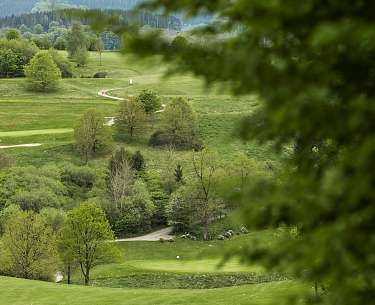 Golf
Just 8 km from the hotel is one of the most beautiful golf courses in Germany. The 27-hole course of the Schmallenberg Golf Club, which is designed close to nature and excellently maintained, with an attached 6-hole short course, is located on a sunny mountain plateau - approx. 470 m above sea level. Thus, it offers not only golfing pleasure at its best, but also a breathtaking panoramic view of the Hunau and Rothaar Mountains. The mighty Wilzenberg protects the course from the south, and to the north lies the typical Sauerland village of Holthausen.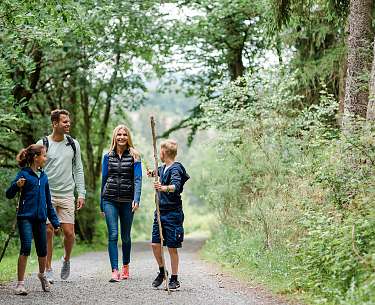 Hiking
The panoramic view of endless, gently swaying mountains grounds the senses, the unmistakable silence of nature frees the mind for the really important things in life, and the moderate exercise in the fresh air strengthens the body and well-being. It is therefore no wonder that more and more people are drawn to the picture-book landscape of the Schmallenberg Sauerland for hiking. The Sauerland offers everything that makes hikers' hearts beat faster. Throughout the region, perfectly signposted, local walking and circular trails await you, such as
Hardtkopfsteig
Hawerland Myth Trail
Round trail around the Beerenberg
Round trail around Kircharbach
Round walk around Arpe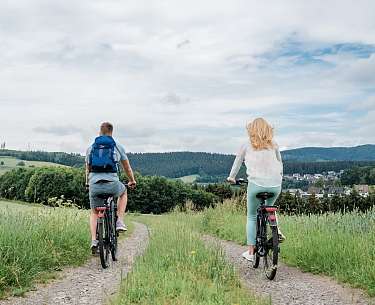 Cycling
Sauerland offers some family-compatible routes for cycling with the Sudernland Bike Ring, the Kinderland trekking route and four routes of the Bike Arena Sudernland. Well surfaced and only moderately ascending or descending, they are also easy to ride with 5 instead of 21 gears. E-bikes or pedelecs not only help over all mountains thanks to the switchable electric motor, but also make cycling a completely new, relaxed nature experience for returning cyclists, families with children and intergenerational groups.
Wintersport
The longest ski lift and also the longest cross-country ski trails in the Sauerland can be found around Schmallenberg. Here, the winter has been made snow-sure by making technical snow as soon as the temperatures drop. And not just the downhill slopes around the Hunau. With a circular course of 2.5 kilometers, the cross-country skiing center Westfeld-Ohlenbach in the Rothaar Arena guarantees cross-country skiing pleasure from the end of December to mid-March. If Frau Holle then shakes her cushions over the Sauerland particularly vigorously, you will also glide through up to 200 km of groomed cross-country trails.
Romantik Hotel Störmann
Familie Deimann
Weststraße 58
Germany-57392 Schmallenberg
DE - Sauerland region -
Please note: from 31.03.2023
Road closure of the B236 between Oberkirchen and Winkhausen. Straßen NRW is upgrading the federal road between Oberkirchen and Winkhausen with a full road closure. The road closure is expected to last until December 2023. A detour via Grafschaft Schmallenberg is signposted.
From 21.06.2023
Road closure L 776 Bad Fredeburg/Rimberg. The L776 in Bad Fredeburg at Rimberg is once again completely closed. The intermediate section of about 500 meters between the already upgraded section and the new bypass of Bad Fredeburg (Hotel Kleins Wiese / Rimberg) will be rehabilitated in full closure. Detour are signposted.

Coming from the north and north-west, take the A46 freeway to the Meschede exit. From here, take the B55 and the B511 via Bad Fredeburg to Schmallenberg.
Coming from the south and south-west, take the A4 or 45 freeway to the Olpe-Süd exit on the B55 towards Lennestadt. From here via Lennestadt and the B236 to Schmallenberg-Winkhausen.
Coming from the east, take the A4/A5/A7 freeways to Kassel and then take the A44 towards Dortmund. At the Zierenberg exit, take the B251 towards Korbach and as far as Brilon and via Olsberg and Winterberg (B480) to Schmallenberg.
In Schmallenberg take the B236 via Gleidorf in the direction of Winterberg.
The nearest train stations are Winterberg, Lennestadt and Meschede. The nearest ICE train station is Hagen. For your further way from the station to us, we will gladly organize a shuttle service (for a fee) for you.

We recommend the airports Paderborn-Lippstadt and Dortmund for your journey by air. For your further way from the airport to us, we will gladly organize a shuttle service (for a fee) for you.