Art, culture, culinary delights!
Only an hour's drive from Berlin, an exciting mix of tradition and modernity awaits you. The castle in the style of an old English manor house is a welcome venue for concerts and art exhibitions. The castle kitchen presents modern interpretations of Berlin and Brandenburg cuisine. Nestled in the idyllic landscape of the Oderbruch and situated directly on a small bathing lake, the castle encourages long walks, bicycle tours or simply relaxation.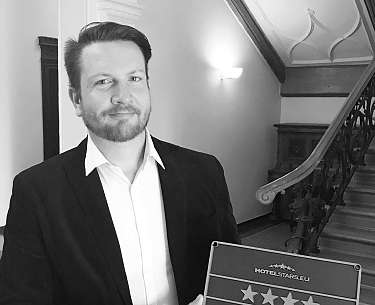 Your host
Inspired by the Tudor style of old English manor houses, Reichenow Castle was built at the end of the 19th century and its striking architecture makes it unique in the Mark Brandenburg region. Structurally unchanged and lavishly restored with great attention to detail, today host Jan Eilers is the lord of the castle of this enchanted place whose eventful history can only be guessed at. Ideal for finding peace and leaving the noise and bustle of the nearby metropolis behind.
Our facilities
at Romantik Hotel Schloss Reichenow
Free Wifi
Meeting Facilities
Parking Area
Quiet Location
Sauna
Terrace
Wheelchair Friendly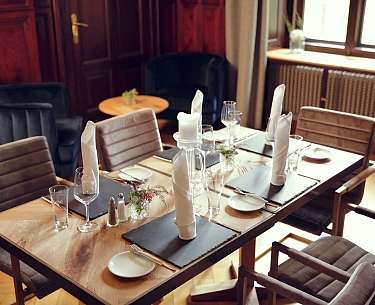 The castle restaurant
The philosophy of host and chef Jan Eilers is straightforward and follows a clear mission: regional, sustainable, fresh and down-to-earth. Our partners and suppliers provide us with products from close by. Much is homemade and everything is delicious. From jam to cheese, from sausages to smoked fish from our small, castle-owned smokehouse - you will be delighted. We are no less discerning and quality-conscious in our internationally inspired selection of wines and spirits.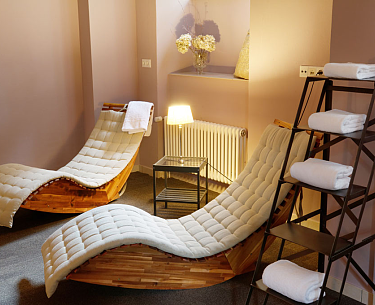 Sauna and fitness
Relax and be active, both are possible with us. In our Finnish sauna for up to 6 people you can sweat yourself healthy without any effort. You can work out for a healthy body in our fitness room. Here you will find equipment for endurance and strength exercises.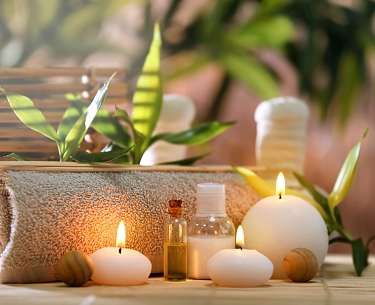 Massages
If you would like a relaxing massage in addition to your stay, we have found a partner for you with a team of experienced wellness therapists who will be happy to help you. Switch off with a back, head and shoulder massage or enjoy boundless relaxation with an aroma oil massage with warm sesame oil.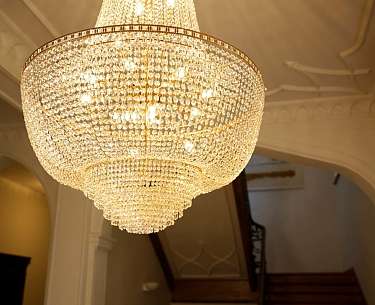 Private events
The stately ground floor with its spacious hall, the upper floor with its light-filled gallery and Steinway wing, the library and well-equipped seminar rooms make Schloss Reichenow an excellent venue for events. Exclusive use is possible for festivities in the castle to larger open-air events in the park. Whether it's a festive reception, a glittering wedding party or a varied team-building event - the atmosphere of the castle provides the ideal setting.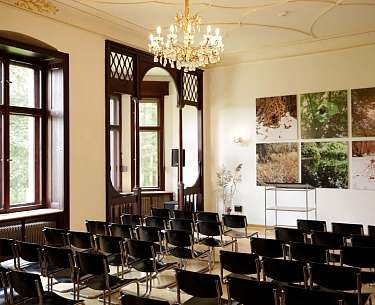 Conferences & Seminars
Our multifunctional and combinable rooms are ideal for meetings of up to 60 people and events for up to 150 guests. Only an hour's drive from Berlin, you will find the necessary peace and seclusion for team events or corporate meetings. The spacious areas in and around the castle offer enough room for creative work and freedom for the really big ideas. All rooms are equipped with the latest technology and free Wi-Fi.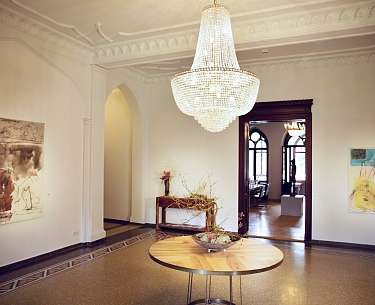 Art and culture
If you are interested in art and culture, you will be thrilled not only by the hotel's own sales exhibition but also by the creative hustle and bustle at the neighbouring Reichenow Estate. Numerous artists, actors and freelancers have settled there and breathed new life into the old estate.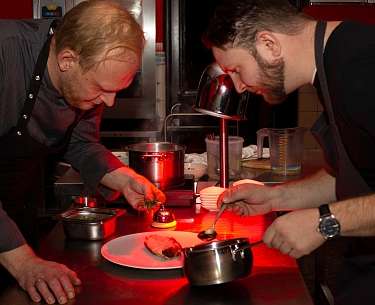 Cooking courses
Communicate and cooperate. Chopping, frying, cooking and tasting together. An informal togetherness and yet a team effort for which every individual is needed for success. The participants of our cooking courses get to know completely new sides of their fellow human beings. With the variety of tasks to be mastered together, there is an opportunity for everyone to contribute in the best possible way. The highlight is, of course, enjoying the menu together in our stylish castle restaurant.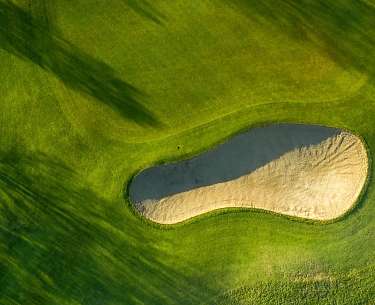 Golf
The Golfpark Schloss Wilkendorf with its golf holes nestled in the hilly landscape offers a golfing experience that is unparalleled, not only in Berlin-Brandenburg. In addition to the 18-hole Sandy Lyle championship course, there is also the only public 18-hole golf course in Berlin-Brandenburg: the Westside course. An extensive practice facility with a large driving range, chipping and putting greens and a 6-hole short course invite you to work on your perfect swing. The golf park offers our guests a reduction on the green fee.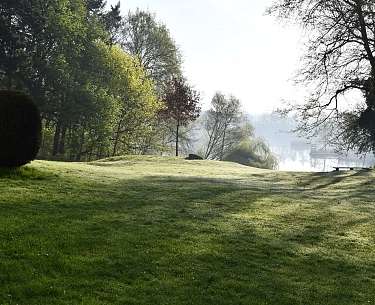 Relaxation seminars
In the immediate vicinity of Reichenow Castle, nature-oriented relaxation seminars offer ideal conditions for experiencing nature and tranquillity. The nearby lake invites you to immerse yourself in the landscape, and the castle park has a special stand of trees and meadows. The adjacent forests with their diverse tree populations are a diverse natural space in the picturesque and spacious landscape of Märkische Schweiz, which not only the seminar participants use to relax body and mind.
Romantik Hotel Schloss Reichenow
Romantik Hotel
Schloss Reichenow
Romantik Hotel Schloss Reichenow
Jan Eilers
Neue Dorfstr. 1
Germany-15345 Reichenow-Möglin
DE - Märkische Schweiz -

A10 Berliner Ring, exit Berlin Hohenschönhausen, then via B1/B5 and L303
S5 to Strausberg from where we recommend continuing with the hotel's own shuttle service (by prior arrangement) or with bus 937