Invitingly northern German & stylishly casual!
The feeling of coming home, relaxed tranquillity and a dreamlike view of the Kiel Fjord: this is how the venerable Kiel Merchant welcomes its guests. Two restaurants, a bar, a spacious event area and the rooms skilfully combine tradition and zeitgeist. Situated in a magnificent park, the hotel offers the perfect setting for a relaxing time-out for two, weddings and also for creative conferences.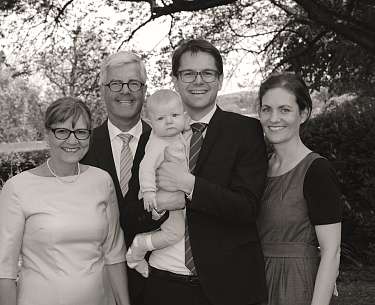 Our hosts
The owner of the property is the association "Kieler Kaufmann e.V.", which wanted to create a place of meeting and exchange of opinions with the hotel of the same name. The history of the hotel dates back to the middle of the 19th century, when the banker Wilhelm Ahlmann acquired the property to build his retirement home here. After his death, his descendants initially continued to run it until they had to sell it. The estate has been owned by the association since the end of the Second World War. The hosts at the Romantik Hotel Kieler Kaufmann, Carl-Heinz and Marlies Lessau and their son Kilian Lessau.
Facilities
at Romantik Hotel Kieler Kaufmann
Child Friendly
Fitness
Free Wifi
Indoor Pool
Lift
Meeting Facilities
Parking Area
Pets Friendly
Quiet Location
Sauna
Terrace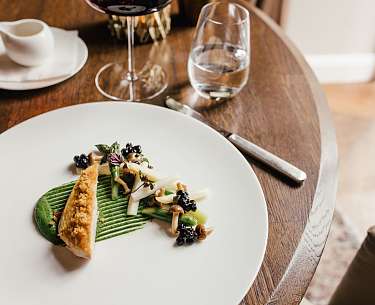 Enjoy
No less than two new restaurants and a bar skilfully combine tradition and zeitgeist and invite you to linger. At the Kaufmannsladen, guests dine refreshingly and casually. There are steaks and burgers, fish and vegetables. Regional, down-to-earth, delicious. With a view of the Baltic Sea and a large, panoramic terrace. Ahlmanns has already been awarded a Michelin star a multiple times. The style? A modern product cuisine that focuses on the essentials and is cosmopolitan, seasonal & creative. The new bar Soll und Haben at Kieler Kaufmann invites you to quiet sounds, fine drinks and good conversation.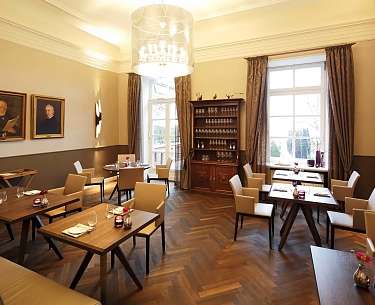 Ahlmanns
Ahlmanns offers modern cuisine in a historic setting. A harmoniously delicious field of tension, in the past awarded with a Michelin star and reopened in April 2023. Modern, fresh and rich in flavours. Guests at Ahlmanns experience an open-minded, modern and product-based regional cuisine. Well-known ingredients are interpreted differently, beautifully different. The stylish, modern interior provides a relaxed setting to spend a wonderful evening in an informal atmosphere. Björn Urbach is sommelière. For each menu he offers an optimally matched wine menu.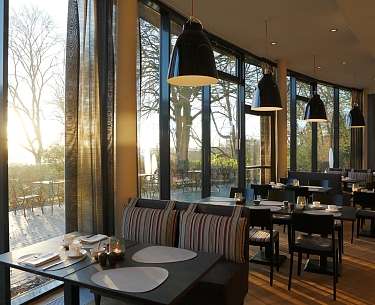 Kaufmannsladen
Chef Sebastian Hög has culinary responsibility at the Kaufmannsladen. After training as a chef at the Fährhaus in Bad Bevensen and years of travelling, he took over as head chef at the Romantik Hotel Kieler Kaufmann in 2018.In the somewhat different steak & grill restaurant, products from the region, more precisely from northern Germany, are processed. This means short distances, free-range farming and little stress for the animals. And you can taste that!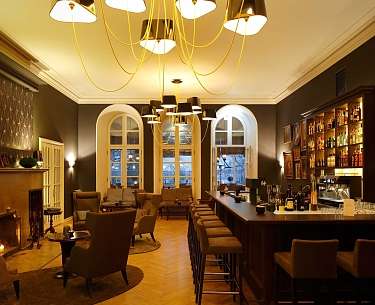 Soll & Haben
The "Soll & Haben" is the heart of our hotel. Whether for coffee and tea time in the afternoon, or in the evening for a cocktail, whiskey or gin and tonic by the fireplace: in the Soll & Haben you can experience the history of our house. Regional, stylish, timeless - the bar menu is just like the ambience. We serve craft beers as well as classic cocktails and North German specialities.
Our head chef
Young, ambitious and creative: Lasse Knickrehm is the new head chef at the fine-dining restaurant Ahlmanns. After a few years as sous chef, he already made a major contribution to the restaurant's success as well as to its first Michelin star. Together with his team around Mathias Apelt at the time, he was able to gain numerous important experiences and build up a large network of regional suppliers, which he will continue to use today, after the reopening in April 2023. His style is authentic and creative, but still down-to-earth and local. Learned at the Romantik Hotel Jagdhaus Waldfrieden, the Hamburg native has already worked with star chefs such as Hans Stefan Steinheuer or Bobby Bräuer at the luxury hotel Grand Tirolia in Kitzbühel.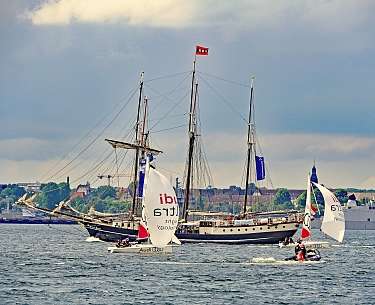 Kiel Week
Every year in June, the world's largest sailing event takes place in Kiel. In 2022 (18-26 June 2022), Kiel Week looks back on 140 years of history, from the original sailing regatta to today's popular festival and sports event with an extensive supporting programme, performances by international artists on numerous live stages, fireworks, the famous windjammer parade and much more. Book a sailing or ship tour to experience the hustle and bustle on the sea.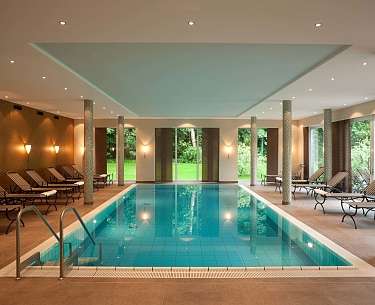 Sanctum
"Sanctum" comes from the Latin word "holy", but in English it also has the meaning "innermost sphere". This was our inspiration. We have created a space where tranquillity reigns free from external influences and which invites you to linger. Pure relaxation - for eyes and ears and for body and mind. Straightforward, reduced and yet warm and inviting. It offers active relaxation through swimming and endurance training or passive relaxation in the sauna. Restorative massages and beauty treatments are also offered.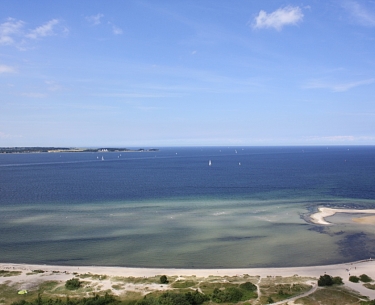 Experience nature & surroundings
Our house is an ideal location for a relaxing break, whatever the season. There are plenty of worthwhile excursion destinations: the green hinterland with bright yellow and fragrant rape fields in spring, endless Baltic beaches, full of hustle and bustle and bathing pleasure in summer or lonely and unspoilt in autumn and winter. In addition, there are numerous museums, churches, lookout points or old fishing villages.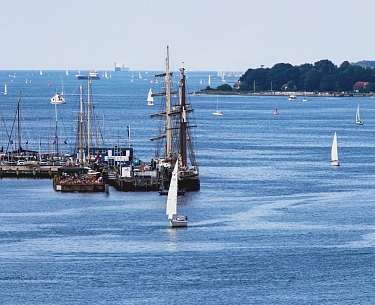 On the water
Sail with the Förde steamers across the Kiel Fjord to Schilksee or directly to Laboe. Take part in an exhilarating speed-sailing event or sign on to a traditional sailing vessel. If you have enough muscle power, you can also hire a rowing boat.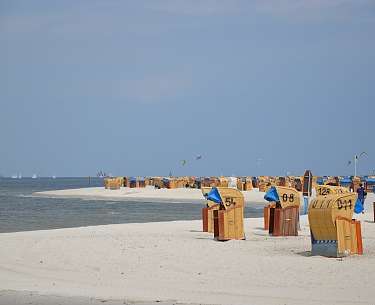 Bathing and swimming
The nearby beaches in Schilksee, Strande, Laboe, Heidkate, Friedrichsort (Falckensteiner beach), Heikendorf and Schönberg invite you to cool off. While relaxing on the beach, you can watch the sailing ships of the Olympic marina (Schilksee) or marvel at the cruise ships and ferries (Falckenstein). If the weather does not cooperate, the Laboe seawater swimming pool with a view of the sea offers an alternative.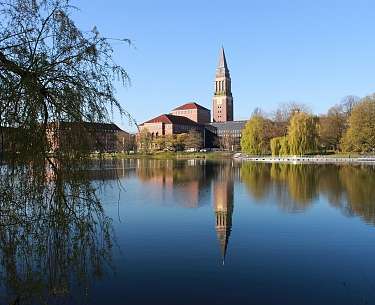 Discover Kiel
Do you actually know Kiel? Our often underestimated state capital offers a rich cultural programme and numerous manufactories with regional, sustainable handicraft production.
Keep an eye on everything from the 106-metre-high town hall tower and get to know Germany's northernmost city from a new perspective. Incidentally, the town hall tower is reminiscent of Venice's Campanile.
Soak up the maritime flair: Take a walk past numerous lighthouses, along the harbour and on the Holtenau High Bridge from where you can marvel at the Kiel Canal.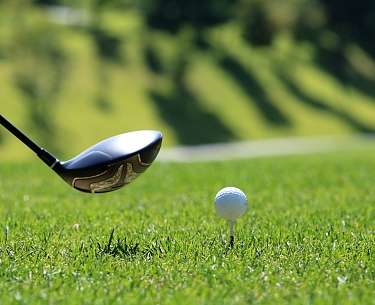 Golf
For enthusiastic golfers, we can offer four completely different golf courses within a distance of less than 25 km. Our partnerklub Kitzeberg ,for example, with its golf course founded as early as 1902, is located in the midst of a - for us in the far north - very hilly landscape. The terrain resembles a park with partly very old trees and offers challenges for players of all levels due to its numerous slopes.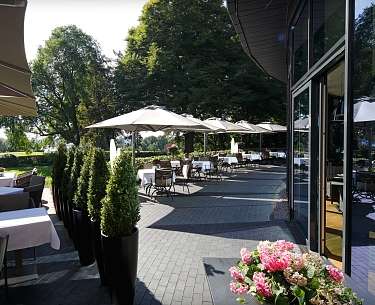 Private events
Whether a romantic wedding, a glittering celebration or an elegant birthday dinner: We offer the right premises. We create an unforgettably festive setting for your wedding. Look forward to a unique day and an unforgettable experience: The civil wedding ceremony can take place in our festively decorated winter garden or, if the sun is shining, directly in the garden. We are happy to prepare a summery reception on our terrace with a view of the Kiel Fjord, as well as a delicious dinner in our Fördesaal with music and dancing.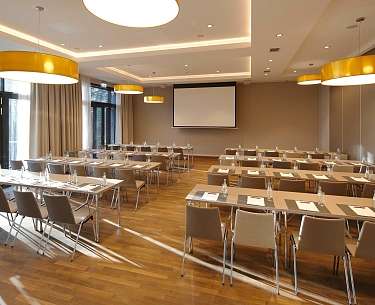 Seminars & Conferences
Boundlessly imaginative: this is what conferences, meetings and conventions are like at the Romantik Hotel Kieler Kaufmann. With a view of the Baltic Sea, the greenery and the essentials. And after work? Pleasure follows: on or by the water. With a lot of fresh wind. This clears the mind and increases motivation. Our conference rooms are convertible. Whether for a personal meeting in the Blücher room (28 sqm), a conference with a view of the fjord in the Seegarten room (80 sqm) or a really big meeting in the Fördesaal (200 sqm) - the motto is always: a beautiful view for innovative ideas.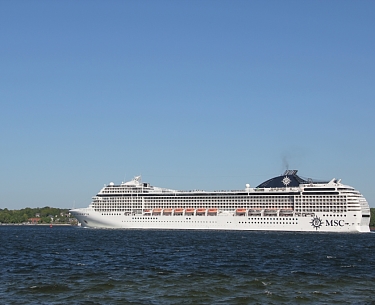 Time for the ship
Stress-free start to your cruise or ferry trip: If you want to board in Kiel or end your cruise with a rest day ashore, our "Time for the ship" offer is just right for you. Move into your cosy room one day before the cruise, relax in the wellness area and let us spoil you with culinary delights. The next morning, the free shuttle service will take you to the ship. Your car will remain safely parked in the hotel car park during your trip. At the end of your cruise, your shuttle service will pick you up. You can conveniently park your car with us for the duration of your cruise.
Romantik Hotel Kieler Kaufmann
Romantik Hotel
Kieler Kaufmann
Romantik Hotel Kieler Kaufmann
Familie Lessau
Niemannsweg 102
Germany-24105 Kiel
DE_Baltic Sea coast - Baiersbronn
Kiel's main train station is only about 3.5km away from our house and the taxi ride takes less than 10 minutes, but offers a great view of Kiel and the Kiel Fjord with ships and ferries.

Hamburg Fuhlsbüttel International Airport is about 90 km and between 45 minutes and 1.5 hours away from us. There is an airport shuttle, the KielExx, which runs in minibuses to and from the airport almost every 30 minutes and stops directly at the hotel. Booking in advance is highly advisable. We will be happy to help you with this. Please just contact us.