Time out that really makes a difference!
The Mühlbach Thermal Spa & Romantik Hotel combines wellness and preventive therapies into an effective ensemble in Bad Füssing, in the Lower Bavarian spa triangle. The pools in the Thermal Spa are supplied directly from the source of origin with fresh thermal springs from a depth of more than one thousand meters. Natural rooms with a warm atmosphere, where the local building tradition is continued. A timeless and soothing experience, with the most modern spa facilities.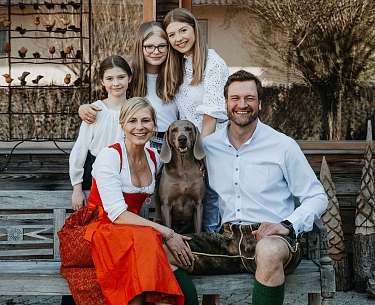 Your Hosts
The history of the house can be traced back to 1798, when the ancestors of the Freudenstein family acquired a small tavern and merged it with the neighboring farm. After the discovery of the thermal springs, the first guest rooms were built in the 1950s. Senior boss Franz Freudenstein and his wife Rita expanded the original inn into a wellness hotel from 1974. Today, the hotel is managed by Florian and Elke Freudenstein, the 7th generation, and has been continually expanded and modernized while preserving its traditions. In the Mühlbach Thermal Spa & Romantik Hotel you can expect an incomparable feel-good atmosphere of history and modernity.
Quite Location
Parking Garage
Lift
Indoor Pool
Electric Car Charging Station
Fitness
Outdoor Pool
Free Wifi
Meeting Facilities
Sauna
Parking Area
Terrace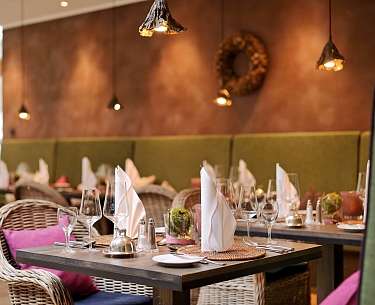 Pleasure of Mühlbach
The hotel restaurant welcomes you with an open kitchen, panoramic windows to the garden and a loving service. The menus in the context of the luxury menu are traditional, creative and varied. A diet that follows the rules of nature, this includes the appreciation of local ingredients and buying regionally. Or to lend a hand yourself. Grow herbs and harvest your own fruit, such as rare apple varieties and various berries from the family's Rottal farm.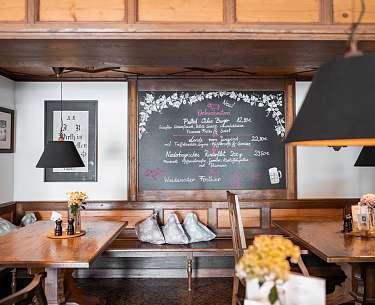 À la Carte at the Kirchawirt
More than 200 years ago, travelers and locals were served beer and snacks at the present Kirchawirt. In the traditional inn with the gothic designed parlor and the view of the oldest farmhouse in Bad Füssing, locals and guests find regional specialties and Bavarian delicacies in a cozy inn atmosphere.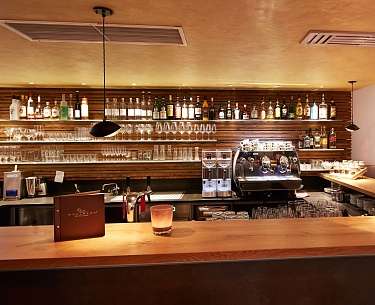 Bar & Lounge
Cozy corners and recesses with sofas, lounge chairs and an open fireplace make our bar a relaxing place. Here we pamper our guests with coffee & cake during the day, a light lunch or exciting drinks & cocktails in the evening.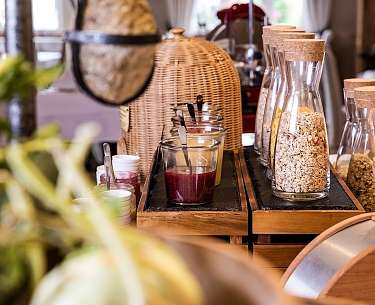 Enjoy your breakfast
Our extensive breakfast buffet with regional and homemade delicacies ensures a perfect start to the day. Try our homemade jams and juices made from fruits from the family farm. If you prefer it hearty, you will find freshly sliced Rottaler ham or help yourself to the green table for a healthy-vitamin-rich breakfast.In the open kitchen we fry favorite omelets and other delicacies.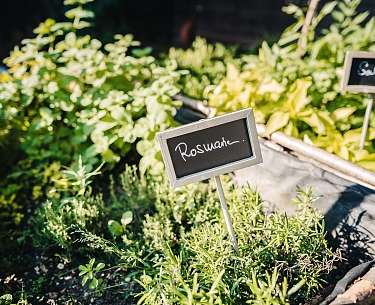 Own cultivation
The hotel's kitchen works with home-grown herbs from the hotel garden and home-grown fruit, such as rare apple varieties and self-harvested berry fruit from the host family's own farm. Even at home, you don't have to do without the homemade Mühlbach jams. The delicious fruit spreads can also be purchased at the hotel to take home.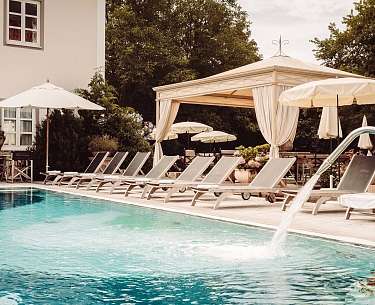 2000 m² Thermal Spa
Recharge your batteries in our 2,000 m² ThermalSpa. Our three thermal water pools (indoor pool, outdoor pool, whirlpool) are fed by a natural underground thermal spring. Immerse yourself in a piece of earth's history and relieve stress. Fresh thermal water has a unique quality of warmth: invigorating, regenerating, healing.
The holistic recovery is also based on the special composition of the natural hot water: sulfur compounds that penetrate and purify. Earthy salts that open and dissolve. The special relationship that our thermal water enters into with the human organism allows disease-causing substances to evaporate and neutralize.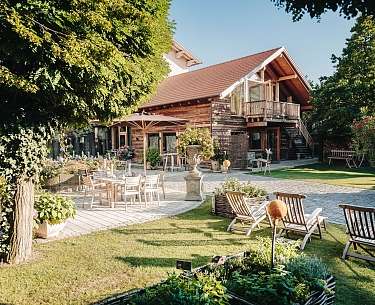 LandSauna World
The new LandSauna is modeled after a barn, just like in the old days. Only with more comfort. With a Swiss stone pine infrared sauna, the Finnish Kelo sauna made of rustic polar pine, the bio sauna with fragrant Swiss stone pine wood, and a herbal steam bath. Then cool off in the Kneipp treading pool or on the barefoot path and rest in one of the many relaxation rooms, in the healing stone brine tepidarium with brine inhalation, and in the cool salt tunnel.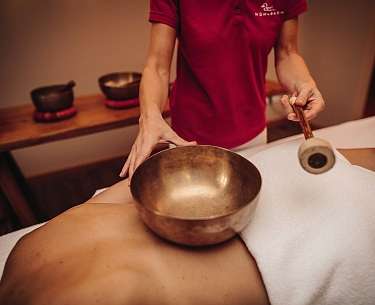 Thermal Med
The spa concept at MÜHLBACH is based on the two pillars "Thermal Med" and "Thermal Spa" and creates well-being on a holistic level.
"Thermal Med" includes freedom from movement and pain, health checks, resolution of deeper blockages through energy work. The selection of applications is enormously comprehensive and, moreover, therapeutically sound. Our specialist in general and sports medicine with additional training in naturopathic treatments and a broadly trained team of 15 therapists enable the combination of different fields of knowledge and complementary treatment methods.
"Thermal Spa" offers a wide range of beauty and care, detox and new energy, relaxation and well-being, anti-aging treatments. Exclusive natural cosmetics and the latest technologies for rejuvenation and beauty.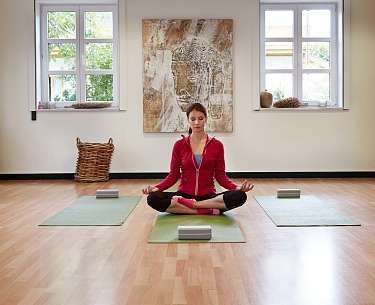 Active program
Fitness and movement under professional guidance with fascia training, spinal gymnastics, aqua gym, Nordic walking, Pilates, or yoga. Our qualified yoga and meditation instructors offer different yoga classes and yoga styles for both beginners and advanced practitioners. Techniques from yoga, Pilates, and classical relaxation teachings form the pillars of this program.
Cycling
In the rural and quiet region of the Inn and Rottal valleys, there are over 500 km of well-maintained and signposted bike paths. A special nature experience offers the Innradweg, on which you cycle through the European reserve Unterer Inn.
Start directly from the hotel with the bike or the e-bike - which you can also rent from us - for a leisurely tour into the flat terrain.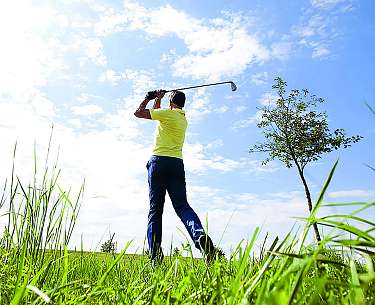 Golf
Only a stone's throw away from the Romantik Hotel Mühlbach, the Thermen Golf Club Bad Füssing / Kirchham awaits our golfers. In addition to the green fee reduction of 25 percent on this and other courses in the region, we offer you optimal tee times and tournament participation on all courses of the Hartl Golf Resort Bad Griesbach, the golf region Donau-Inn and the Thermen Golf Club Bad Füssing / Kirchham.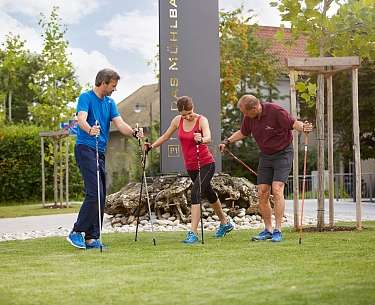 Nordic Walking
Walking is soothing. Especially if you can do your training along the Inn meadows, past beautiful small riparian forests. Every week there are Nordic Walking tours for beginners and advanced, accompanied by our certified Nordic Walking trainer Raimund. He will give you important tips on the spot and show you the right techniques and movement sequences. You can borrow the appropriate poles free of charge at our hotel.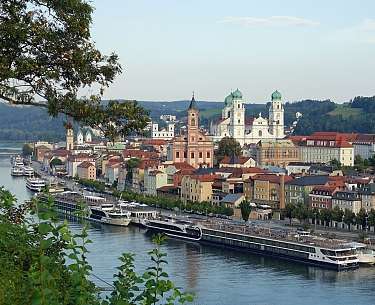 Cultural tours
Visit the three-river city of Passau where the Danube, Inn and the Ilz flow together and stroll through the picturesque old town, through winding alleys and along riverside promenades. Cake & culture lovers can reach the Austrian cities of Linz and Salzburg in about an hour's drive from Bad Füssing.

The Renaissance city of Krumlov in the Czech Republic, about 150 km away, fascinates with a pretty old town and the second largest castle complex in Bohemia. In addition, the Asbach Monastery and Reichersberg Abbey with its vinotheque are worthwhile destinations near the hotel. Nearby, and suitable for a trip by bike, are the bear park and the falconry Obernberg with daily flight show.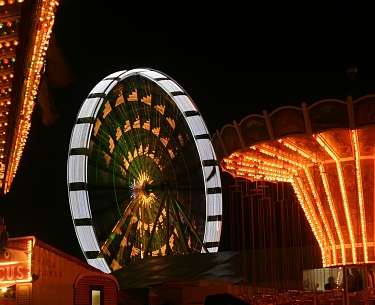 Karpfhamer Festival
The Karpfhamer Fest at the beginning of September is one of the biggest folk festivals in Bavaria. Let yourself be carried away by the famous Rottaler Zehnerzug and experience Bavarian festival atmosphere in the amusement park and 6 festival tents. The hotelier family Freudenstein will spoil you as hosts in the Schwaimer Hütte with delicacies from the ox roasting and the typical dark festival beer. Learn more about solar technology, heating technology, forestry and agricultural machinery and vehicles at the Rottalschau, which takes place at the same time.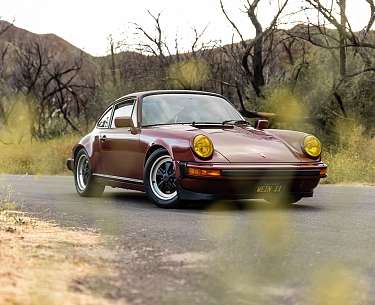 Porsche Meet Bad Füssing
The well-known Porsche Zuffenhausen meeting will take place in 2022 on July 9 in Bad Füssing.
This meeting is intended for every Porsche driver and those who want to become part of the Porsche Fans group. Don't miss it. It an event where the whole family can have fun.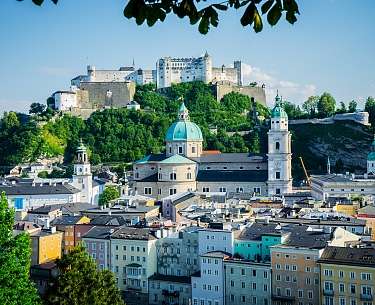 Salzburg Festival
During the Salzburg Festival season in July and August we have a special offer for our guests. For the Jedermann, Aida and Vienna Philharmonic performances we take care of the tickets and travel to Salzburg together with you. Please feel free to contact us.
Das Mühlbach Thermal Spa & Romantik Hotel
Thermal Spa & Romantik Hotel
Das Mühlbach
Das Mühlbach Thermal Spa & Romantik Hotel
Familie Freudenstein
Bachstraße 15
Germany-94072 Bad Füssing
DE_Lower Bavaria -

From Munich to Deggendorf A92, then A3 towards Passau, exit Pocking
From Frankfurt A3 Regensburg - Passau, exit Pocking
From Stuttgart Nuremberg A3 Regensburg - Passau or A8 Augsburg - Munich, A99 Oberschleißheim, then A92 to Deggendorf and further over the A3 to Passau, exit Pocking

Travel comfortably by train, direct connections from Northern/Western Germany are avail-able four times per week. We provide free pick-up and drop-off at the train station in Pock-ing. Please let us know ahead of time when you will be arriving.
Passau Hauptbahnhof daily taxi service (35.00 euros per trip), daily free taxi service from Pocking station.

Linz Airport (80 km)
Salzburg Airport (80km)
Every Sunday shuttle to the airport Salzburg
with Eichberger Reisen
Departure Bad Fussing 8:00 clock
Salzburg Airport Departure 16:00 clock
A ride around 43,00 Euro / 79,00 Euro approx 2 trips
Franz-Josef-Strauss Airport Munich (130km)

Direkttransfer
Individual arrival from Munich or Nuremberg, for example. We will be happy to advise you!