A villa from the Gründerzeit in a park with a lily pond. The luxurious Romantik Hotel Laudensacks Parkhotel offers you culinary delights in the star restaurant, paired with lovingly furnished rooms. The spacious beauty and wellness oasis invites you to pleasant moments of relaxation. Framed by a large terrace under trees, furnished in a stylish way, you will immediately fall in love with this unique gourmet and vacation castle.
Your host
"Every guest in our hotel and in our gourmet restaurant deserves our best effort. Every employee deserves our full appreciation." Host Anton Schick consistently implements this convinced attitude even after taking over Laudensacks Parkhotel & Beauty. In doing so, he relies on the energetic support and experience of head chef Frederik Desch as well as the entire team, which is wholeheartedly at work to pamper you and the other guests in the best possible way.
Central Location
Child Friendly
Free Wifi
Lift
Parking Area
Parking Garage
Pets Friendly
Quiet Location
Sauna
Terrace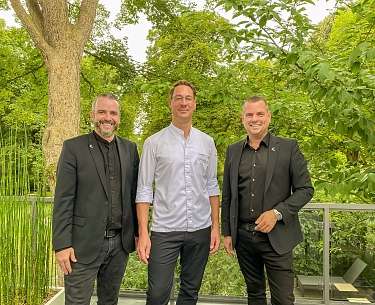 Starred cuisine
In culinary terms, the restaurant at Romantik Hotel Laudensacks Parkhotel sets standards in the region. Chef Frederik Desch's light and Mediterranean cuisine has been awarded a star by the Michelin Guide for over 20 years. Every meal is accompanied by exquisite wines. The finest treat for connoisseurs and gourmets.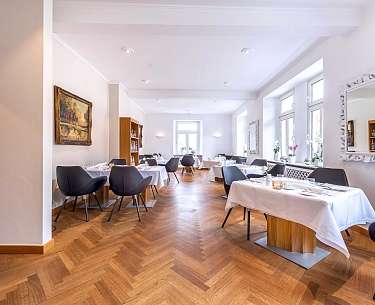 Gourmet restaurant
Celebrate your vacation in the gourmet restaurant. Select table settings, paired with unique taste experiences, make the restaurant an island of joie de vivre and every stay an unforgettable experience.
#Caviartasting
Discover the unmistakable taste! Each Rhön caviar variety has its own incomparable taste. For over 30 years, Peter Groß and his brother Udo have been breeding sturgeon in the Rhön. For generations, the family has raised trout in the Rhön Biosphere Reserve in beautiful Hesse. Here you can enjoy the Rhön caviar in combination with an exclusive 5-course menu by star chef Frederik Desch. Learn more
#Lobster menu
Enjoy the king of the seabed from the starred kitchen of Frederik Desch, starting with fine appetizers and an amuse gueule. The menu is served in four fine courses, arranged with seasonal produce and concludes with a dessert from our patisserie. In summer, enjoy your lobster menu on our terraces. Learn more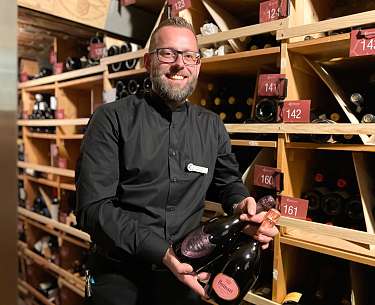 Excellent wine selection
Our sommelier and restaurant manager Sebastian Gottherr welcomes you with an exquisite selection of fine wines. Look forward to excellent service, individual wine recommendations and delightful surprises during your stay. After more than 15 years of fine dining experience, our trained wine connoisseur looks forward with great pleasure to an exciting future together at Laudensacks. Born in Austria, he has already been able to demonstrate his skills in international establishments such as Thortons in Dublin, the renowned three-star restaurant Fat Duck in London and most recently at Reisers am Stein with star chef Bernhard Reiser in Würzburg. Today, he brings not only his excellent experience but also a breath of fresh air to Parkhotel Laudensacks.
Café Palais Erthal
With Café Palais Erthal, we operate a traditional coffee house in the middle of the beautiful spa town of Bad Kissingen, where we welcome you with Viennese charm, delicious coffee specialities and exquisite cakes. The historic building right next to the spa theatre in the town centre is an eye-catcher even from the outside. Inside, a cosy and charming atmosphere awaits you to sit back and enjoy, with family and friends, a book or tea. The town's idyllic spa facilities are within walking distance from here. We look forward to your visit!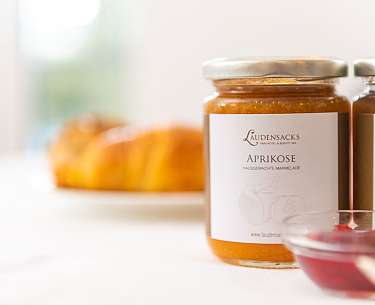 Together for the future
Regionality and sustainability - For our entire team, the responsible use of our environment and the resources available to us is a matter close to our hearts.
Creative creations with regional ingredients are accompanied on request by excellent wines from the wine country Franconia. Our kitchen team pays attention to products with regional origin and seasonal freshness when creating our menus. For example, we obtain our caviar from the Rhön fish farm of Udo and Peter Groß from Gersfeld, fresh and smoked fish from Christoph Hein from Hassenbach or game directly from our passionate hunter and chef Frederik Desch.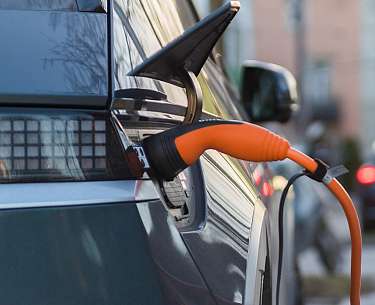 Energy
We obtain our electricity exclusively from renewable energy plants. The sustainable plants comply with the audited criteria catalog ÖKOSTROM of KlimaInvest Green Concepts GmbH and meet all environmental standards.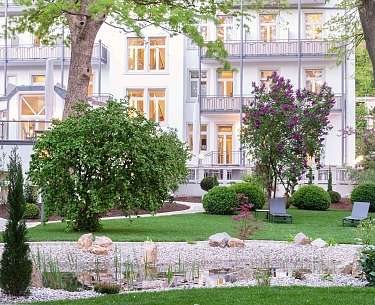 Facilities
Selected natural materials - if possible from the region - you will find on all our connoisseur rooms. Our bed linen as well as towels are made of pure cotton and finest linen. Regionality and short transport routes have in the past and will also in the future have a special value in the furnishing of our rooms.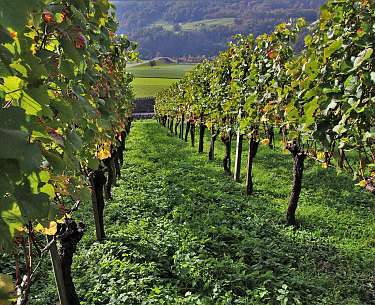 Hiking
The landscape around our hotel is perfect for extensive hikes. We will be happy to put together a small hiking package for you at the reception: You will receive your personal hiking map, Nordic walking sticks, a snack and refreshing mineral water for your excursion.
Stony paths, lonely parks or idyllic vineyard walks - our partner "KOMOOT" will take you everywhere and of course back again. On the most beautiful hiking trails and past the most exciting places in the region. As a guest at Laudensacks Parkhotel, you can activate the entire region on "KOMOOT" free of charge. Easy route planning and navigation that lets you decide what you want to experience. We will gladly fill a picnic backpack for you and have tips for romantic picnic spots ready for you.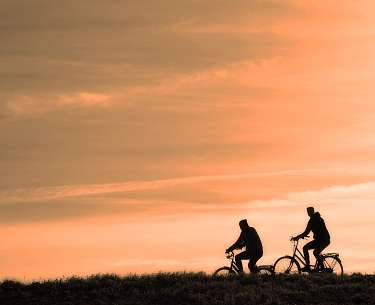 Biken
Tours in the mountains of the Rhön, on paved paths or along the Franconian Saale. It is rare to find such a diverse and breathtaking landscape as in the Rhön and the Saale Valley - whether by bike, mountain bike or e-bike. Stony single trails, lonely mountain paths or asphalt roads - our partner "KOMOOT" will take you everywhere and back again. On the most beautiful bike paths and past the most exciting places in the region. As a guest at Laudensacks Parkhotel you can unlock the entire region for free on "KOMOOT". Our bicycles are also available to you free of charge.
Golfing
As a golf enthusiast, you will get your money's worth at Laudensacks Parkhotel & Beauty Spa. Experience a huge 18-hole park for all levels of players at the Bad Kissingen Golf Club, where you receive a 30% green fee discount as a guest of our hotel. With a total of 140 hectares, one of the most spacious golf courses in Germany, the Golf-Club Maria Bildhausen, is also close by. Here you receive a 20% green fee discount and enjoy scenic beauty and tranquillity. In addition, exclusively as a guest at our Laudensack's Parkhotel, you also receive a 30% discount on the regular green fee at the courses of the Coburg Schloss Tambach, Fulda Rhön, Kitzingen and Schweinfurt golf clubs.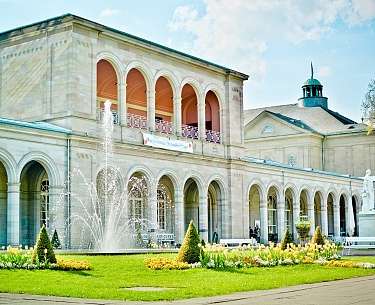 Gärten & Parkanlagen
The spa town of Bad Kissingen is characterised by its beautiful parks and gardens, which blend with the historic buildings and water areas of the traditional town. Discover idyllic green spaces, a colourful variety of plants and benches to relax on your walks or jogging tours along the Franconian Saale. Particularly worthwhile is a visit to the beautiful Bad Kissingen Kurgarten, the rose garden, the tree-rich Luitpold Park or the various exciting nature trails.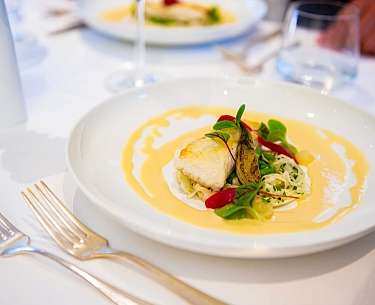 Private Events
The Laudensacks Parkhotel with its diverse premises is your ideal place for private celebrations or enjoyable events in Bad Kissingen. Whether weddings, birthdays, anniversaries, company celebrations, christenings, Christmas parties or a party with friends - we offer you an all-round service, from a small reception to dinner, perfectly tailored to your needs. Feel free to let us know if you have your own ideas and visions. A personal consultation will make your event a complete success.
Frankens Saalestück
There is much to discover along the Franconian Saale from Bad Kissingen via Hammelburg to Gemünden: south of the Rhön, here you can explore the beautiful wine country of Franconia with all its facets. Vineyard walks, wine festivals, green hilly landscapes and castles characterise the image of Franconia's Saale region, which is known for its characteristic grape varieties of Franconian wine, its species-rich fauna and flora and the outstanding quality of its regionally produced specialities. Between May and October, you can easily reach various excursion destinations in the region with the Saale Valley Bus, which departs from various stops such as wine villages, sights, castles and landscapes. The bus is also ideal for sporting activities in the countryside. You are also welcome to take your bicycle with you. Current bus schedules and prices can be found here.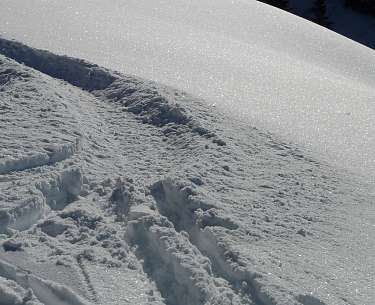 Wintersport
Tobogganing, cross-country skiing or snowkiting: Also in winter, the area around our hotel is ideal for actively exploring the winter landscapes in a sporty way. The Rhön winter sports centres of Ehrenberg, Bischofsheim and Gersfeld have an extensive network of cross-country ski trails and winter hiking trails, which are ideal for cross-country skiing against a beautiful natural backdrop, for example.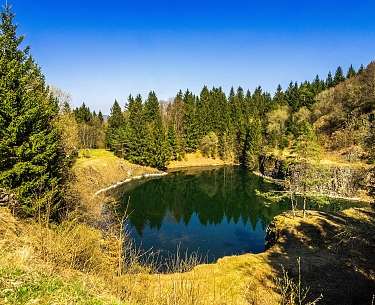 Die Rhön
Discover the Rhön from its most beautiful side and explore the diverse themed worlds of the nearby low mountain range. The Rhön is perfect for longer hikes or short walks and has scenic surprises like lakes or castles in store for you. Go on a little adventure and climb the mountains of the Rhön biosphere reserve, such as the Wasserkuppe or the Kreuzberg. We will gladly provide you with a personal hiking map, Nordic walking sticks, a small snack and mineral water as equipment for your excursion in the Rhön.
Romantik Hotel Laudensacks Parkhotel
Romantik Hotel
Laudensacks Parkhotel
Romantik Hotel Laudensacks Parkhotel
Frederik Desch und Anton Schick
Kurhausstraße 28
Germany-97688 Bad Kissingen
DE_Rhön Mountains -

You can easily reach Laudensacks Parkhotel by car via the freeways A7 (Würzburg - Kassel), A71 (Erfurt - Schweinfurt), A70 (Bayreuth - Schweinfurt). From each of the freeway exits you need only about 10 minutes to Bad Kissingen.
From the ICE stations Würzburg and Fulda you can reach Bad Kissingen by regional trains via Schweinfurt or Gemünden. We are happy to offer a transfer service from the following stations:
Würzburg train station: 70 Euro
Fulda train station: 75 Euro
Bad Kissingen train station: free of charge
If you want to be picked up in Würzburg or Fulda, please inform us at least 5 days before your arrival.

The international airports of Nuremberg and Frankfurt are just under an hour and a half's drive from Bad Kissingen and can also be easily reached by public transportation.