Art Nouveau meets modern lifestyle!
The historic hotel, with its spacious beauty and wellness area, situated directly on the Moselle and in the midst of the magnificent wine and cultural landscape, offers the ideal setting for your relaxing Moselle holiday for body, mind and soul. Indulge in culinary delights in Germany's most beautiful art nouveau hotel and in the multi-award-winning Belle Epoque restaurant.
Your host
Live like Baron von Richthofen, Count von Anhalt, Baron von Thyssen and Heinz Rühmann did back then. This is made possible by host Matthias Ganter and his team at the Romantik Jugendstilhotel Bellevue. The four-star superior hotel has been under his personal management since 1992 and has been lovingly restored and expanded ever since. Nevertheless, much has remained the same here as it was in the past, and that's a good thing. Just like back then, the hotel still captures the hearts of its guests and will captivate you too.
Our facilities
at Romantik Jugendstilhotel Bellevue
Central Location
Child Friendly
Free Wifi
Indoor Pool
Lift
Meeting Facilities
Parking Area
Parking Garage
Pets Friendly
Quiet Location
Sauna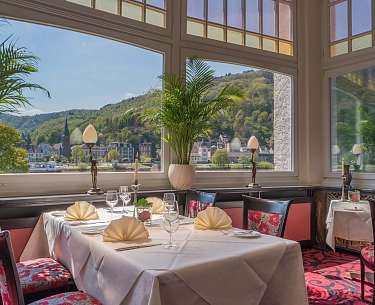 Belle Epoque
The "Belle Epoque", our award-winning restaurant on the Moselle, awaits you with a unique ambience and a view of the Moselle. Chef Matthias Meurer (awarded 14 points by Gault-Millau 2020) will spoil you with a classic-modern and French-influenced style of cuisine. The finest dishes at a high level will make your heart beat faster. From the small appetite in between to the upscale menu: All dishes are prepared from market-fresh products in a fine, light way.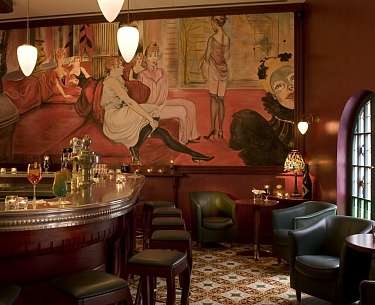 Hotel bar
Our bar (designed by Paul Pouivet) is a popular meeting place for a variety of occasions - enjoy your break with a cold beer, a chat with a stimulating aperitif or perhaps you fancy one of the fruity cocktail creations? The hotel bar in Parisian Art Nouveau style was opened in 2010, replacing the "venerable" small bar after 107 years.
Beauty and massage
Whether for a single treatment, a beauty weekend or a beauty week. In the cosmetics and massage department Bauer Spa&Beauty, competent contact persons advise you when it comes to beauty and wellness. Highly active care substances let your skin glow with new energy. Enjoy the peace and quiet, recharge your batteries and rediscover yourself. We will be happy to inform you about further treatments and programmes.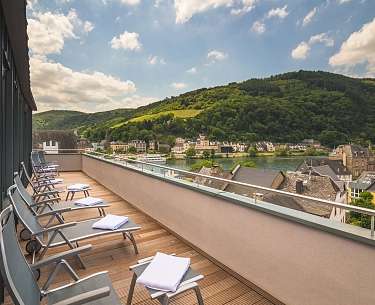 Spa
You take the lift from the heated swimming pool (50 m², 31°C) with massage loungers, counter-current system and massage jets directly to Romantik Wellness Siegel the two new floors of the wellness area. There you will find a penthouse sauna area with a Finnish panorama sauna (with a view of the Moselle), a sanarium, a steam bath, infrared seats and a roof terrace with a magnificent view over the Moselle. You can get really active in our newly equipped cardio room, also with a magnificent panoramic view over the Moselle and Traben-Trarbach.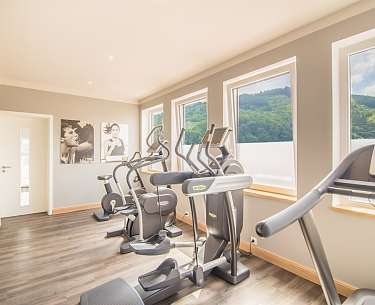 Fitness
You can get really active in our newly furnished cardio room, which is equipped with many Technogym machines. These include a treadmill, cross trainer, stepper and bicycle. With a wonderful panoramic view over the Moselle and Traben-Trarbach, you can improve your fitness and really get out of breath. By the way: The Technogym machines are all equipped with a CPR (Constant Pulse Rate) heart rate monitor.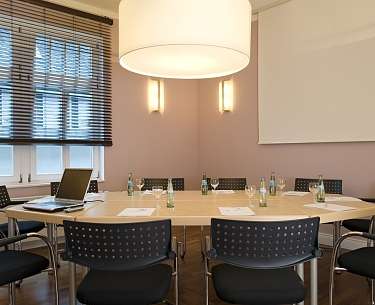 Seminars and conferences
At the Hotel Bellevue you will find the ideal environment for your conference or seminar. In our exclusive conference area you will find three professional seminar rooms with state-of-the-art conference technology and plenty of daylight, as well as a business lounge and indoor and outdoor break zones. Our optimal organisation and professional service guarantee the success of your event. For communication seminars, we recommend the unique rhetoric studio, with trained rhetoric trainers on request.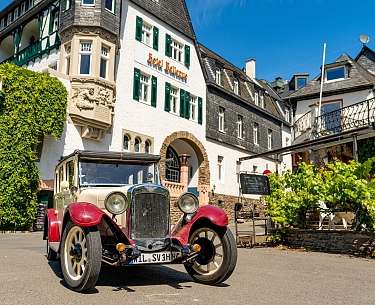 Vintage car and amphicar
The highlight of a visit is undoubtedly the Moselle cruise in an original amphicar from 1963, in which champagne and canapés are served in style. Only a few thousand of these floating convertibles were produced. Optionally, host Matthias Ganter invites you to take a vintage car ride through the Moselle countryside in a 1929 Aston Martin.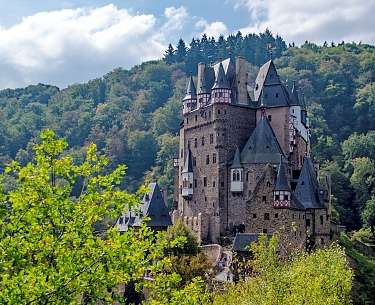 Experience the Moselle Valley
One of the most beautiful river valleys in Europe awaits you! In the Middle Moselle Museum you can learn a lot about the town's history and the golden age of the wine trade. Pure relaxation awaits you in the Moseltherme and Bernkastel-Kues and Cochem are just two of many excursion destinations that you can easily reach from Traben-Trarbach.
Romantik Jugendstilhotel
Bellevue
Romantik Jugendstilhotel Bellevue
Matthias Ganter
An der Mosel 11
Germany-56841 Traben-Trarbach
DE_Moselle -

Coming from Koblenz, follow the B327 to Kappel and then the L193 to Enkirch. Then turn right onto the B53 (signposted Bernkastel-Kues/Traben-Trarbach) and follow the road for around 5 kilometres. Then take Poststraße for about 850 metres over the bridge and turn left into Bahnstraße and then immediately left again into Aachener Straße. Our hotel awaits you at the end of the road directly on the Moselle.