The new freedom for connoisseurs!
Germany's southernmost Romantik Hotel is refreshingly different. With chic design rooms, Freiberg SPA, year-round heated outdoor pool and unique culinary diversity. From the star-awarded gourmet restaurant to trendy lifestyle cuisine and the fine, earthy restaurant - a world of culinary delights. In a pleasantly informal and familiar atmosphere, guests will find everything but an off-the-peg holiday.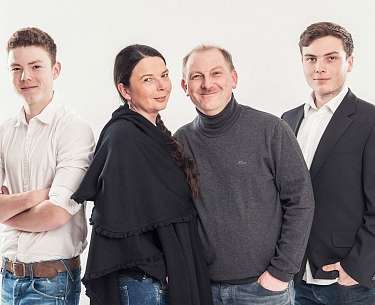 Your hosts
The family-run hotel around Magret Bolkart-Fetz and Ludger Fetz will quickly become your favourite place. The 4-star design hotel is family-run and offers everything that large hotels and chains can also offer their guests - only smaller, more familiar and more contemplative. The hosts have furnished their house with a lot of creativity and originality. The hotel is the home of grandpa Max - Max Bolkart, who was the first West German ski jumper to win the Four Hills Tournament. In the meantime, Max Bolkart's grandchildren are already the next but one generation of hosts in the house.
Our facilities
at Romantik Hotel Freiberg
Quite Location
Lift
Parking Garage
Terrace
Meeting Facilities
Sauna
Parking Area
Electric Car Charging Station
Outdoor Pool
Free Wifi
Central Location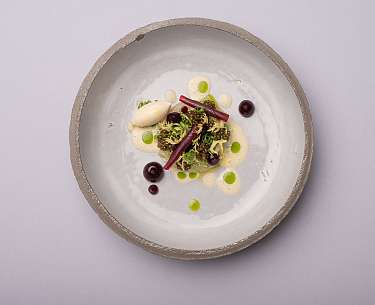 Germany's southernmost Michelin star!
The star restaurant "Das Maximilians" is the heart of our hotel and, so to speak, the nucleus of today's Freiberg. The atmosphere is private and personal. You will be delighted by Henrik Weiser's culinary art. Enjoy a menu by the star chef as a feast for all the senses. Experience maximum pleasure in every respect: in the service, in the feel-good factor, in the ambience and, of course, in the food. The best basic products, which Weiser skilfully stages, are a matter of course for him.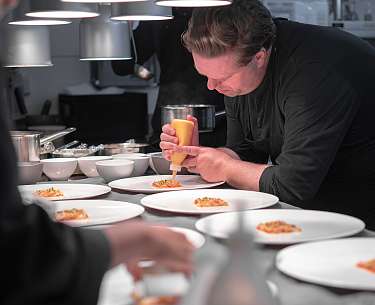 Henrik Weiser
The star chef is a friend of classic cuisine, which he knows how to interpret in a new and contemporary way. Henrik Weiser describes his style as straightforward, clear and product-oriented. This means: high-quality cuisine with the best ingredients and gladly with an eye on regionality. You are very welcome.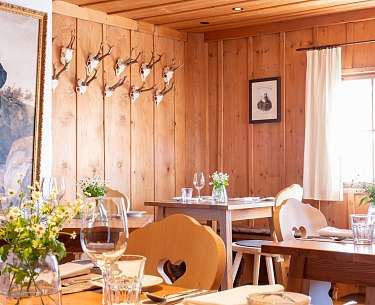 The 'Jagdhaus'
BRUTAL REGIONAL is how people eat in many places today. The trend is on everyone's lips, in the truest sense of the word. We, in the listed Jagdhaus, call it "The Prince Regent's culinary heritage". Here, in this place with history, where Prince Regent Luitpold of Bavaria celebrated many a party, we use only regional products. That means, for example, no tropical fruits like lemons or oranges. No vanilla. No pepper or paprika powder.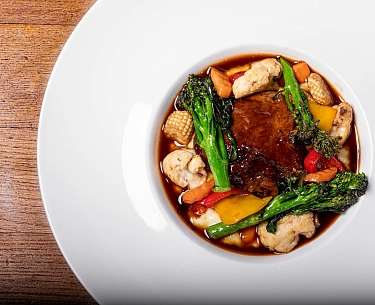 The parlour
The parlour is the culinary venue for our guests. Enjoy half board the Freiberg way. Simply book it on the days of your choice. A cosy atmosphere, a culinary gut feeling and the creativity of star chef Tobias Eisele. We eat what is put on the table every day.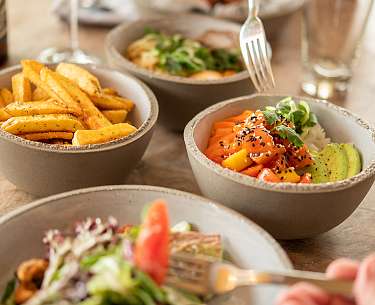 The 'Fetzwerk'
A slightly different restaurant and meeting place to eat, drink, laugh, live. Imagine the following: Culinary creativity becomes fast slow food in a jar. Home meets Asia and the Mediterranean. Fish, meat and vegetarian dishes meet "quick mouths" and craft beer. And all this in a surprising and by no means ordinary ambience. Welcome to the place for everything that is not everyday life - our gourmet workshop.
Open daily from 11:00 to 23:00. Wonderful sun terrace.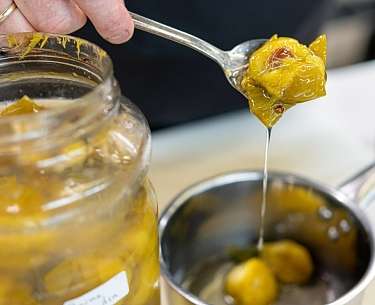 Our dimension of regionality: Brutally local
We are seriously regional and our shopping list only includes things that originate in Germany. That's why you won't find pepper, cinnamon, vanilla, chocolate, tropical fruits and much more. And there are certainly no flavour enhancers. We oppose globalisation and industrialisation. We prefer to buy as close as possible and stand for sustainability. We are more than just an Oberstdorf inn. That's why you should get involved with us! To our artisanal cuisine and to our philosophy that not everything has to be available everywhere. Don't worry, there's still plenty. And there was also enough for a Bib-Gourmand!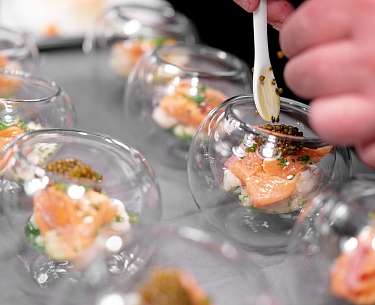 HALLOWEEN KITCHEN PARTY
A scary and spooky kitchen party: indulge in delicious autumn delights. Take a look behind the scenes of our restaurant.
Our demonic kitchen team will reveal scary tips and gruesome kitchen secrets at a gloomy kitchen party. Are you ready for the night of horror in Oberstdorf? Please book early, places are limited and highly sought after.
All-inclusive for only €119 per person, starts at 6.30 p.m.
SPRING
Have you dreamt the adventure of "going ski touring", then make this dream come true. The spring months are the ideal time. Combine a sporting challenge with an impressive experience of nature. Enjoy lonely routes in various degrees of difficulty. Ski tours always involve a risk. Oberstdorf has alpine schools with professional guides. With their experience you are on the safe side.
The sun's rays wake nature from a deep sleep. They melt the snow cover and make the first crocuses and snowdrops peep out. Spring offers the perfect start to a new wonderful hiking year. Different hiking trails take you to the most diverse spring landscapes.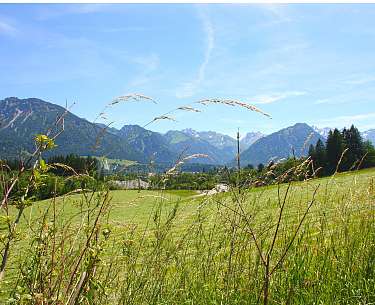 SUMMER
Hardly any other place in beautiful Bavaria offers such a variety of possibilities for a summer holiday as Oberstdorf. The landscape is uniquely diverse. Only in a few places can you find, as here, both massive rocky mountains like Trettach or Mädelegabel, and deceptively green grassy mountains with steep flanks like the unique Höfats or the Schneck.
Lush mountain meadows, a magnificent mixed forest, wild and romantic valleys, the three source rivers Trettach, Stillach and Breitach. Many mountain lakes. The fantastic natural landscape around Oberstdorf, Germany's southernmost village in the middle of the Allgäu Alps, offers ideal holiday conditions for a summer in the mountains.
The highlight from May to November for our hotel guests: MOUNTAIN TICKETS FREE!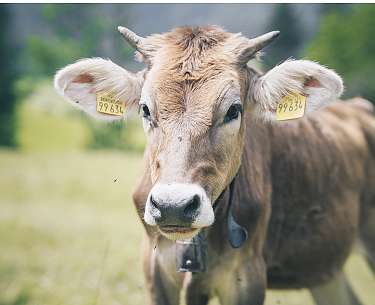 AUTUMN
Let yourself be taken by storm when autumn transforms the mountain forest into a colourful patchwork. Wonderfully fresh air, excellent distant views and stable weather, these are ideal holiday conditions, regardless of which of our 3 altitudes you prefer to stay at. While spring tends to take its time at the higher altitudes, autumn is all the more brisk at work. The days get shorter and you also have to reckon with the first snowfall at altitude. Nevertheless, the days are almost unearthly beautiful and one wishes that this special time would not end. And while in many places people are already moping around in the fog, in Oberstdorf the sun is shining. That's called "obheiter", by the way.
WINTER
If you are on holiday in winter, Oberstdorf in particular offers many other varied options besides alpine skiing. Trudge through the white winter landscape on snowshoes. Enjoy the wonderful, snow-covered nature in the mountains on a long hike on the plain. Cross-country skiing pleasure, 75 km classic or 55 km in skating style, partly technically snow-covered. And of course you can also whizz down the ski slopes at all levels of difficulty. On over 120 km of alpine downhill runs in 5 ski areas. Winter holidays fascinate young and old, so experience your very own winter dream holiday in Oberstdorf. And don't forget to stop for a bite to eat in one of the restaurants or ski huts.
GOLF
Tee off, relax, enjoy!
Our Oberstdorf golf course is fantastically situated in the middle of the mountains, hilly and challenging to play due to the slopes.
Don't underestimate the well-maintained 9-hole course, especially as the imposing panorama tempts you to drift off and dream.
Guests of our hotel receive a 30% green fee reduction.
18 other golf courses in the most beautiful landscape can be reached within a single hour's drive, including Golfresort Sonnenalp/Oberallgäu (10 minutes) and Golfplatz Sonnenalp (15 minutes), Golfplatz Buflings/Oberstaufen (30 minutes), Golfplatz Steibis (50 minutes).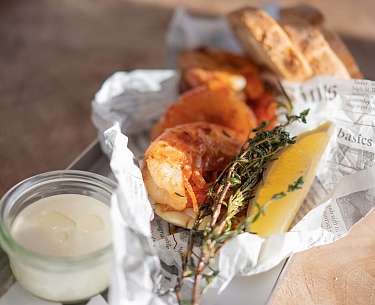 LUSH LIVE SUMMER FESTIVAL
Summer, sun, party mood. What better time for a summer party than the upcoming big holidays. Let's party at the BBQ a la Fetz: Culinary crossover goes from delicious salads to flavourful vegetables to seafood and juicy cuts of meat. Accompanied by delicious wines from overseas and a well chilled Helles from the bottle.
All-inclusive € 109 per person; starts at 5 p.m.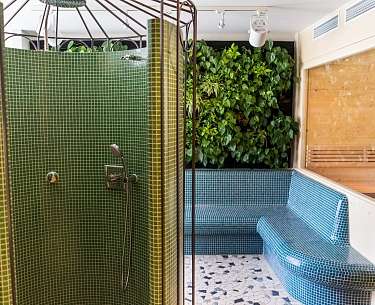 Dr. Boos Natural Cosmetics
Indulging yourself is simply part of the game. Whether a glass of champagne or a first-class pampering treatment, here you will find time and space for your beauty, for your pleasure and for your well-being.
The exclusive products of the Dr. Boos NaturCosmetic company, carefully selected and manually produced by biologist Dr. Barbara Boos according to environmentally conscious criteria, form the basis of the caring and pampering treatments. Raw materials of the best organic quality, free of synthetic substances, preservatives and paraffins.
Each treatment is individually tailored to you, your wishes and your skin's appearance. To pamper, to beautify, to feel good.
Massages
Start your holiday with a relaxing ritual and feel "completely wellness" with us in Oberstdorf.
Give yourself a massage as soon as you arrive and consciously let go of the stress of everyday life. You will be amazed at how quickly you will enjoy a feeling of inner peace and contentment. We bring you into balance.
Every person has their very own care needs and wellness wishes. This can mean well-being for the whole body. Relief and relaxation in case of tension, but also supple hands or a relaxed skin feeling:
Speak to our therapists, they will focus entirely on your individual wishes.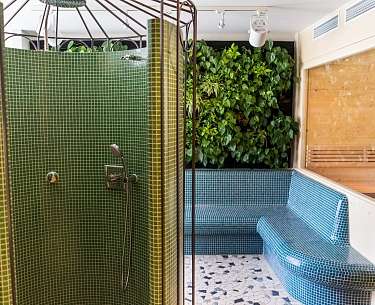 Recreation
In the basement with its historic vaulted ceiling, a sensual and high-quality relaxation area awaits you with a Finnish sauna, steam bath and infrared thermal bath.
Let a massage pamper your body and caress your soul. Enjoy selected wellness teas and fresh fruit.
From spring 2016, additional new spa with Finnish salt sauna, vitality sauna, ice fountain and light-flooded relaxation room. Highlight: heated outdoor pool all year round.
The Freiberg Romantik Hotel Oberstdorf
Romantik Hotel Freiberg
Familie Fetz
Freibergstraße 21
Germany-87561 Oberstdorf
DE - Allgeau -