"Dreamlike ambience in the world cultural heritage"
Between Quedlinburg's medieval town centre and the gorgeous Brühlpark, lovingly restored historic buildings enclose a picturesque courtyard. Guests enjoy regional delicacies and relax by the lounge's fireplace. The rooms and suites, hand-painted with harmonious colours and furnished with antique furniture, combine Mediterranean charm with contemporary comfort.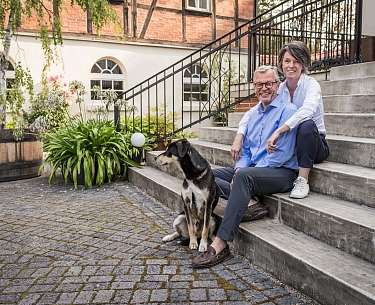 Your hosts
The hosts of the Romantik Hotel am Brühl are Claudia and Hartmut Wiese, who are the second generation to run the hotel. Their parents Ursula and Reinhard Schmidt already worked tirelessly to build up the hotel after reunification. The Wiese couple uphold the old values and have created a modern design in the midst of a historic building fabric. The couple attaches great importance to personal contact with the guests and a family-like working atmosphere within the team.
Persönliche Einblicke ins Hotel und die traumhafte Jugendstilvilla "le Mariage" verrät Claudia Wiese im Romantik Travel Podcast:
Our facilities
at Romantik Hotel am Brühl
Central Location
Child Friendly
Electric Car Charging Station
Lift
Meeting Facilities
Parking Area
Pets Friendly
Quiet Location
Sauna
Terrace
Wheelchair Friendly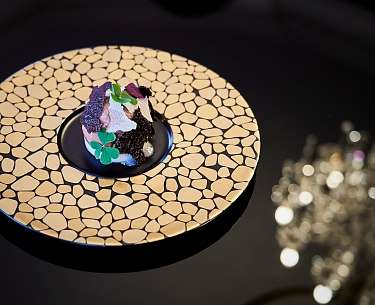 Restaurant le Mariage
From October to March you can enjoy culinary delights in the restaurant Mariage.
Additional courses, namely seven in number. Plus exclusivity, because the restaurant le Mariage offers only twenty seats. Because here, chef Sebastian Lorenz has outdone himself in putting together the menu. More time, because you can look forward to a three-hour indulgence.
You choose between the menu including water and coffee or additionally including matching wine.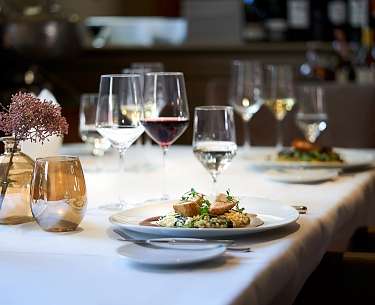 Restaurant Weinstube
In the restaurant Weinstube am Brühl, our guests are spoiled with exquisite dishes. Only fresh ingredients are used, preferably from regional suppliers. The changing menu refers to seasonal and regional delicacies. In our wine list, guests will find everything from sparkling aperitifs and charming wines to great growths from the best German and international vineyards as well as sparkling wine and champagne.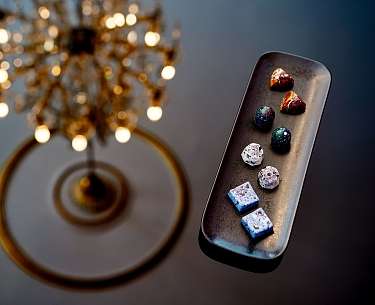 Gourmet delights
Le Mariage restaurant will fulfill your wishes for a special evening in our newly designed villa across the street from the hotel. Selected room design, special decoration as well as the adjacent bar complete your gourmet pleasure. Reservations are required for your special evening at Restaurant le Mariage. By calling 03946 9618-0 and 03946 9618-290, we look forward to pampering you a little more.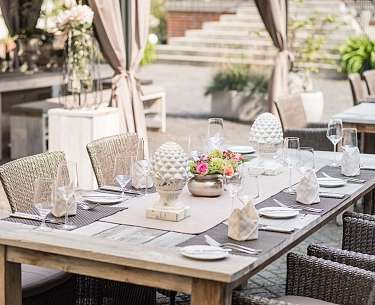 Start the day
What is your favourite way to start the day? A good cup of Zanzibar coffee? Or would you prefer a pot of Eilles tea? Whether it's freshly sliced fruit, homemade Birch muesli, sausage specialities from the region or jams from the Faller Black Forest factory - here you can start your day with variety. In the light-flooded breakfast room we offer breakfast from Monday to Friday from 7.00 to 10.00 a.m., on weekends and public holidays from 8.00 to 11.00 a.m.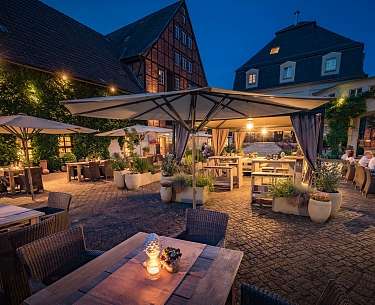 A cosy finale
Summer evenings end with a glass of wine in the garden, in winter a warming fire beckons you into the fireplace lounge. Our small, fine bar in the fireplace lounge cordially invites you to join us. In addition to cocktails and long drinks, you will find a wide range of open wines. During the day, we are happy to serve you coffee and homemade cake there.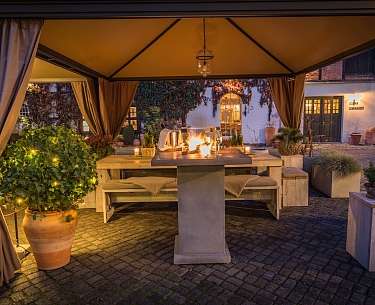 Family recipe
Before the listed half-timbered building became a restaurant and hotel, it was a distillery, the great-grandfather's liqueur factory. Even today, owner Claudia Wiese serves the Harzgeist, made according to her own family recipe. Otherwise, there is little to remind us of the history of the historic walls. The distillery and the adjacent Gründerzeit palace were restored with great care. The large inner courtyard has been transformed into a Mediterranean-style retreat with a coffee table and beach chairs in summer.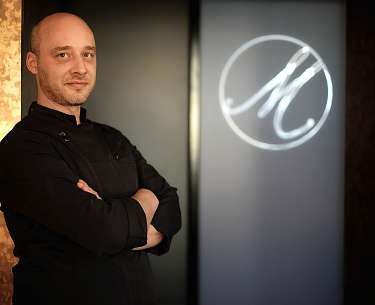 Chef Sebastian Lorenz
Sebastian Lorenz's kitchen team is committed to good taste every day in the wine tavern. This is where ideas for a menu emerge that adapts to the changing seasons with familiar and new dishes. Some herbs also come from the restaurant's own kitchen garden. The restaurant concept has been well received by the guests and the annual recognition of its quality by various restaurant guides fills the hosts with joy.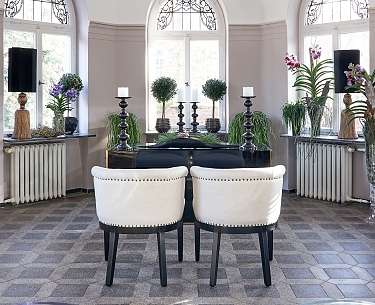 Wedding dreams in an art nouveau villa
The Romantik Hotel am Brühl offers a unique venue for weddings, conferences and events in the art nouveau villa "Le Mariage". Weddings, sophisticated business events or banquets take place in the now lavishly renovated and unobtrusively opulently furnished building from 1926. The hotel's claim: to be one of the top addresses for weddings and special events in Germany.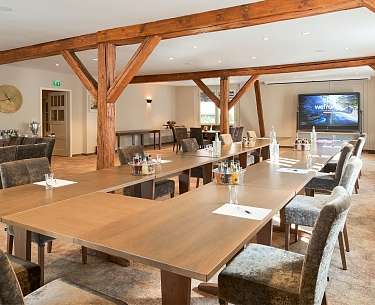 Seminars & Conferences
Enjoy our feel-good ambience with your guests. You can hold relaxed meetings and seminars with us. We provide you with comfortable and stylishly equipped rooms and our service team is wholeheartedly ready to ensure that you and your guests have a great time with us. You have the opportunity to work professionally in a total of three conference rooms. We are happy to offer you complete packages for this with flat rates per participant.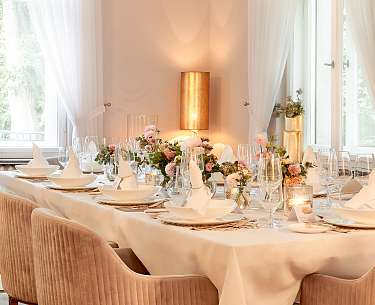 Private events
For your private celebrations for up to 40 people, we prepare our Billungstube. Up to 20 people can be seated in the cosy Brühlstube. If you are celebrating your wedding with a larger group of up to 70 people, we recommend the gallery in the main house.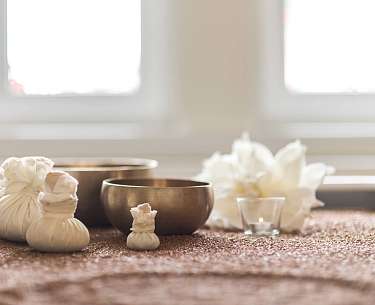 Sauna
At the Hotel am Brühl, guests can use a sauna for a small fee (€7.50). Choose between a dry or a steam sauna, with or without coloured light therapy. Bathrobes, towels and slippers are sufficiently available.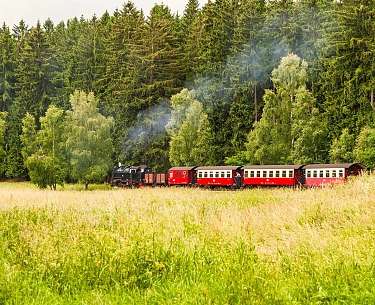 Harz narrow gauge railways
Discover the beautiful panoramas of the Harz mountains with their historical flair - travel through nature and history on one of the narrow-gauge railways.
Nostalgic trains like the "Brocken Express" take you through the wildly romantic Selke Valley. There you will encounter the tradition of mining and gain an insight into the bygone world of the coal and steel industry. Determined summit strikers pass the dreamy valley on this route on the idyllic way to the Brocken.
Programmes and timetables can be found on the website of the Harzer Schmalspurbahnen. The Brocken Express also runs directly from Quedlinburg. We recommend that you book in advance.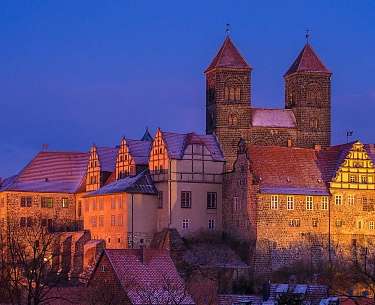 Discover Quedlinburg
Of course, Quedlinburg also has a lot to offer with its medieval charm and more than 2,000 half-timbered houses from six centuries: Discover the architecture, history and culture of the idyllic World Heritage town or relax while shopping in the many small boutiques. You should also plan a visit to the Schlossberg with the Stiftskirche St. Servatii as well as a detour to Vincent's Käsekuchenbäckerei, where over 131 different types of cheesecake are waiting to be eaten.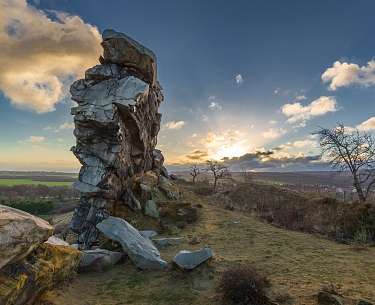 Teufelsmauer and Bodetal
An excursion into the wildly romantic Harz landscape offers unique panoramas. In addition to the Teufelsmauer (Devil's Wall) - a striking 20km-long sandstone formation - hikers will find a variety of hiking trails and fantastic views in the spectacular rocky gorge of the Bode Valley near Thale.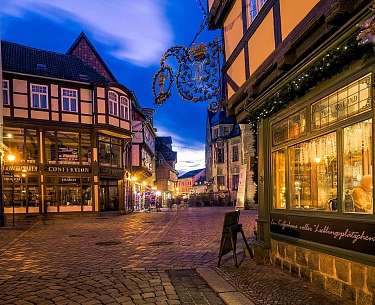 Nightwatchman tour
There is also a gruesome way: when the sun sets, the night watchman walks through the alleys of Quedlinburg. Once a robber baron from the Hakelwald, he now guides the disillusioned tourists through the town and tells them how he once fricasseed Quedlinburg's enemies with his halberd "Uschi". He proves to be the keeper of crypto-history and knows all the bizarre incidents that cannot be found in any travel guide.
You can book directly at the hotel.
Pure thrill
Since 2017, the Bode reservoir has been spanned by the imposing construction of the 458.5m long "Titan-RT" suspension bridge. With a bit of courage and sturdy shoes, you can experience a very special adventure here at a height of 75m.
Those who want more adrenaline can plunge into the depths directly below the Titan-RT on Europe's most spectacular pendulum jump - the "GigaSwing" - or rush down the Megazipline, Europe's longest double rope slide.
Romantik Hotel am Brühl
Familie Wiese
Billungstraße 11
Germany-06484 Quedlinburg
DE_Harz Mountains - Volkach

The A36 and A38 lead to the upper Selke valley.

From Thale main station you can reach Quedlingburg by RE11. From the station we recommend a taxi to the hotel 1.2km away.

Leipzig Airport: 110km
Kassel Airport: 180km