Sustainability and love for the region in a historic ambience.
After an extensive renovation in 2012, the Romantik Hotel Meisenheimer Hof with a total of 22 individual hotel rooms and suites invites you to a stylish stay in the middle of the old town. Grown together with the historic city wall, the building ensemble in Meisenheim at river Glan embodies centuries-old traditions. Every detail counts in the late Baroque inn and its associated buildings - from the lovingly designed logo with titmouse and wine glass to the open-air event venue and the individual antique furniture in all rooms. If you go by that, the Meisenheimer Hof is probably one of the most thoughtful hotels in Rhineland-Palatinate.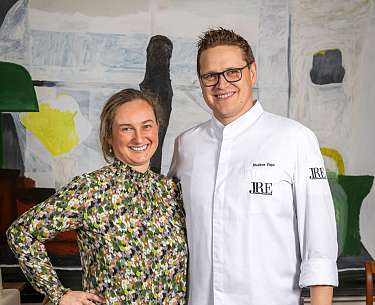 Your hosts
Down-to-earth meets open-mindedness
Host Markus Pape grew up in the beautiful Sauerland region and was spoiled with local dishes by his grandmother from an early age. Hearty pea soup, delicious pancakes and fresh products from their own garden made a lasting impression on and inspired today's chef. Although he moved from the Sauerland to Rhineland-Palatinate, the sense for good regional cuisine has remained. Trained at the Hotel zur Post by Jean Claude Bourgueil and Dieter Müller, hotelier Markus Pape has been at the stove of the Meisenheimer Hof since 2013. Today, with his 360-degree enjoyment concept, a lot of passion and inventiveness, he gives it a very personal signature.
Standard double room
Our stylish standard double room with cozy furnishings and comfortable double bed offers enough space for two people. All our rooms are named after vineyards from the surrounding area and are equipped with individual furniture and a special antique object. The furnishings of the themed rooms, such as Spring Cookie or Copper Pit, refer to the regional winegrowers and the history of the vineyard itself. Free Wi-Fi, TV and toiletries are included.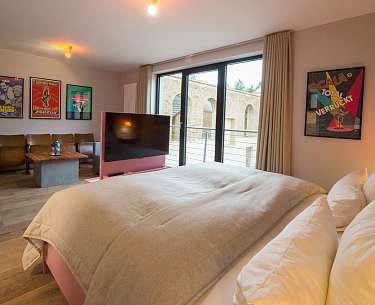 Comfort double room
Aesthetic furnishings meet plenty of space: our comfort double rooms keep their promise and offer you, in addition to a double bed and modern bathroom, above all spaciousness and comfort. Let yourself be enchanted by modern charm and an individual antique piece of furniture and make yourself comfortable. Free Wi-Fi, TV and toiletries are included.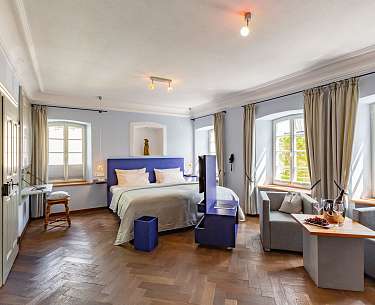 Suites
Live like in a fairy tale in our spacious and charming suites. In rooms like the Montfort Suite or the Elisabeth Suite, you will find a large double bed and a modern bathroom, as well as a cozy sitting area to relax. Free Wi-Fi, TV, and toiletries are included.
Central Location
Electric Car Charging Station
Free Wifi
Meeting Facilities
Parking Area
Pets Friendly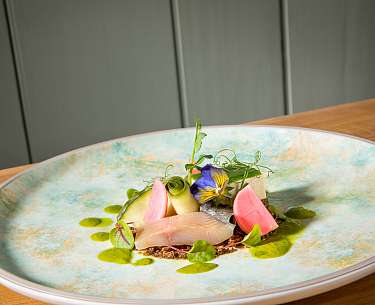 Culinary
Regional & sustainable cuisine
At Meisenheimer Hof, traditional dishes meet modern nuances. In addition to our classics, we offer various menus with selected dishes, including a vegetarian menu and our regional menu. We obtain our products from farms in the vicinity and pay attention to appropriate husbandry. For example, our beef broth, tartar, filet and cheeks come from regional Glantal cattle.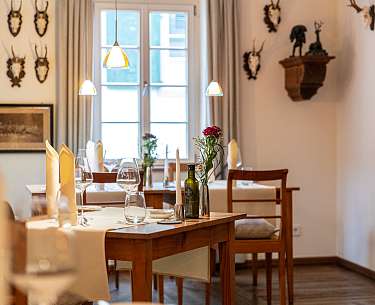 Restaurant & parlors
Dining in individual themed rooms
Our restaurant consists of various themed rooms, all of which invite you to dine in comfort. The Zur Blume room is furnished with original wooden floorboards, Biedermeier chairs and 18th century wall paneling. In the neighboring Jägerzimmer, which is decorated with deer horns from the Meisenheim forest, our local wild specialties taste even better. Our Brunnenstube is again named after the medieval well, which is located in the middle of the room. An original baroque door, a rococo walnut sideboard and a painting by Matthias Zinn characterize the local ambience. In summer the wall to the inner courtyard at the city wall is opened. Last but not least, our vaulted grotto is especially inviting for convivial wine drinking on historic sandstone floors.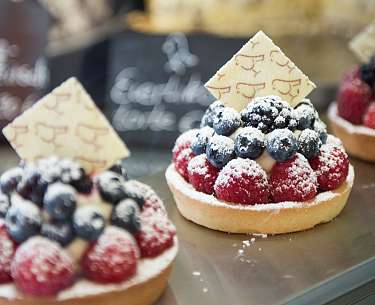 Café Meisentörtchen
French patisserie in the middle of the village
In the delightful Café Meisentörtchen, the Meisenheimer Hof spoils you with sweet delicacies from its hotel's own French patisserie. Here you can enjoy homemade cakes, tarts and tartes, as well as the eponymous Meisentörtchen, over a fresh café in a homey atmosphere. While you can linger outside in the sunshine on the square at Klenkertor, the Hans Thoma Stube with a valuable original collection of the German artist invites you to enjoy and read. In addition to pretty treats, you can also purchase books and selected literature here.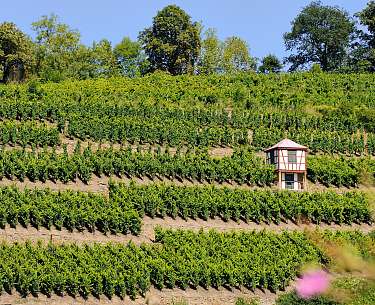 Winery & distillery
Excellent wines & brandies
Awarded two grapes in the prestigious Gault&Millau wine guide, our in-house Disibodenberg winery carries a wide range of products including red wines, Riesling, sparkling wines and brandies. In addition, our neighboring Waldeckscher Hof offers home-distilled distillates such as Obstler, made from selected hand-picked fruit, as part of our Boos von Waldecksche Hofbrennerei.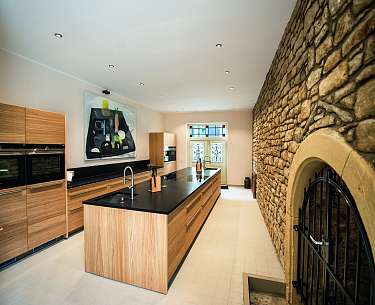 Cooking school
Learn to cook from the professionals
Our cooking house Nicolas Appert is part of the building ensemble and is located directly opposite in a side street of the Meisenheimer Hof. Here, interactive cooking classes and individual events with wine accompaniment at a long cherry wood table invite you to spend convivial hours. The Kochhaus is also available for private parties or conferences.
Meisenheimer Bread Manufacture
The scent of fresh bread
In the Meisenheim bread manufacture, bread is baked regionally and sustainably. The philosophy: honest bread needs no more than three ingredients - and those are flour, water and salt. From the parlor of the certified BIO bakery, you can smell the aroma of fresh bread as you walk by. Inside, you will be welcomed nicely and receive aromatic bread without any additives, as well as delicious rolls and other pastries. If you want to learn how to bake high-quality bread yourself, you can attend baking courses here as part of the Tommy Weinz Baking Academy.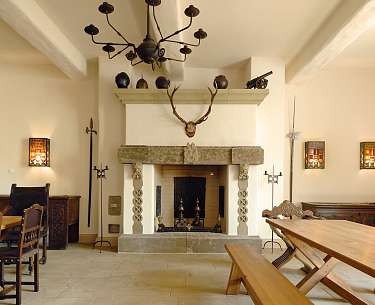 Conferences
Meetings like in past times
Our historic rooms allow individual meetings and seminars in an extraordinary atmosphere. Feel like the noble family Boos von Waldeck once did and let your ideas run free. We provide you with modern technology and also supply you with good food. If you wish, we can of course also offer you overnight stays or individual specials such as kitchen parties.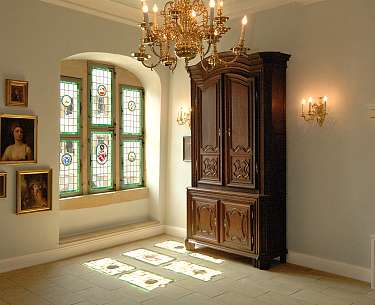 Weddings
Weddings in a fairytale atmosphere
Experience an unforgettable wedding celebration in a historical ambience with us. In our Knights' Hall or the baroque Boos von Waldeck room, you can say "I do" for a civil wedding directly on site and celebrate a wonderful party in our rooms afterwards. Also after an ecclesiastical wedding in the catholic church St. Antonius or the protestant castle church nearby we welcome you and your guests with sparkling wine of our winery Disibodenberg and of course with festively decorated tables according to your wishes.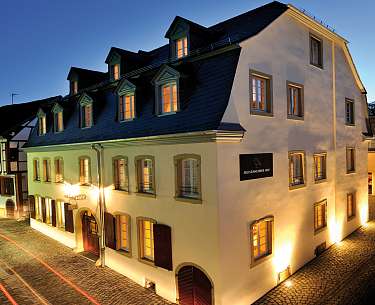 Open Air stage
Open Air events on the Roof
Framed by the preserved outer walls of the former Meisenheim Festival Hall, our roof terrace is transformed into an open air stage in summer. As part of a varied program, events such as concerts or performances of different genres take place here. Of course, you will also be provided with refreshing drinks here. So sit back and enjoy secluded summer evenings and lively culture on our hotel's own open-air stage.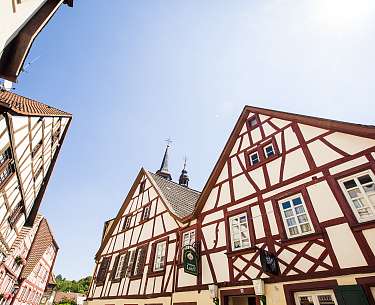 Old town of Meisenheim
Enchanted atmosphere and wonderful buildings
Winding alleys, historic half-timbered houses and the most beautiful natural idyll: the late medieval charm of Meisenheim immediately casts its spell on visitors. Surrounded by the old town wall, former noble farms, the small river called Glan and the smell of open fires and freshly baked bread, it seems as if time has stood still - a very own, small world. The small town between Bad Kreuznach and Kaiserslautern is one of the few that was not destroyed during the war. Today, its beautifully preserved old town with the late Gothic castle church and the former synagogue is a protected monument and is cherished and cared for. In an enchanted, romantic and fascinating ambience, you can leave the hustle and bustle of everyday life behind and feel times long past with all your senses.
Organ concerts
Concerts and guided tours in the late Gothic castle church
The late Gothic castle church regularly invites visitors to organ concerts and organ tours. As a local landmark, the Protestant church characterizes the Meisenheim townscape and, with its impressive silent organ and rococo pulpit, is considered one of the most important late Gothic buildings on the left bank of the Rhine.
Guided tours
Anecdotes from the old days
If you want to get to know Meisenheim better, you should take part in its very special guided tours. During the scenic tours of Maria, the wife of the executioner, you will learn interesting facts about the former times of the Meisenheim executioner. She will show you the scary places of the town and tell you about the so-called embarrassing neck court. In the evening you will be led through gloomy alleys with lanterns on the original night watchman tour. From September to March, a unique atmosphere awaits you here. During the authentic tours you will learn how people lived here long ago through exciting stories and centuries-old anecdotes.
Hiking & Cycling
...over hill and dale
The nearly 3.5 km long premium hiking trail Juché leads through the old town of Meisenheim into the wooded slopes of the Glan valley. Past idyllic resting places such as the Schwanenhaus, the trail then leads to the Juché viewing lodge. On the Magische Heimbach circular trail, 12 km of paths lead past stream valleys, forests and meadows. Those who like it more extensive are well served on the 128 km long Nahe cycle path. In Staudernheim, this meets the Glan-Blies cycle path, which takes you along 130 kilometers past pretty little towns and great adventure opportunities - from Staudernheim via Meisenheim, Waldmohr and Blieskastel down to the French border. Following in the footsteps of the famous Way of St. James along the European Milky Way as a signpost, you will make a pilgrimage along the Sternenweg all the way to France.
Monastery ruin Disibodenberg
Mystical ambience & monastery history
Surrounded by a mystical aura, the enchanted Disibodenberg monastery ruins loom between the trees. Here, where the Nahe and Glan rivers meet, Hildegard von Bingen once lived for more than 40 years before she left to found her own monastery. In addition to the expansive view of the Nahe valley, you can almost feel the history of Saint Disibod from 640 AD here. The remaining stone remains in the romantic park on top of the Disibodenberg near Bad Sobernheim provide insights into an earlier life behind cool monastery walls. In a small museum, you can also discover precious stonemasonry from the heyday of that time.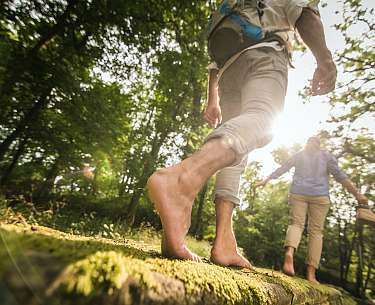 Barefoot trail
Experience nature with all senses
Get out of your socks and let's go! Just a few minutes by car from Meisenheim, you can explore the surrounding nature on the adventurous barefoot trail in Bad Sobernheim. On a length of 3.5 kilometers it will be sometimes wet, sometimes slippery, sometimes warm or cold. Fragrant green meadows, pleasantly tingling sand, cool clay and natural woods sharpen all your senses and are a boon for your feet, which for once don't have to be in uncomfortable shoes. Cross a suspension bridge and continue upstream, while idyllic spots invite you to picnic. On the first barefoot trail in Germany, it will not only be exciting and varied, but also inspiring, relaxing and informative.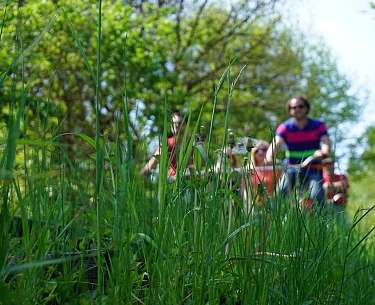 Draisin tour
Rail fun for the whole family
Action and fun await you on the adventurous draisin tour very close to Meisenheim. A disused railroad line of a total of 40 kilometers offers the rare opportunity to explore the lower Glan valley between Lauterecken, Altenglan and Staudernheim by handcar. There is room for between three and 20 people on the different rail vehicles, some of whom can pedal at a fast or leisurely pace and the rest can relax. Whether with a classic bicycle draisin, an electric bicycle draisin, with a barrier-free, conference, hand lever or plan wagon draisin: this trip will be extraordinary, we promise! From morning to evening you can explore the route as well as the surrounding nature extensively and stop at numerous stops with gastronomic offers and small sights.
Rhineland-Palatinate Open-Air Museum
500 years brought to life
How have people lived over the last five centuries? The Rhineland-Palatinate open-air museum in Bad Sobernheim answers this exciting question. On 35 hectares against an idyllic natural backdrop, the museum shows what ancient life was like in rural Germany. Numerous historic buildings as well as old homes and workplaces from different regions invite you to an exciting journey back in time. Stroll along the small alleys, take a look inside the houses and watch the historically significant place come to life at the big museum festival in September. Puzzlers and game fans can book the Escape Room ZeitWende, which is also available for larger groups. You can visit the open-air museum from the start of the season after the winter break at the end of March.
Rotenfels
The impressive porphyry rock massif
The mighty Rotenfels near Bad Münster am Stein forms with its 202 meters the highest cliff between the Alps and Scandinavia and is only about 25 kilometers away from our hotel. As a nature reserve, the rock is surrounded by rare plants and animals and is perfect for hiking and discovery tours along the mountain massif. Nearby, in the middle of abandoned vineyards, there is also the stone sculpture park of the sculptors Kubach-Wilmsen, which you can visit next to the associated museum.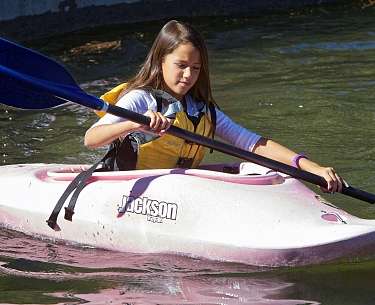 Canoeing
Leisurely paddling on the Glan river
Embark on a journey of discovery through nature in a canoe or kayak and experience Meisenheim and its surroundings on the glittering waters of the Glan. Directly at the Meisenheim shore, at the end of the street "Hinter der Hofstadt", you will find the entrance of the canoe rental Fun Con Action, which offers different canoe tours between two and five hours. After a professional briefing you can paddle the shorter route to Rehborn or take the longer route to Odernheim. Beer gardens and ice cream parlors are ideal for a short break. The nature fun is also best suited for families, company outings or class trips for groups between two and 100 people.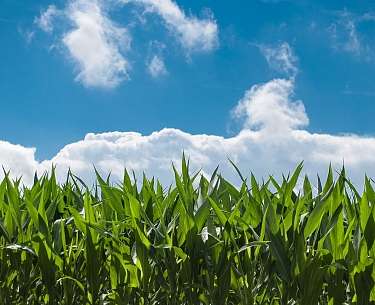 Corn maze
On maze in the corn
In the season from July to October you can visit the gigantic corn maze in the neighboring Raumbach. Whether as a couple, with children or with the whole family: on a huge area with around 400,000 corn plants, you can lose yourself here in the middle of nature and find your way through the exciting maze. Small tasks await you at various stations, where you have to guess animal tracks, for example. If you solve all the riddles correctly, you even have the chance to win a prize when you hand in your entry form.
Romantik Hotel
Meisenheimer Hof
Romantik Hotel Meisenheimer Hof
Herr Markus Pape
Obergasse 33
Germany-55590 Meisenheim
Schwäbisch Hall

On the A63, take the exit towards Erbes-Büdesheim and follow the L409, L400 and L410. Then take the B420 to Obergasse in Meisenheim.

If you want to travel by train, go to Kaiserslautern and from there take the train to Lauterecken. From here you continue by bus to Meisenheim.

The nearest airport is Saarbrücken. From there, take the train via Kaiserslautern to Lauterecken and from there continue by bus to Meisenheim.