Tradition & understated luxury directly on the Baltic Sea beach.
Salty coastal air, sandy beach and a fresh sea breeze: Located directly on the extensive Baltic Sea promenade in the seaside resort of Ahlbeck near Heringsdorf, the 5-star Romantik Hotel Ahlbecker Hof offers 90 rooms and luxurious suites as well as a dreamlike view of the sea and the famous Ahlbeck pier. Kings and emperors have already been guests here, as the 5-star traditional house looks back on a long history. After opening in 1890, the house, which was built in the style of the classic imperial spa architecture, survived both world wars largely unscathed. Today, with its spacious wellness area, its fireside lounge and its versatile gourmet restaurants, it is probably one of the most beautiful and best-known hotels on Usedom.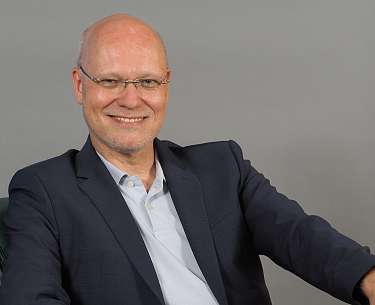 Your host
London, Beirut, Dubai, Moscow - and today Mecklenburg-Vorpommern: Host Marco Fien was drawn to the wide world after his training as a hotel manager. In 2019, he opened the Hilton Tashkent City in the capital of Uzbekistan. His exciting international travels over a period of 35 years enriched and inspired him both professionally and privately. Today, he runs the Romantik Hotel Ahlbecker Hof in the sophisticated spa town of Ahlbeck with enthusiasm and pride and has set himself the goal of creating the perfect symbiosis of tradition and modernity - and giving you a wonderful holiday on the Baltic Sea on the sunny island of Usedom.
Lift
Free Wifi
Parking Garage
Indoor Pool
Pets Friendly
Terrace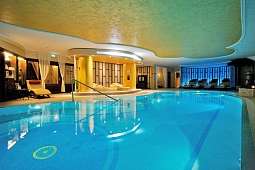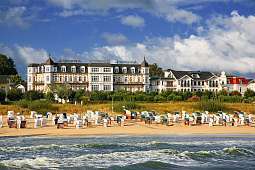 Culinary diversity & tradition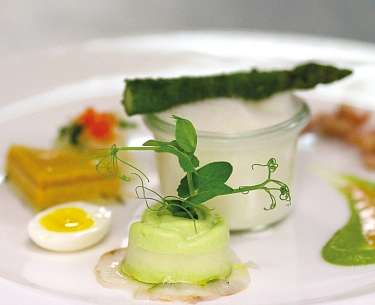 Culinary
From rich wellness breakfasts and seasonal and regional cuisine to fresh grilled specialities and authentic Thai delicacies: Our excellent and varied culinary offer in our numerous hotel-owned restaurants truly meets every taste. Casual dining in the Brasserie or fine dining in our elegant gourmet restaurant Blauer Salon - decide according to your individual needs and culinary preferences.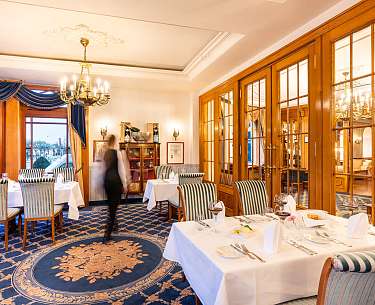 Gourmet Restaurant Blauer Salon
Exclusive dining in noble blue: Just four elegant tables invite you to an exclusive dining experience in our gourmet restaurant Blauer Salon. Under magnificent golden chandeliers, our chef serves you high-quality dishes of classic French high cuisine with innovative elements. The restaurant offers space for approx. 10 people.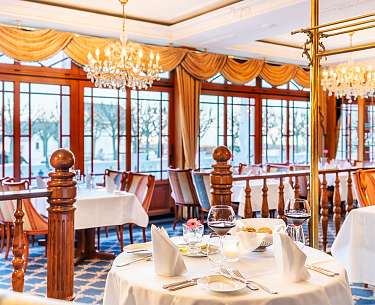 Restaurant Kaiserblick
Regional & seasonal: In the à la carte restaurant Kaiserblick, we primarily serve fresh seasonal dishes from local suppliers in the region. Our classic dishes with local influences are accompanied by top-class wines as desired, which you can enjoy in a noble ambience. For secluded summer evenings, we recommend the associated terrace - here you have a wonderful view of sunsets over the sea. In winter, you can make yourself comfortable inside under the chandeliers. The restaurant offers space for approx. 80 people.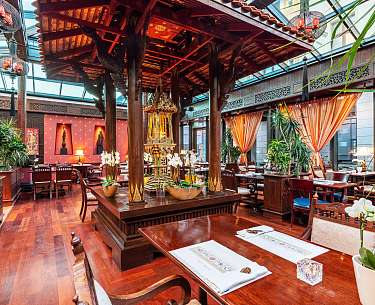 Thai-Restaurant Suan Thai
Authentic Asian dishes from the open wok, fancy curries with seafood and warm Thai hospitality: our Thai restaurant Suan Thai will whisk you away to Far Eastern worlds for a few pleasurable moments. The entire interior of the restaurant was lovingly handcrafted by local craftsmen in Thailand and rebuilt here in Usedom so that we could preserve a piece of Thai tradition.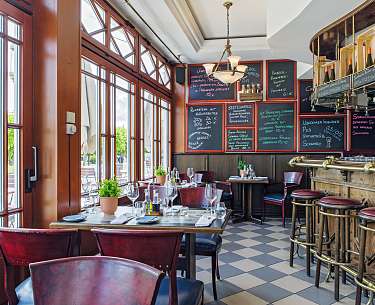 Brasserie
Cheerful and casual, the lifestyle of a French brasserie: this is the concept of our restaurant La Brasserie, which invites you to casually enjoy delicious grilled specialities. After professional preparation in our open show kitchen with lava stone grill, we serve you freshly caught fish and high-quality meat specialities here. Quick and light dishes for in-between meals as well as homemade cakes and fragrant waffles complete our versatile grill offer. On sunny days, we open our terrace for you - so how about a freshly roasted coffee or cold drink with a view of the beautiful beach promenade?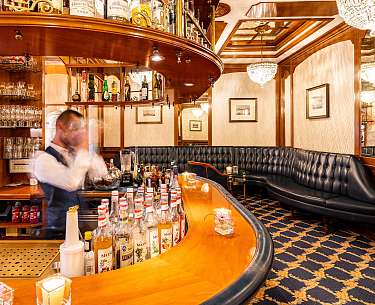 Bar Kaisers Lounge
For a cosy end to your evening, for extensive philosophising and observing the turbulent goings-on in the lobby, we recommend our open bar Kaisers Lounge. Between fine woods and comfortable leather upholstery, you can enjoy delicious wines, refreshing cocktails or enjoyable long drinks as part of an extensive selection of drinks. On request, we also offer exclusive tastings with our bar manager. Seating is available for around 20 guests.
Breakfast
Good morning dear guest, a new day on Usedom is upon you! Our rich breakfast buffet ensures a perfect start to the day early in the morning. Recharge your batteries for your holiday on the Baltic Sea at our breakfast table and enjoy numerous delicacies such as bread rolls, croissants, yoghurt or dried fruit. Add to this a delicious coffee or tea - and you will leave your table vital and full of energy. We promise you a wonderful breakfast on Usedom in our house!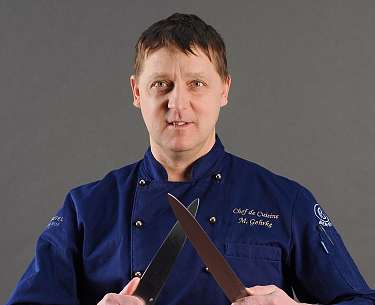 Chef de cuisine
Since 2018, chef Maik Gehrke has enriched the Ahlbecker Hof with culinary delights, perfect team organisation and years of experience. After working abroad for several years as a junior chef, chef de partie and sous chef in various Michelin-starred restaurants in Switzerland, he earned his own Michelin star in Rhineland-Palatinate in 2013. A few years later, he came to the island of Usedom and is now a motivated chef in our house.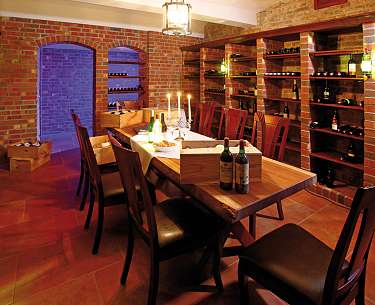 Wine cellar - Anno 1890
The historic vaulted cellar of our wine cellar offers an extravagant setting for special events on a small scale. In the rustic ambience, surrounded by top-class wines that are stored to reach their best maturity, you can enjoy an exclusive wine tasting, a tasteful tasting menu or a high-quality cheese arrangement with fig mustard, lavender honey and pine nuts on request.

Reservation subject to availability to the e-mail: fbm-ah@seetel.de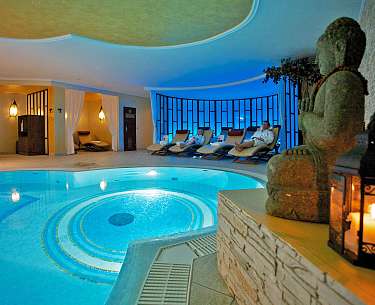 Kinnaree Spa & Beauty
Are you dreaming of relaxation and regeneration for body and mind right by the sea? Then visit our Kinnaree Spa in one of the most beautiful wellness hotels on the Baltic Sea. Our 1000 sqm bathing and sauna area offers numerous opportunities to leave the stress of everyday life behind and concentrate fully on yourself. For this purpose, an indoor swimming pool with a bubbling counter-current system, floating loungers, fragrant grottos and various saunas and treatments are available for you to use according to your own needs.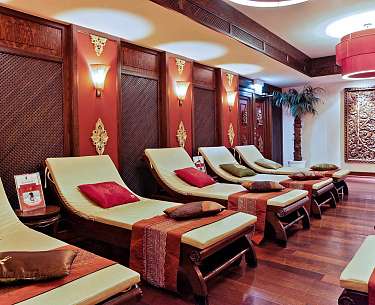 Sauna area
Stimulate all your senses in our varied sauna and heat landscape. Regular infusions in the hot amethyst sauna invite you to vitalising and immune-boosting sauna sessions, while our flower and herb grotto is wonderfully fragrant. In addition, a mild laconium and tepidarium, inspired by bygone times of the Roman thermal baths, as well as a soothing infrared cabin await you in our wellness area.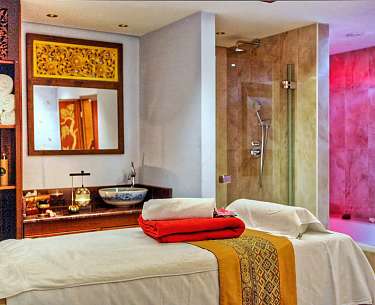 Beauty & applications
Our beauty area stands for excellent treatments and massages by specially trained staff who responsibly attend to your body's needs. We use high-quality care products from the companies Babor, Hyapur & Panpuri, which you are welcome to purchase in our own beauty shop. For an exclusive pampering programme just for two, visit our Double Treatment Room with its own Private Spa.
Experiences
Experiences around the hotel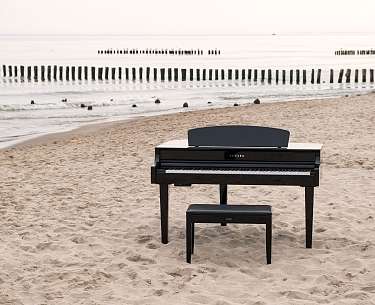 Usedom Music Festival
When late summer slowly ends and autumn begins, we celebrate the Usedom Music Festival - the podium of the Baltic Sea. As part of a three-week programme with numerous events in September and October, the event is dedicated in particular to the classical music of northern Europe. Experience the fascinating musical diversity at beautiful locations on the Baltic Sea: in historic churches, magnificent buildings of the Kaiserbäder architecture or beautiful castles. This year's 2023 programme is all about Latvia, so look forward to Latvian opera world star Marina Rebeka as well as jazz and classical chamber music from the country in north-eastern Europe.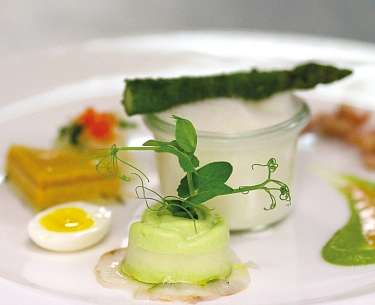 Grand Schlemm
Fine dining & exclusive wine enjoyment in the fresh Baltic Sea air: Ahlbecker Hof is part of the culinary beach walk Grand Schlemm, which takes place annually in spring on the Usedom beach promenade. Ten gourmet stations on the Baltic Sea beach between Ahlbeck and Bansin invite you to enjoy high-quality food and fine wines as part of a wonderful walk along the water. Let the top chefs of the island of Usedom spoil you at sunset and get to know renowned vintners from all over Germany and Austria who will complement their courses with the best wines. This year, the Grand Schlemm will take place on 13 May 2023 and will start at the pier in the seaside resort of Ahlbeck.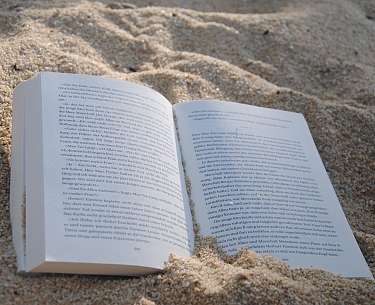 Usedom Literature Days
Readings with a sea view in the middle of spring: Every year, the Usedom Literature Days welcome eminent authors under a specific motto, who present you with exquisite book worlds, great texts and moderated readings at the most beautiful event and reading venues of Usedom's imperial seaside resorts. The extensive programme, this year in May 2023 with a focus on the theme of ZEITENwende, includes talks with important literary personalities and also offers events for a younger audience as part of the Young Usedom Literature Days.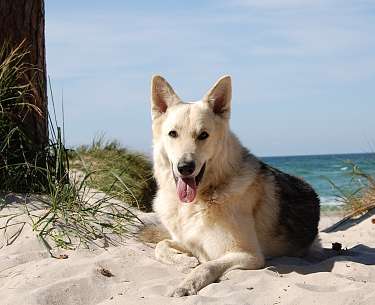 Baltic Lights
Over 500 huskies, exciting races & glowing beach fires: every year in March, the Baltic Lights Festival takes place on the seemingly endless beach of the Kaiserbäder Usedom between the famous piers. As Germany's most northerly sled dog race, around 60,000 spectators join in directly at the race track and enjoy fire shows, mulled wine stands, live moderation and gastronomy. The event is also under the star of a good cause, because with the purchase of a charity wristband, the organisers donate to World Hunger Aid and people in need in crisis and disaster areas worldwide. Numerous celebrities also visit the Baltic Lights in aid of Welthungerhilfe.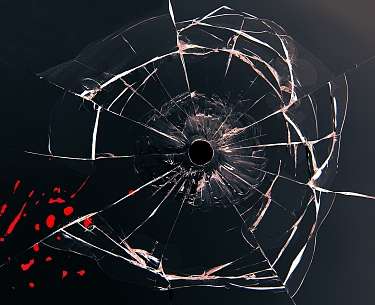 Filming locations Usedom crime thrillers
On the trail of the Usedom crime thrillers: Not only the nearby surroundings, but also the Ahlbecker Hof itself have already been settings for the well-known German crime thriller series "Der Usedom-Krimi", which is regularly shown in the First Programme. The episode "Vom Geben und Nehmen" (Of Giving and Taking), which was broadcast for the first time in 2020, is set, among other places, on the Heringsdorf beach promenade, on the Ahlbeck pier and at our hotel. The Kaiserbäder and the typical spa architecture from the late 19th century also play an important role in the film. Explore the filming locations on Usedom and follow in the footsteps of the exciting Usedom thrillers.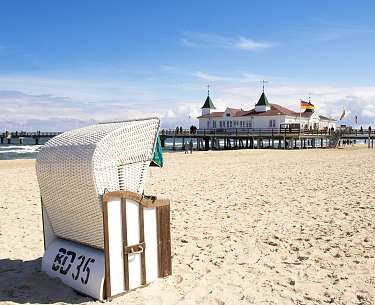 Kaiserbäder
The three seaside resorts of Ahlbeck, Heringsdorf and Bansin, also known as the Kaiserbäder, lie along the white Baltic Sea coast and are connected by the longest promenade in Europe. Whether you are walking or cycling, you will be amazed by the expanse of fine sandy beach. Amidst large parks, stately villas of the late 19th century era line up, still radiating their splendour. Usedom's seaside resort trio was once a popular destination for aristocrats, bankers and artists such as Maxim Gorky, Theodor Fontane, Kurt Tucholsky and Thomas Mann. Today, the Kaiserbäder are among the most architecturally charming and historic seaside resorts in Germany. The three impressive piers of Ahlbeck, Heringsdorf and Bansin are unmistakable landmarks and very popular for strolling or starting an excursion by boat. All three seaside resorts offer numerous opportunities for active recreation, culture and sports. The white Baltic Sea beach, up to 70 m wide, is perfect for building sandcastles or flying kites. For music and culture lovers, there is a wealth of different offers such as the Usedom Music Festival, the Usedom Jazz Days and many other concerts in the summer season that take place on open-air concert stages.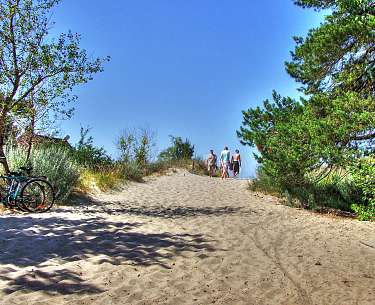 Island safari
The Baltic Sea region, its beautiful islands and its unique nature with white beaches, moors, mountains, forests and bays, lend themselves to adventurous and varied exploration tours. So how about an island safari? Embark on an island trip of a special kind with a professional team of passionate biologists, ecologists or landscape guides. Choose one of the individual programmes and tours between four and ten hours and learn Stand Up Paddling or grill freshly caught fish together.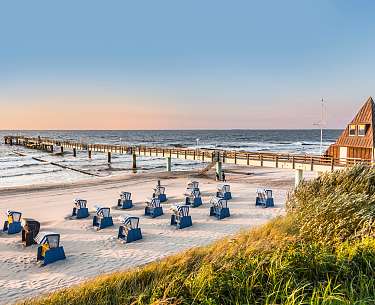 Bernsteinbäder
The coastal resorts of Koserow, Loddin, Ückeritz and Zempin, also known as the Bernsteinbäder (Amber baths), are located on the narrowest part of the Baltic Sea island of Usedom and offer a charming setting with cliffs, forests and the Achterwasser, a lagoon of the Peene River. The name Amber Spas derives from the fact that amber can still often be found on the beaches of these places, especially after storms. However, it is not only the golden gems, but also the beautiful nature and location between the Baltic Sea and the Achterwasser that make the Amber Spas so charming.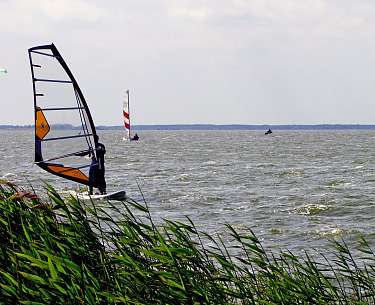 Water sports
Feel the fresh breeze, float on the water: Our wonderful location directly on the Baltic Sea beach and close to the Achterwasser is perfect for action-packed or relaxed water sports of all kinds. Advanced water sports enthusiasts and curious beginners can look forward to a wide range of activities in and around the water, including kite surfing, jet skiing, catamaran and sailing trips, banana boat or beach volleyball. Anglers appreciate the abundance of fish, while bathers appreciate the excellent water quality of the Baltic Sea. Let yourself drift and enjoy the extensive range of water sports on offer in the seaside resorts of Ahlbeck and Heringsdorf.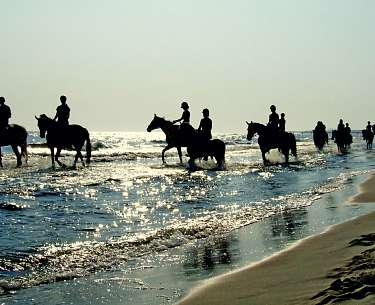 Riding
Equestrian fans can also look forward to the endless beaches of the Baltic Sea. Riding a horse through the waves, feeling the sea breeze while exploring the idyllic landscape - a wonderful feeling of freedom. Ride towards the sunset or dawn, quietly hear the white sand on your horse's hooves and take advantage of the perfect wide beach for your excursions and tours. Our hotel is the perfect starting point for horseback riding at the Baltic Sea with the nearby riding and holiday farms such as Pferdehof Will.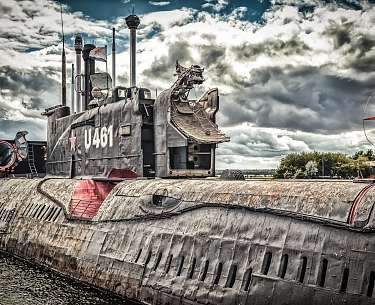 Peenemünde
During World War II, from 1936 to 1945, the Peenemünde Experimental Station was the largest military research centre in Europe. Forced labourers, for the most part, worked and researched on new types of weapons systems in a huge area, including the first functioning large rocket. Later, some of these weapons were used as terror weapons against the civilian population or as so-called retaliatory weapons in the Second World War. The Peenemünde Historical-Technical Museum presents the history of the test facilities and the people who lived here in the form of an informative and exciting permanent exhibition and various events.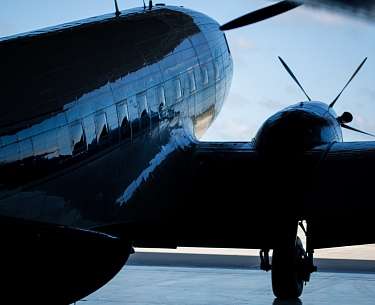 Hangar 10
The Hangar 10 adventure world on the island of Usedom offers unforgettable attractions for adventurers, aviation and technology enthusiasts. Here you can immerse yourself in the exciting world of aviation and admire a unique collection of airworthy and historic aircraft from all over the world. Experience the legends of aviation up close, such as the Spitfire, the Messerschmitt and the Mustang, and immerse yourself in the myth of these fascinating machines. Visit the popular adventure world close by and get ready for an amazing adventure in Hangar 10.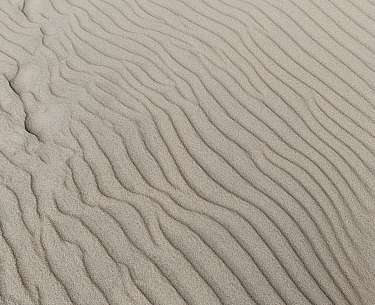 Sand sculpture festival
Every year, impressive figures and sculptures are created from a huge amount of cubic metres of sand on an area of about 4,000 square metres in Ahlbeck. To model the works of art, the sharp and pointed sand is tamped into blocks under high pressure with lots of water. The artists then transform the blocks into filigree sculptures, each year under a new motto. All in all, numerous international artists, including world and European champions, take part in the challenge of creating sophisticated art with simple material and delight the audience on Germany's sunny island. Children can look forward to a children's world, interactive experiences and a sandbox.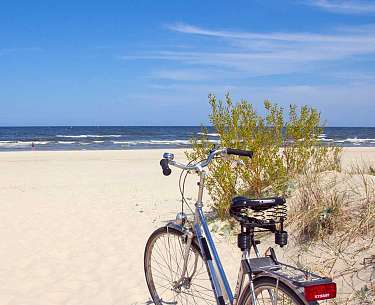 Cycling
Endless beaches, fascinating views and a salty breeze around the nose: The region around the seaside resort of Ahlbeck is ideal for extensive exploration tours by bike. Numerous excursion destinations in the vicinity can be reached directly by bike. This is not only fun, but also particularly environmentally friendly. We have bicycles and e-bikes available in our house, which you can borrow for your trips if you wish.
Our tip - the great Feininger tour:
Follow in the footsteps of Lyonel Feininger by bike - view from the Mühlenberg of Benz to the village church painted several times by Feininger and the Schmollensee. Here you'll find the tour.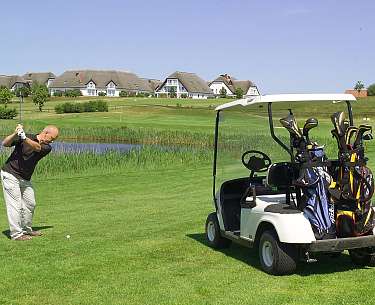 Golf
Play golf against the fantastic backdrop of the Baltic Sea, natural green meadows and beaches: The well-kept Golf Club Balmer See, a wonderful 45-hole golf park with two 18-hole tournament courses and a 9-hole short course, is only about 25 km away from our hotel. Golf holidaymakers can look forward to a varied and exciting sporting experience all year round. Exclusively as a guest of our hotel, you receive an exclusive green fee reduction of 30% when visiting the golf club.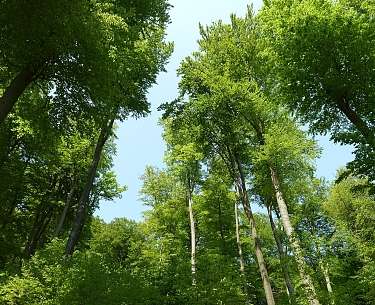 Tree-top path Heringsdorf
Float above the trees, take a deep breath: in the middle of the Heringsdorf forest, walk around among the majestic treetops on the treetop path. On a total length of 1350 metres and a height of up to 23 metres, you can explore the beautiful and island-typical beech and pine forest at close range. On your walk through the forest you will also pass various adventure and learning stations. The treetop path is barrier-free, family-friendly and open all year round.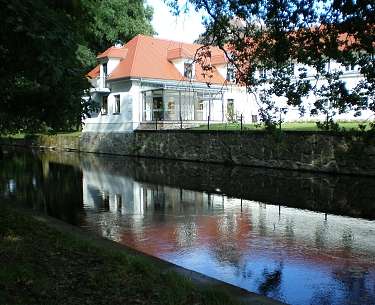 Water castle Mellenthin
In the middle of the island of Usedom, water castle Mellenthin blends history, Renaissance and modern touches. The castle complex from the 16th century with its beautiful park with old trees invites you to explore, feast and stroll. In addition to culinary events, the castle also has its own brewery and coffee roastery.
in the Ahlbecker Hof
Marriage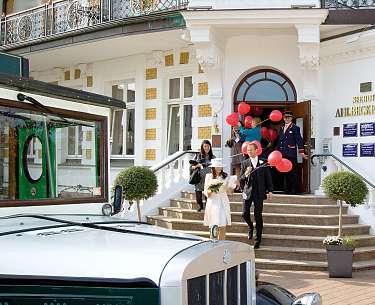 Wedding celebrations
Are you dreaming of a beautiful dream wedding by the sea, a lively champagne reception on the beach or a romantic wedding ceremony in a historic fireside room? From the carriage to the bridal suite, from the ceremony to the photographer, from the make-up to the decoration: we plan the perfect wedding at the Baltic Sea for you. With us, the planning of your wedding is in trustworthy hands - we focus entirely on your individual wishes and needs to give you and your guests an unforgettable day. We are also happy to reserve any number of rooms for you to stay overnight so that you can celebrate exuberantly.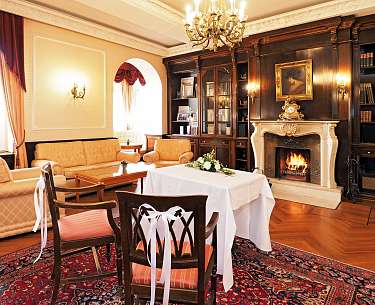 Civil wedding ceremony
Saying the yes word in a romantic ambience: Our historic fireside room is perfect for beautiful and emotional wedding ceremonies in a small circle. Enjoy the start of your married life together and unforgettable moments in front of a crackling fire at a beautifully arranged table. The fireside room with fine woods and a radiant chandelier offers space for a maximum of 20 guests.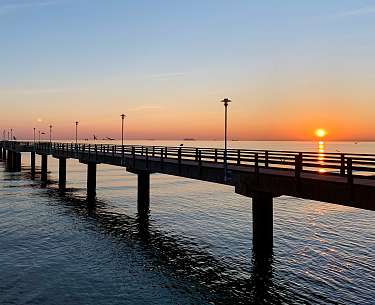 Sustainability on the Baltic Sea
As a family-run hotel, we are passionately committed to sustainable tourism on the Baltic Sea and have already been awarded GreenSign certification for this. We source most of our products from regional suppliers and use mainly seasonal, fair trade and organic food in our dishes. Vegetarian or vegan guests can also look forward to numerous plant-based alternatives. As part of our cooperation with the Michael Succow Foundation, we contribute a donation when guests forgo daily room cleaning. If you wish, you can rent environmentally friendly rental bikes from us for your excursions around the Baltic Sea.
Pearls by Romantik
Ahlbecker Hof
Ahlbecker Hof
Mr. Marco Fien
Dünenstraße 47
Germany-17419 Seebad Ahlbeck
DE - Usedom - Ahrenshoop

By car, you can easily reach the island of Usedom via the Zecherin Bridge or the Peene Bridge in Wolgast. Follow the signs to Ahlbeck and use our address Karlstrasse 3 for your navigation system. Once you have reached the hotel, our friendly car attendant will be happy to personally receive your car and park it in a suitable spot for you, so that you no longer have to worry about parking.

Usedom is easy to reach by train from all regions of Germany. From all parts of Germany you can take trains via Hamburg or Berlin to Züssow. From there you can take the connection with the Usedomer Bäderbahnen via Wolgast to the seaside resorts on the island of Usedom.

If you are arriving by plane, you can fly to Heringsdorf airport on some dates. Alternatively, you can rent a car from the international airports in Berlin or Hamburg.
- Berlin Airport: 285km
- Hamburg Airport: 341km