"Small & fine - relax & enjoy"
The lovingly restored half-timbered house from 1589 is located in the middle of a spacious, park-like garden in beautiful natural surroundings. As a guest, you sleep in a cosy atmosphere surrounded by an oasis of peace and relaxation. The light-flooded and stylish restaurant rooms create a pleasant, relaxed atmosphere in which you are served regional and Mediterranean delicacies.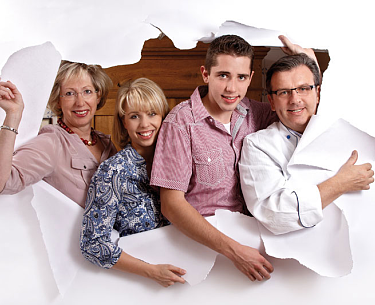 Your hosts
Anyone taking a holiday at Romantik Hotel Köllner's Landhaus in Celle will immediately feel welcome. Before the charming building became a hotel, host family Köllner lived in it themselves. In 2000, they converted the house and expanded it to include a restaurant and six hotel rooms. The Köllner family ensures that you will have an unforgettable stay in their charming and familiar hotel. They attach great importance to service, hospitality and a family atmosphere.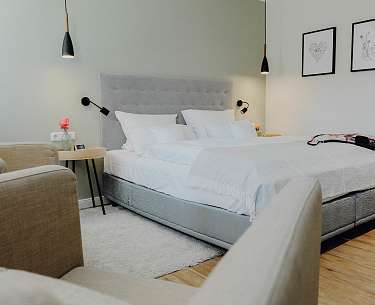 Double room
Our double rooms are individually furnished with a double bed, comfortable seating area, desk in some cases, flat-screen digital TV, telephone, double washbasin, shower and WC.
Studio double room
Spacious room with double bed, comfortable seating area with fantastic garden view, flat screen digital TV, telephone, double washbasin, shower and WC.
Our facilities
at Romantik Hotel Köllners Landhaus
Child Friendly
Free Wifi
Parking Area
Quiet Location
Smoking Lounge
Terrace
Exquisite selection of fine food!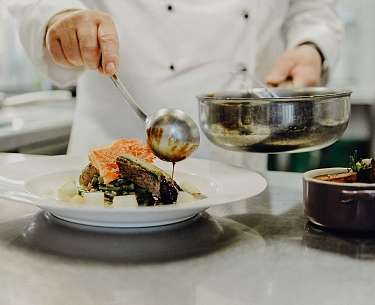 Restaurant im Romantik Hotel Köllner's Landhaus
Regional delicacies are served in our restaurant - a treat for all the senses. The ingredients that host Andreas Köllner uses are fresh, high-quality and seasonal. As a guest, you will appreciate the fine creations from the upscale traditional cuisine, prepared with creativity as well as influences from other countries. In addition to the exquisite selection of fine dishes, we also offer a rich wine list to round off the fine taste of the food with a fine drop.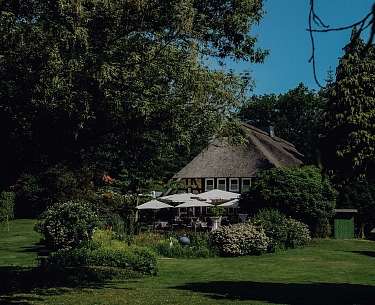 Spacious park
Enjoy our large park directly on the Aller River. Here you can relax in wonderful silence and peacefulness and forget your everyday worries, hectic and noise. Use our oasis of peace to read a good book or just to dream. Or start a bike tour or a walk through nature directly, because powerful tranquillity and vitalising activities can be wonderfully combined here. The best conditions for a happy and beneficial time.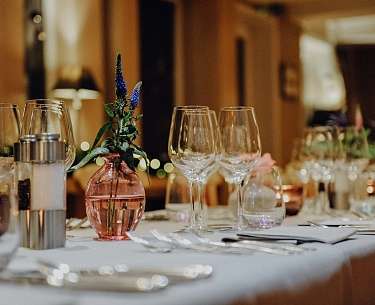 Private events
Whether birthday, name day, anniversary, family celebration, baptism, communion or confirmation - with us every celebration becomes an unforgettable event! With us you have the possibility to hold your private event with up to 80 people in our restaurant rooms. If the weather is fine, you can also hold your party on our garden terrace. Please contact us, we will be happy to make you a personal offer.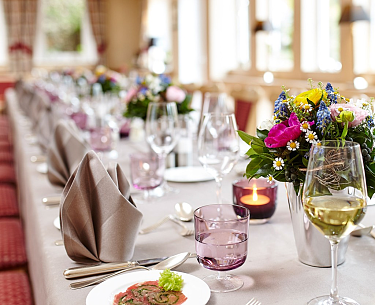 Wedding
Everyone dreams of an unforgettable wedding! No matter whether you are planning a large wedding celebration or you would like a celebration in a small circle: We are here to help you plan and realise your dream wedding. And that, down to the smallest detail. Our aim is for you to enjoy the most beautiful day of your life and to make your celebration an unforgettable experience.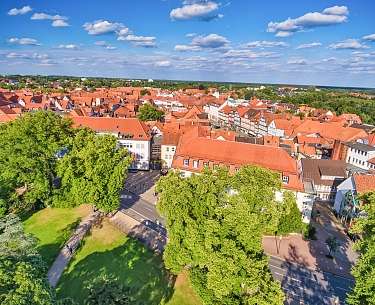 Discover Celle
Take a trip to our 700-year-old ducal town of Celle, a modern half-timbered town full of life, topicality and tradition. Stroll through our historic old town with over 500 lovingly restored half-timbered houses. Visit the ducal palace with its Residenzmuseum, the oldest baroque theatre in Europe still in use today with a permanent ensemble. Also worth seeing is our 700-year-old town church with the possibility of climbing the tower and the Lower Saxony State Stud with the stallion parade in September and October.
Cistercian Monastery of Wienhausen
Experience even more culture and history in the Cistercian monastery of Wienhausen. Set off from our Romantik Hotel on a relaxing bike tour in the surroundings of Celle and let the convent ladies guide you through the monastery. The Wienhausen monastery has an extraordinary wealth of Christian artwork from the Middle Ages, which the members of the convent will be happy to explain to you in more detail.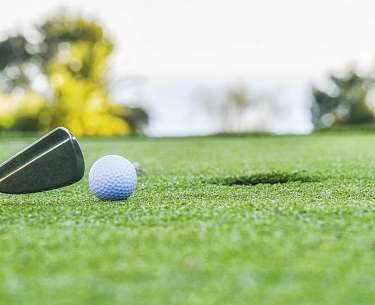 Golf
In about 20 minutes driving time you can reach the golf course of the golf club Herzogstadt Celle from our hotel. Here, 18 attractive golf holes await you on an area of 66 hectares in a very varied terrain. With gentle hills, natural water hazards and a 300-year-old tree population, the natural course offers demanding and varied perspectives and challenges. At the Celle Golf Club, a personal contact person is available to you at all times during opening hours.
Romantik Hotel
Köllner's Landhaus
Romantik Hotel Köllners Landhaus
Familie Köllner
Im Dorfe 1
Germany-29223 Celle-Boye
DE_Lüneburg Heath -

Coming from Hanover, follow the B3 and A37 to the Celle/Westercelle-Am Ohlhorstberge/Westercelle exit, then follow the B3 along Hannoversche Heerstraße and then turn left onto Wilhelm-Heinichen-Ring. Follow the road and then turn left into Winsener Straße, left again onto Im Dorfe and you have reached your destination.