Romantic Hotels Lake Constance
The mild climate, the beautiful landscape and the wide range of leisure activities make Lake Constance one of the most popular destinations in Central Europe. A hotel on Lake Constance is the perfect place to spend a vacation. Leisure sports enthusiasts take cycling tours from their Lake Constance hotel - there is a 250-kilometer cycling route around the lake. The counterpart for hikers, the Lake Constance circular hiking trail, is even a few kilometers longer.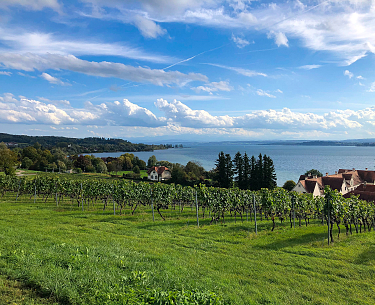 Insider tip hotels Lake Constance
Vacation on Lake Constance naturally attracts water sports enthusiasts. You can swim or surf in the summer, when the water reaches up to 25 degrees. The "Swabian Sea" is considered a good, but quite demanding sailing area all year round. In the hotels at Lake Constance also divers meet, who find their challenge under water. On the other hand, you can reach lofty heights by zeppelin from Friedrichshafen.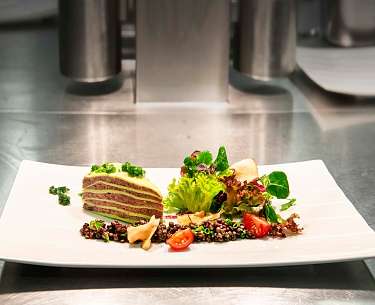 Exquisite delights in the hotel on Lake Constance
Lake Constance is also a haven of culinary delights. On the Swiss side, the Müller-Thurgau grape was bred, from which elegant, fresh white wines are pressed. Around nearby Schaffhausen is Blauburgunderland, a paradise for red wine drinkers. The lake provides fresh fish, especially the famous whitefish, which is also served in the lakeside Romantik Hotels & Restaurants. Regional cuisine with a modern twist at the very highest level promises a visit to one of the star restaurants, of which there are a whole handful in the region. But down-to-earth Swabian specialties such as "Käsespätzle," "Schäufele" or "Maultaschen" are also on the menu at the Bodensee Hotel.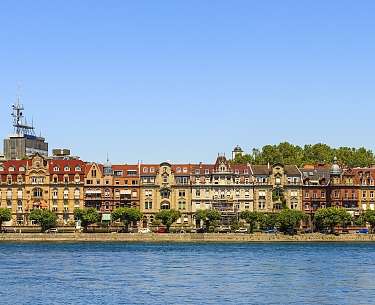 Around Lake Constance Hotel
Many culture lovers also choose the region between Bregenz and Überlingen as their vacation destination. The festival on the Bregenz lake stage with its often modern interpretations of classical works is world famous. The writer Martin Walser lives and works in Überlingen, and the region often plays an important role in his books. Incidentally, Überlingen has the longest lakeside promenade on the entire lake and is therefore a popular tourist destination, as is the medieval old town of Constance, one of the best preserved in Germany. A vacation on Lake Constance would not be complete without a trip to the flower island of Mainau. Plants that are actually native to subtropical or even tropical regions thrive there. So, why wait? Off to Lake Constance, your hotel is best booked right now!