Baden hospitality, idyllic southern Black Forest region, and excellent culinary art - and that since 1861! The Fuchs family is already in its sixth generation and follows the principle of giving the best for its guests every day. Spacious rooms and suites with a view of the local mountain, indoor and outdoor pool with sauna and steam bath, and unique wellness facilities ensure relaxation and comfort.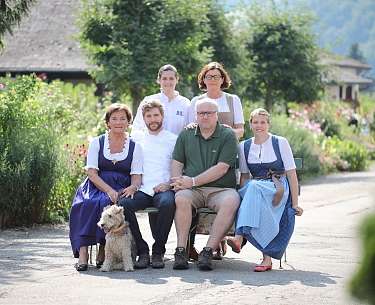 Your Hosts
The house is run with love by the host family Fuchs. It has been in family hands for over 150 years and six generations. Senior chef Josefine Fuchs is still dedicated to looking after the well-being of her guests and can tell travelers exciting stories about the property. Karl-Josef Fuchs has been shaping the signature of the house as a chef and hunter since 1986. Daughter Viki Fuchs returned as head chef after several years on the road, and Kristin Hendricks-Fuchs looks after the well-being of guests in service and at reception.
Child Friendly
Free Wifi
Indoor Pool
Lift
Meeting Facilities
Outdoor Pool
Parking Area
Parking Garage
Pets Friendly
Quiet Location
Sauna
Terrace
Culinary delights at Spielweg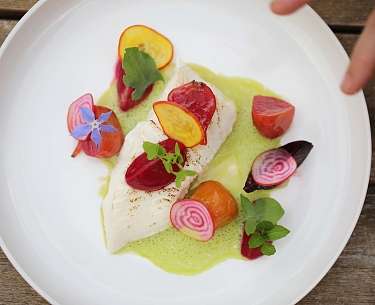 Our kitchen
At the Romantik Hotel Spielweg, the Fuchs family has lived hospitality for generations. Our historic Wirtsstuben welcome you with Black Forest tiled stove, wall paneling and coffered ceilings. Here we proudly serve you what our cuisine is all about: creative regional cuisine, always cleverly combined and adapted to the seasons. Viktoria Fuchs loves to prepare what the Southern Black Forest Nature Park delivers right to your doorstep. The kitchen crew around Viktoria Fuchs and Johannes Schneider surprises and inspires with creative delicacies.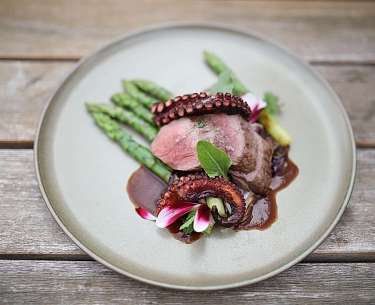 Wild specialties
Papa Karl Josef Fuchs is a passionate hunter, wild specialist, and chef with his own cheese dairy. The author of well-known cookbooks likes to pass on his knowledge to interested hobby cooks in entertaining courses.
Daughter Viktoria has managed in a short time to bring a lot of fresh air and internationally influenced creations to the widely known game cuisine of her father Karl-Josef and shares her fuchssteufelswilde recipes in her first own cookbook.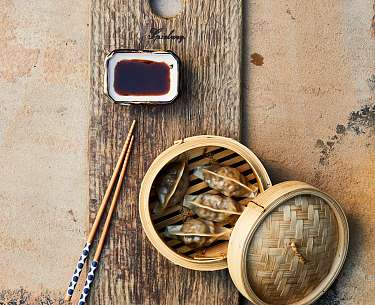 High Thai cuisine
After training with 2-star chef Douce Steiner and years of travels that included Elmau Castle and High Thai cuisine, Viktoria Fuchs is back in Münstertal and has taken over her father's stove with great skill. Her delicious steamed wild boar dim sum is already legendary! Since 2018, our chef Viki Fuchs has been a member of the Jeunes Restaurateurs. The lively exchange with over 350 restaurants, spread over 16 countries, means a valuable source of inspiration and professional knowledge.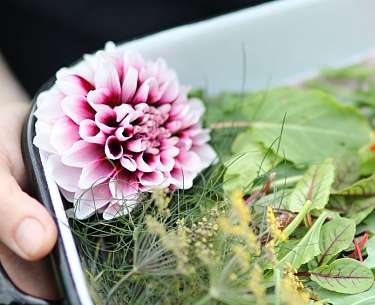 Sabines Garten
The fragrant herbs that Sabine Fuchs cultivates in her own garden are an important part of the Spielweg kitchen and, depending on the season, refine what goes on the plates. In 2016, the Fuchs family was awarded the title of Genussbotschafter by the Baden-Württemberg Ministry. The title is awarded annually to two candidates who perform "special services for the epicurean state of Baden-Württemberg".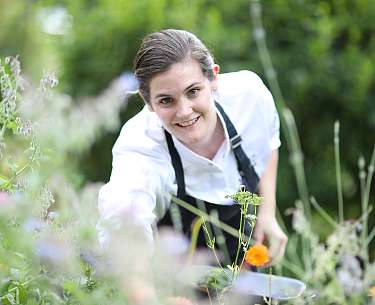 Grüner Stern
Our restaurant traditionally places a special emphasis on regional and seasonal products and has been awarded the Green Star of the Guide Michelin for this since 2021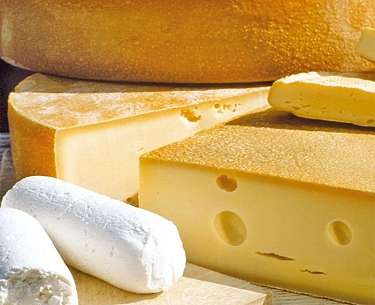 Our own cheese dairy
Since the summer of 1995, host Karl-Josef Fuchs has been running a cheese dairy at the Romantik Hotel Spielweg, where Spielweger Bergkäse or Obermünstertäler Weichkäse are made from the whey produced using traditional methods. In this way, a high-quality specialty typical of the landscape is created in elaborate manual work.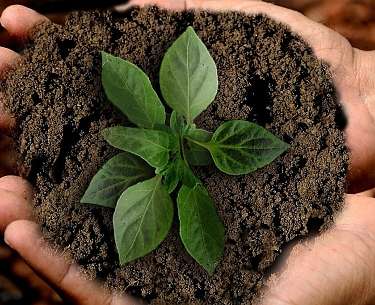 Protecting the environment
A combined heat and power plant supplies our Romantik Hotel Spielweg with heat and electricity. So we can heat our outdoor pool even in winter without a guilty conscience. Our bed linen is washed and ironed in our own laundry. In housekeeping, we use sustainable cleaning agents of the brand Frosch. We water our garden with rainwater to conserve resources.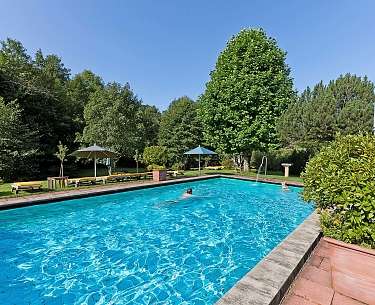 Relax and dive
Our indoor and outdoor pool, sauna or steam bath invite you to relax and unwind. In the cooler season you will find a place of peace in the winter garden. In summer, enjoy your time out in the green hotel garden. The fantastic view of green mountains and meadows is unique. Can you already hear the murmur of the mountain stream?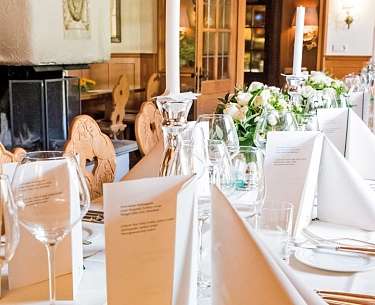 Private Events
Whether you are planning a family celebration, a wedding, a birthday or a christening, we will be happy to design this special day for you so that it remains unforgettable.
Seminars and workshops
For teambuilding and workshops full of ideas we offer the ideal setting with a wooden deck for outdoor meetings, a 450m² grassy area for training & team building, a tennis court with soccer goalposts, and a basketball hoop for breaks, creative delicacies, and personal attention in the family-run hotel.
The Romantik Hotel Spielweg has a dimmable and air-conditioned meeting room (47m²) with underfloor heating and its own terrace.
More information is available in our conference brochure (DE)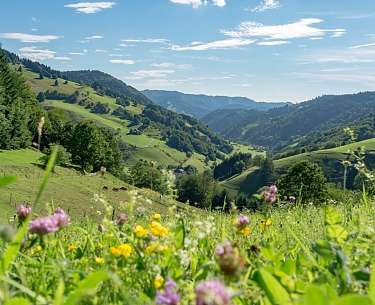 Hiking in the Black Forest
In the middle of the Münstertal, the valley of 1000 valleys, the Romantik Hotel Spielweg is the optimal starting point for hiking tours of all kinds. Walk to the monastery of St. Trudpert, climb the peak of the Belchen, hike on the ridges of the Sonnhalde to the Schauinsland. In complete tranquility, paths lead over the impressive mountains of the Black Forest, from which, in clear weather, you can enjoy an overwhelming view as far as the Markgräflerland, the Vosges and the Alps.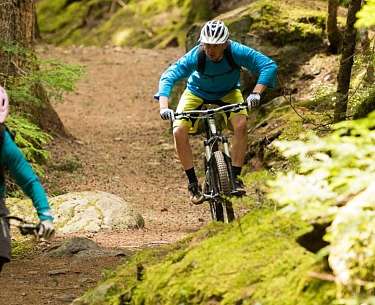 Mountain biking
Mountain bikers will find a wide range of offers in the Münstertal. There are routes for all levels of difficulty on which you can explore mountains and forests. So cycling becomes an experience for everyone.
At Romantik Hotel Spielweg we have tour suggestions and our own bike rental for our guests.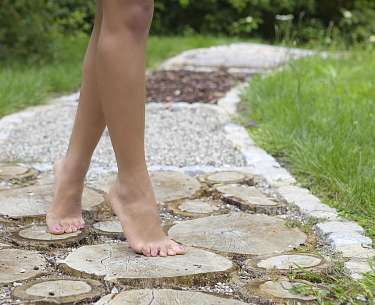 Barefoot path
On our barefoot path, you can walk with all your senses on the different ground structures such as wooden boards, pine cones or pebbles. Afterward, treat your feet to a bath in the spring-fresh mountain stream "Neumangen" - a real gem of the Black Forest!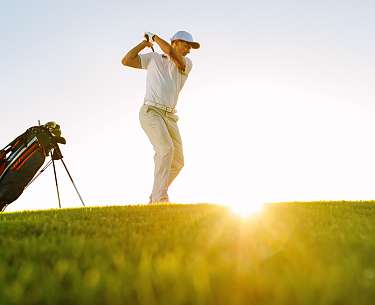 Golf & Tennis
Golf fun with a view of the Black Forest is offered by the courses on the Tuniberg and in the Markgräflerland. In addition, we have our own tennis court. At the reception there are rental rackets and balls ... so nothing stands in the way of a game on the court.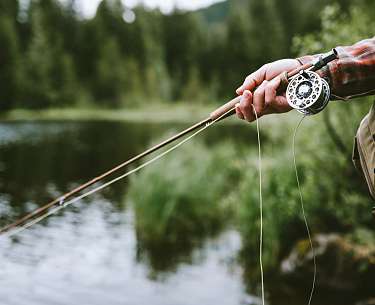 Fishing
We have a fishing license and plenty of lakes and rivers nearby. If you feel like fishing in the Black Forest and have a fishing license, you can borrow our permit on request.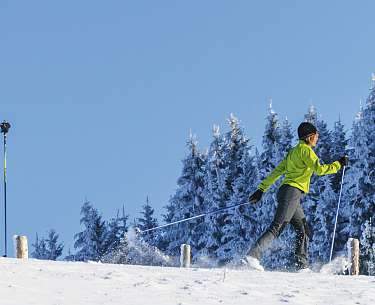 Wintersport
In winter, the surrounding slopes of the local mountain Branden invite you to extended ski tours. Cross-country ski trails and ski lifts are available at Schauinsland. Those who like to go on hikes with snowshoes will find a wonderful landscape on the secluded paths.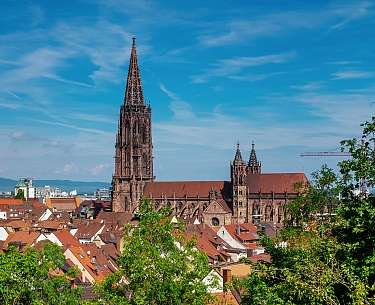 Freiburg
The sunniest city in Germany, Freiburg, has an old town worth seeing. The Minster Market attracts with its lively hustle and bustle and great culinary and regional offerings. For a magnificent view of the city, the surrounding vineyards, and the Black Forest, the short climb up the Schlossberg is worthwhile.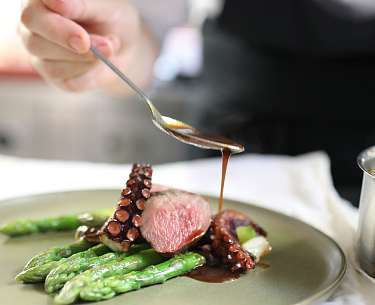 Kochkurse
Throughout the year, the chef and hunter Karl-Josef Fuchs passes on his knowledge in various cooking courses as well as sausage and cheese workshops. Learn more about the secrets of the Black Forest, German and international sausage cuisine or learn to cook and grill fuchsteufelswild. For dates, click here.
Romantik Hotel Spielweg
Familie Fuchs
Spielweg 61
Germany-79244 Münstertal
DE_Black Forest -
What's where in the Spielweg? Take a look at our map!

Take the Bad Krozingen exit and follow the signs to Staufen-Münstertal. Please refrain from following your navigation system and do not leave the A5 (Freiburg Mitte).