Private swimming beach, dedicated golf putting green, lido sauna directly by the lake: the traditional hotel is a proud gem of hospitality located in the middle of a huge park. Comfortable, spacious hotel rooms with individual furnishings invite you to stay. Guests relax in the exclusive SPA with five saunas, a swimming pool (indoor & outdoor) as well a brine pool, an outdoor whirlpool, and numerous oases of tranquility. Pure enjoyment in a cozy atmosphere is promised by the Jägerstuben and Fischerstuben, as well as the Apicius Star Restaurant, which is part of the hotel.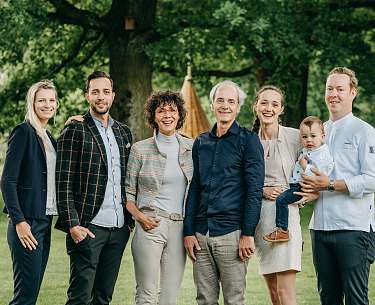 Your Hosts
Jagdhaus Eiden has been in the family for many generations. The philosophy of genuine hospitality and the awareness of the great responsibility for people spending the most precious time of the year here has been passed down from hand to hand. In 1996, son Gerd Brügge and his wife Silke took over the business and continue to run it today in the spirit of his ancestors and the old tradition.
Facilities
in Romantik Hotel Jagdhaus Eiden am See
Child Friendly
Electric Car Charging Station
Fitness
Free Wifi
Indoor Pool
Lift
Outdoor Pool
Parking Area
Parking Garage
Pets Friendly
Quiet Location
Sauna
Smoking Lounge
Terrace
Wheelchair Friendly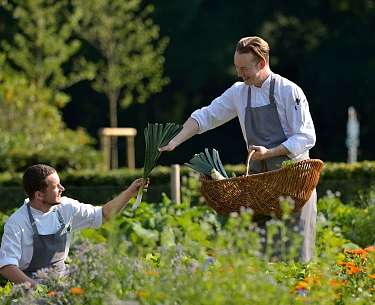 Classic cuisine with modern twists
Chef Tim Extra is a native of the North and, after working at Qulinaris in the North, in Berlin, Austria, and Switzerland, has found his new home in the Ammerland region. In the gourmet restaurant Apicius, gourmets get their money's worth: a symbiosis of North German cuisine and international, with a preference for Asian, flavors. To accompany the epicurean delights from Tim Extra's kitchen, restaurant manager and sommelier Marco Scheper serves the right wine from the 650-strong wine list. The kitchen has already received several awards and is decorated in the gourmet restaurant with a Michelin star, three Kochlöffeln in the Schlemmeratlas and three Toques in the Gault Millau.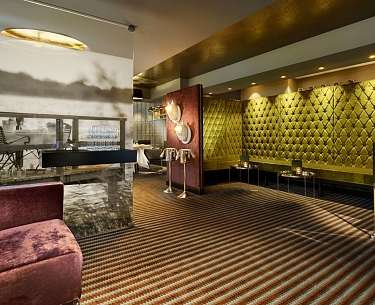 Gourmet Restaurant Apicius
For over 30 years (with two small breaks), the Michelin star has shone above the Apicius. In the process, chef Tim Extra has been providing young creative cuisine with regional products, but also always Asian influences or souvenirs from one of his trips since 2015. Let yourself be surprised, taste exploration guaranteed.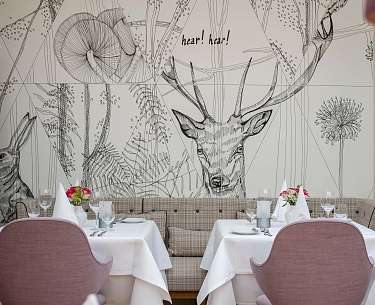 Eiden Restaurant
Close to nature, authentic and closely connected with the north: Our culinary offer provides delicacies for every taste. An interplay of taste, regionality and creativity is offered by the team led by our chefs Thomas Eilers and Stefan Karger.
The Eiden restaurant serves regional specialties, local venison, but also freshly caught fish from the Zwischenahner Lake or the nearby North Sea. This closeness to nature is paired with a great sense of indulgence. For example, the Jagdhaus Eiden am See offers its guests a five-course menu with exclusive service directly on a footbridge by the lake.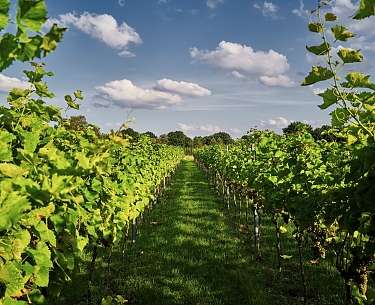 Sustainability
When Marie and Johann zur Brügge acquired the first restaurant license in 1902, the restaurant consisted of only a few tables and a small counter, the other part of the Jagdhaus Eiden site was used for agriculture.
The in-house vegetable and herb garden, the eggs of our free-range chickens, and the meat of our own Bunten Bentheimer pig farm still provide ecological, high-quality ingredients and sustainable enjoyment today. Also, a potato field, where guests are even allowed to help to harvest, and since recently the only vineyard in the Ammerland belong to the Jagdhaus Eiden.
By the way: We even have a live cam to our Golden Chicken Bridge. With a little patience, you can certainly discover one of our happy laying hens, who are responsible for your breakfast eggs at Jagdhaus Eiden.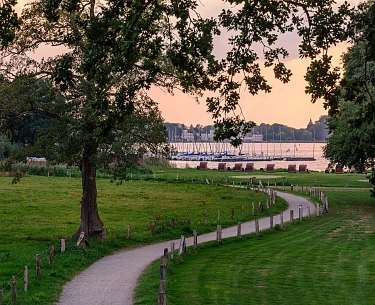 The hotel experience
There is much to discover and experience on the Jagdhaus Eiden grounds themselves. Relax in our spacious wellness area, at our own bathing beach in a beach chair. For the sporty balance, rental bicycles are available in front of the house. In addition to various fitness/yoga courses, we also offer our own putting green, a mini-golf course, and a bocce area. At our own jetty, you can rent pedal boats or stand-up paddles. Discover our farm from Golden Chicken Bridge to the meadow orchard. In the evening, the Casino Bad Zwischenahn directly in the Romantik Hotel Jagdhaus Eiden invites you to join the fun.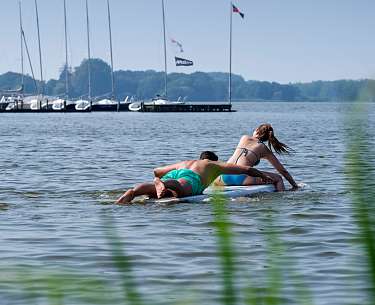 Fun by the water
Bad Zwischenahn has been a health resort and mud spa since 1919. Not far from the North Sea, yet the small town has its own lake: the Zwischenahner Lake, the third largest inland lake in Lower Saxony.
The Zwischenahner Lake offers a plethora of recreational opportunities right on our private lakeside beach: swimming, splashing around, jumping into the water from the jetty, pedal boating, gliding across the surf on stand-up paddles, sailing, or simply relaxing.
And if you do want to feel the salt on your skin: The North Sea is only a 1-hour drive from Zwischenahner Lake.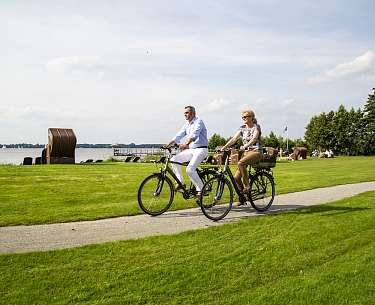 Hiking and cycling
The austere beauty of nature with its moors, geests and marshes, fields, meadows and dead-straight alles invites you to hike and bike. And there is always something to discover: Nature reserves and wildlife preserves. Castles, parks, and gardens. Mills and beautiful lakes ... like the Zwischenahner Lake.
Well-developed bike paths and flat terrain make even longer rides quite convenient. At Romantik Hotel Jagdhaus Eiden am See you can rent city bikes and e-bikes for a fee.
On the pages of Ammerland Tourism, you will find detailed route descriptions and maps for your bike tours around Bad Zwischenahn.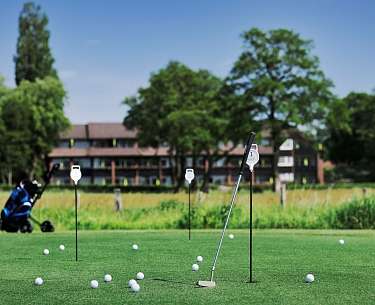 Golf
In addition to the professional putting green on the hotel grounds, the 18-hole course of the Bad Zwischenahn Golf Club awaits you, nestled in the gently rolling Ammerland parkland. Furthermore, a public 3-hole short course, a covered driving range with floodlights as well as generous putting and chipping areas.
The Romantik Hotel Jagdhaus Eiden am See is the exclusive accommodation for all those who love golf. Meet like-minded people: Hosts and guests who share your passion. Exchange ideas, discuss professional aspects, review the game once again. And of course: enjoy excellent service around your favorite sport!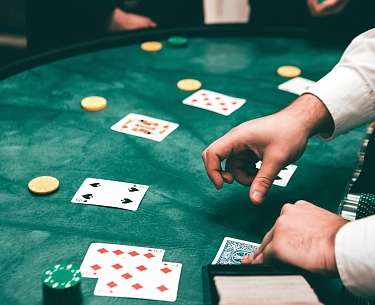 Casino
Do you want to use your vacation time to test your luck? Then you don't need to travel far. The casino Bad Zwischenahn is located directly in the house. Admission is free for our hotel guests.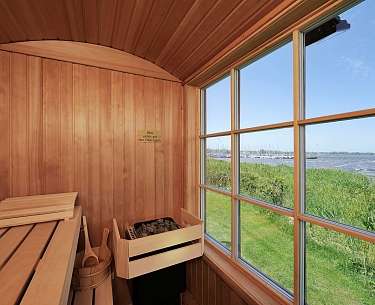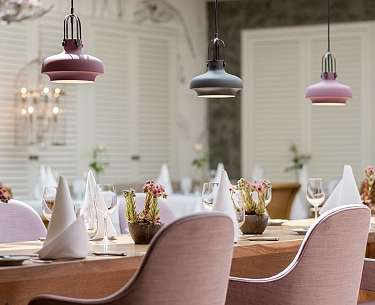 Seminars & Conferences
First the work, then the pleasure. We think you have the right to both at the same time. In our 5 light-filled meeting rooms, modern communication technology and the atmosphere of classic ambiance, and a magnificent lake view are combined in pleasant harmony. Our rooms offer space for 16 - 78 people, for new ideas and not everyday meetings, exciting seminars, motivating workshops, successful events. Also in culinary terms, our banquet team arranges and organizes everything for you. For example, how about a coffee break directly at Zwischenahner Lake to get your mind off things?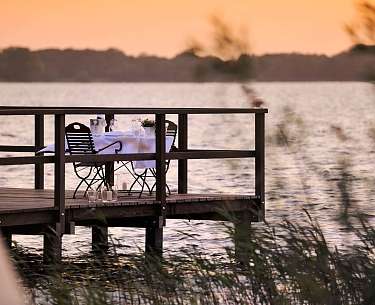 Celebrating life by the Lake
Special moments deserve a very special setting so that they will be remembered forever. You will find it with us in Bad Zwischenahn - Lake view included!
Celebrate your anniversary with a dinner on our terrace overlooking the lake or directly under the stars on the hotel's own boat dock.
Or how about a spring reception or a Christmas party? A milestone birthday in a small circle in the winter garden - or rather in the large pavilion with a view of the Zwischenahner Lake? A glittering wedding in the sunny park, an after-work party or a brainstorming session on the hotel's own boat dock?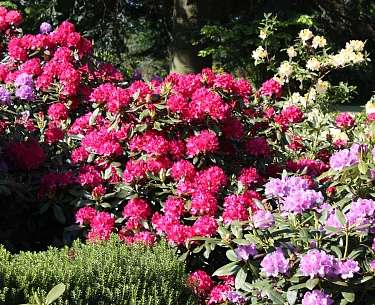 Highlights über das Jahr
In May, the whole of Ammerland, one of the largest tree nursery regions in Europe, is transformed into a blooming park landscape, as the rhododendrons are in bloom by then. Enjoy our region in May, when it is fragrant and colorful blossoms everywhere.
During the Bad Zwischenahn Week in mid-August, a wide range of cultural & culinary events awaits you in the middle of Bad Zwischenahn.
From August 12 to September 11, 2022, there will be a transformation of the Park der Gärten in Bad Zwischenahn into an enchanting world of lights. Thanks to countless light installations, you will experience magical summer evenings here.
The Lamberti Christmas Market in Oldenburg is especially special during Advent, which you can reach comfortably from the Romantik Hotel Jagdhaus Eiden am See with the hotel shuttle.
Romantik Hotel Jagdhaus Eiden am See
Romantik Hotel
Jagdhaus Eiden am See
Romantik Hotel Jagdhaus Eiden am See
Familie zur Brügge
Eiden 9
Germany-26160 Bad Zwischenahn
DE - Ammerland -

With a distance of about 55 km, Bremen is the nearest airport to the Romantik Hotel Jagdhaus Eiden am See.

There is an ICE connection to Oldenburg. The Intercity will take you to the train station of Bad Zwischenahn, which is about 3 km away from the Romantik Hotel Jagdhaus Eiden am See. 50 arriving and departing trains stop there daily. We will gladly send you a map for possible train connections with the reservation confirmation.
For our hotel guests we offer a shuttle service from the train station to the hotel and back.
By long-distance bus you can reach the surrounding cities like Bremen or Oldenburg. The nearest bus stop is about 300 meters away from the hotel (bus stop "Spielbank").

Not far from the Romantik Hotel Jagdhaus Eiden am See runs the long-distance trail Groningen-Bremen. Via the Ammerland cycle path network you can reach the eastern shore of the Zwischenahner Meer, where our hotel is located.